ANCIENT TRIBES
They pushed the show forward ten months, THATS bold, but now they can go back to Em City instead of focus on gen pop. Only four prisoners from each gang are allowed in. Welp. A leadership council consisting of one from each group too.
WE GOT NEW ITALIANS IN THIS BITCH.
Lol the narrator is terrified of Beecher.
McManus sucks still.
Oh my god Bryan Callen is in this show as a teacher. What the FUCK.
YES BODIE IS BEATING THIS RAPIST I LOVE IT.
Damn Bodie is ILLITERATE.
LIRL Adebisi picking up the rat shit on the spoon bah gawd the Italian called him a moolie. Here we go. Lmao O'Reilly actually told these guys Adebisi killed Nino with glass.
Lol Nino's son got there by extorting someone. 35 YEARS. DAMN HE HAS SOMETHING ON THE WARDEN. Fucking everyone wants the kitchen don't they. Lol Adebisi's reaction when told.
Fuck JK Simmons can see again. Potential bad shit incoming on that front too. Lirl his kids got thrown out of their house cause they're scum GET THE FUCK BACK HERE DAD.
Bah gawd he wants Beecher DEAD. Everyone's too scared of him though. BAH GAWD HE ALMOST ASKED ADEBISI. Then he asked Edie Falco lol she agreed WTFFFFFFFFFFFFFFFF
Where did Beecher go? Lirl Adebisi DEY FUCKINGGGGGGG
Lirl she set Schillinger up so bad and now that problem of hers is taken off the board. And he's stuck there for some more years.
Lmao Miguel fucked up and the warden is making him his prag. Wtf.
LIRL I ALREADY FUCKED HER damn the warden did not take that well.
Someone raped his daughter so that makes sense now. No wonder he got mad at the Latino dude classic racism going on here.
DAMN O'REILLY IS BLEEDING FROM HIS NIP WHAT DOES THAT MEAN. WAS IT ALL DE TITS????
HE HAS A TUMOR BAH GAWD SOUNDS LIKE MALE BREAST CANCER he didn't take that shit very well. I thought he was just for show in front of the inmates, but I guess not. Or you know, maybe.
I get the narration of this episode now. Had no idea where it was going before that.
This episode bored me a little bit, but this solidified how I feel about certain characters. There's no coming back for some of them.
GREAT MEN
Lol the gay guy I LOVE TO TAKE IT IN THE ASS. It turned out Miguel knows who raped the warden's daughter. He ain't telling either.
BOUT TO GET MEDIEVAL IN THIS BITCH. Or not, cause B.D. Wong stopped it.
The narration is so good, even when you don't know exactly where it's going.
Lol this old fuck really is trying to dig out.
Edie Falco is gonna die during this season. I can feel it.
More Bryan Callen. I can't believe he's in this show.
Adebisi is on the verge of making Bodie his bitch.
SHAKEDOWN lirl Adebisi destroyed the book and bitched Bodie bah gawddddddddd DONT FUCK WITH ADEBISI AND HIS TITS
McManus making Bodie his son isn't something I like but it's really unintentionally funny.
I know that a show has to use their cast when they've introduced characters. The nun is completely uninteresting to me.
The narrator does deserve to have his verdict overturned, but that won't happen. That shit never happens.
BAH GAWD SAID THINKS HE'S A LAWYER
McManus is such a dick to Said, Said NEEDS JUSTICE ON THIS FUCK.
It turned out O'Reilly really did have breast cancer. Trying not to laugh. Didn't know he was married.
Man these people are so fucked up. The cheaper surgery is the definition of the American way too. Sick country we live in.
Lol Schillinger is out of Em City and being charged. He's fucked. 10 more years for this fuck.
Lirl now he's getting beat up by other races fuck yes oh no he wants to bring the Aryan Brotherhood back.
BAH GAWD HE KILLED A JEW WTFFFFFFFFFFFFF
He wants to kill Beecher next, obviously. After torturing him somehow.
I like where this is going.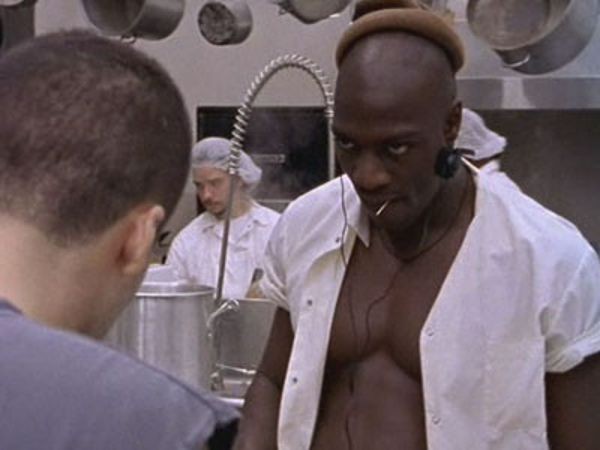 LOSING YOUR APPEAL
The Aryans want gay dudes to do gay shit. Welp.
LIRL THE GUY JUST KILLED AN INMATE.
Ain't gonna get Schillinger for this. Nah dawg.
ARYAN GUARD. WTF.
See. Told ya the narrator wasn't going anywhere. This country is still ass fucked like this. I don't know the verdict but I'm sure I'm right.
This gets more and more fucked up.
Shit broke down really quickly didn't it. Ain't getting out, you can't get out. Never will get out.
BODIE EXPLODESSSSSSS
Said is the best, fuck McManus, you know how I feel about this subject.
Lol Poet ain't got money for DE TITS. Now Said is following him. WE MIGHT HAVE A NEW CONVERT HERE.
Lol when Said finds out this guy is spending his money on tits, he's gonna go fucking ham LIRL WHO DE FUCK PAYS FOR POETRY TEACH ME TO WRITE ABOUT NIGERIA
Laughing so hard right now this is hilarious BAH GAWD SAID IS IN THE CELL POD THE DEMONS UP HIS ASS WONT TAKE HIM DOWN. LIRL THATS THAT BULLSHIT man he was gonna get this guy paroled and everything.
Lirl Bodie really doesn't like the Poet he's gonna kill him isn't he.
Lirl the old guy knows everything and damn O'Reilly really looks like shit, so everyone knows now.
FUCK YEAH LET EM KNOW WHO YOU ARE
Back to the medical ward, but he let em know.
LaGuerta is definitely gonna have sex with this dude. I would bet on it.
Damn he sexually assaulted her like right after I said that shit.
The Italian kid talking shit about Adebisi can he please kill this kid. I dislike the Italians in this show strongly. Of course Miguel ain't gonna kill Adebisi for you.
Lol at Adebisi standing at the window. Please have this work out the way I want it to.
FINALLY there's Christopher Meloni.
They didn't even try to hide that him and Beecher would be fuckin.
Lol they tried to make him a prison bitch too.
Beecher has BIGLY lost his mind.
Of course now the judge from earlier is guilty about Beecher. That's how it works sometimes with white guys.
Lirl Beecher's reaction after the bad dream. And then...they hit the showers and man you already know where this is going. The writers of this show ain't good with subtlety.
AH FUCKKKKKKKKKK MELONI IS GONNA KILL BEECHER FOR SCHILLINGER
This episode was hilarious, for a lot of reasons.