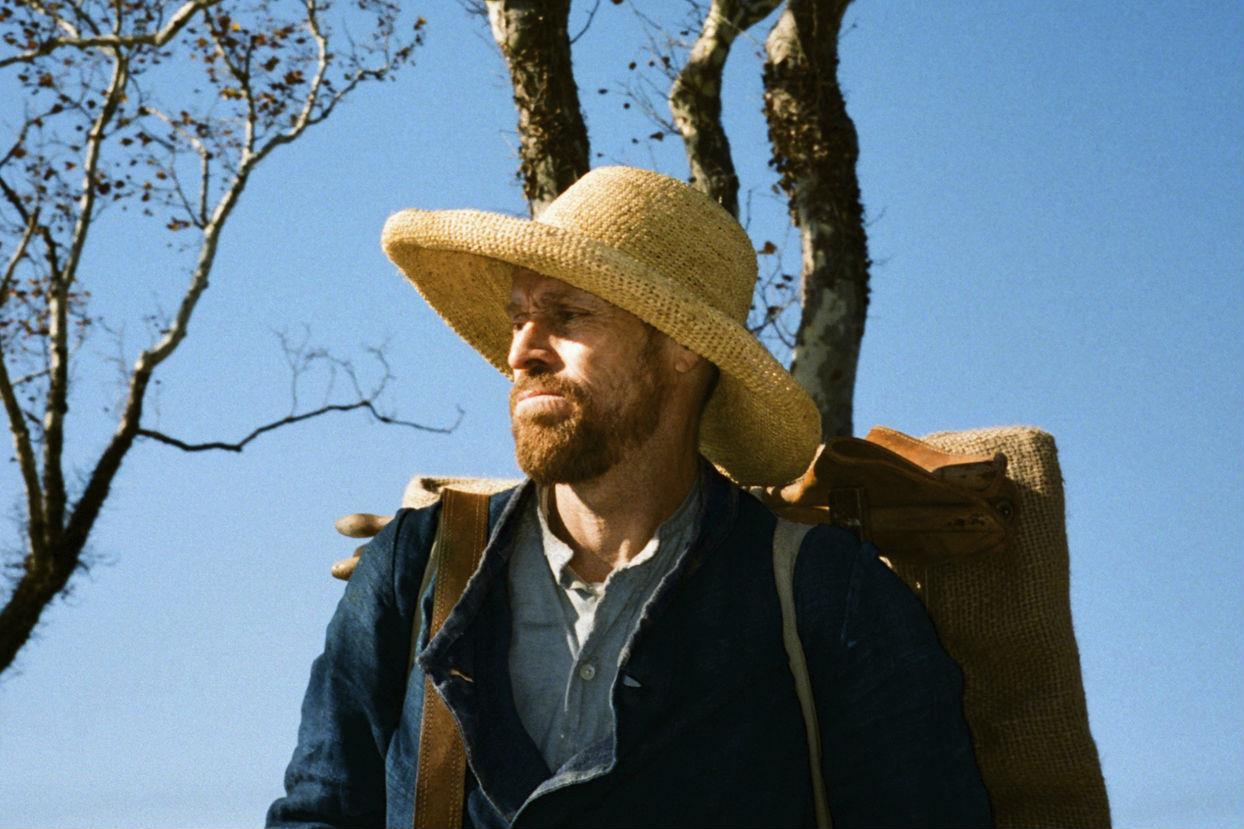 At Eternity's Gate (2018)
, directed by Julian Schnabel
Reason for Watching: This is the last of the unseen movies where someone was nominated for Best Actor in 2018. I kind of have to watch this. Plus, it's van Gogh. I should mention that for films that were provoking me to think, I have lately been writing down thoughts. Sometimes I post them even though they're scattered. Other times they get edited.
At Eternity's Gate
is the proverbial portrait of the troubled artist, but in this case the film's subject is THE troubled artist.
At Eternity's Gate
is not a film that entirely depicts the life of Vincent van Gogh (Willem Dafoe), this is a film that depicts certain things about his life. If you think you're gonna get a glimpse of him painting The Starry Night or some shit, this is not the movie for you. It's hard to describe this film because it is not the most accessible film in the world. The film begins with Vincent in Paris, in a room with a collection of artists including Paul Gauguin (Oscar Isaac). Vincent decides that he wants to leave Paris, and he tells Gauguin this. Gauguin recommends that van Gogh find a country town because that's better for him. With the help of his brother Theo (Rupert Friend), Vincent relocates to Arles, in the south of France. If you don't know, and there's good reason not to already know this, Theo funded Vincent's life for many years.
As already stated,
At Eternity's Gate
is not an extremely accessible film. There are scenes here I cannot quite describe, because they are very long and there are things that do not make sense unless you see them. There is a scene somewhat early on where van Gogh is sitting in a field for a long time, and while sitting there he picks up some dirt and throws it in his mouth. Then, after that, he starts painting and the movie completely pulls away from that to show him eating. This is obviously a glimpse into van Gogh's artistic process, but there's more to the film than this. Vincent is the kind of person who needs to be outside in order to paint. This is difficult for other people to accept. When you're a painter, people have expectations of you to do certain things. If you don't want to paint someone, they become cold to you. In the case of van Gogh, he is incredibly lonely. He needs his brother or another artist to be around, but nobody can be around him because of where he needs to be in order to paint. This is a dichotomy as I'm sure you're aware/
At Eternity's Gate
is a film that decides at times to take us into the artist's eyes, to show his POV in certain situations where it seems more necessary than others. This can often by very disorienting. Van Gogh was plagued by vision problems throughout his life, there are many reasons as to why this could be. He may have been color blind. He may have been lead poisoned by the paint he was using. His alcoholism could have caused these problems or exacerbated them because of the aforementioned other issues.
At Eternity's Gate
is a film that challenges the idea van Gogh killed himself. There was a book written about this subject recently that did the same thing. If you care at all, the accepted story of van Gogh's death does not make sense. Of course, van Gogh was also insane. It is difficult to postulate based on things that he has said because his life is riddled with logical inconsistencies. Why would the man cut off his ear? His explanation of that is something inexplicable to anyone but him. Like, you know, the same as most people who draw or paint.
I think everyone knows of van Gogh from when they were in school and learned about art, but I would say that most people don't know a lot about his life. For me, its been so long since I learned any of those things, that I'd forgotten basically everything about him. How he lived and how he died are things that were but a footnote in my mind. I have to say I was not expecting to like this movie. I thought that this would be a boilerplate bio-pic, the likes of which I've seen many times before. There are not many movies that are released in this country that take this sort of approach. The things with his vision that I've already stated are portrayed through van Gogh's eyes at various times. If the man experienced it, so should the viewer. This logic is pervasive. When van Gogh had conversations that bothered him, they would repeat in his mind on loop before he'd have an impulsive reaction. There are a couple things I think the film needed, though. When van Gogh cut his ear off, that's something that can't be left out of the movie. You can't just cut to a scene with the doctor where they're talking about it. I think that's something they may have filmed and edited out.
Obviously, as you can tell, I liked this a lot. I understand why Dafoe was nominated for Best Actor, but there's no way I'd have nominated him. This was a strong performance in a year with stronger performances. The other thing is, I see that this movie got extremely good reviews from some ends, and middling ones on the other. I'm in the middle of that. Here's the deal, or the problem, I don't care about art. I am a typical American. The lack of dialogue is also an issue at times, but this is a nicely disorienting film. You could not just make a standard movie about van Gogh. There were people who have tried to do that with others, like J.R.R. Tolkien, of countless other authors, of artists, and of bands/musicians. You can't do that. The film has to have something more, and in this case the cinematography and use of first person viewpoint sell the whole thing.
7.5/10

2018 Films Ranked
1. Roma
2. The Rider
3. A Star Is Born
4. First Reformed
5. The Favourite
6. You Were Never Really Here
7. Widows
8. First Man
9. BlacKkKlansman
10. Blindspotting
11. Leave No Trace
12. Black Panther
13. If Beale Street Could Talk
14. The Sisters Brothers
15. A Private War
16. Avengers: Infinity War
17. Stan & Ollie
18. Green Book
19. Spider-Man: Into the Spider-Verse
20. Mission: Impossible - Fallout
21. The Ballad of Buster Scruggs
22. Annihilation
23. Private Life
24. Climax
25. Can You Ever Forgive Me?
26. Mid90s
27. Lean on Pete
28. On My Skin
29. Eighth Grade
30. Sorry to Bother You
31. Suspiria
32. At Eternity's Gate
33. The Death of Stalin
34. A Quiet Place
35. Vice
36. The Old Man & the Gun
37. Don't Worry, He Won't Get Far on Foot
38. Vox Lux
39. Bad Times at the El Royale
40. The Other Side of the Wind
41. Searching
42. Calibre
43. A Simple Favor
44. The Hate U Give
45. Unsane
46. Disobedience
47. Boy Erased
48. Bumblebee
49. Mary Poppins Returns
50. Creed II
51. Hold the Dark
52. The Land of Steady Habits
53. Halloween
54. The 12th Man
55. Upgrade
56. What They Had
57. Ant-Man and the Wasp
58. The Miseducation of Cameron Post
59. Blockers
60. Beirut
61. Roxanne Roxanne
62. Tully
63. Mary Queen of Scots
64. Aquaman
65. Ideal Home
66. Outlaw King
67. Overlord
68. Ready Player One
69. Ben Is Back
70. Monsters and Men
71. Colette
72. The Mule
73. On the Basis of Sex
74. Bohemian Rhapsody
75. White Boy Rick
76. Papillon
77. Game Night
78. Sicario 2: Day of the Soldado
79. Ocean's Eight
80. Alpha
81. Come Sunday
82. Borg vs. McEnroe
83. Instant Family
84. The Front Runner
85. The Predator
86. Apostle
87. The Oath
88. Uncle Drew
89. The Cured
90. The Commuter
91. The Angel
92. Tag
93. Beautiful Boy
94. The Nun
95. Operation Finale
96. The Equalizer 2
97. The Spy Who Dumped Me
98. Cargo
99. Yardie
100. Boundaries
101. Bird Box
102. 12 Strong
103. Venom
104. Skyscraper
105. The Meg
106. Assassination Nation
107. Adrift
108. Crazy Rich Asians
109. Backstabbing for Beginners
110. The Girl in the Spider's Web
111. Gringo
112. The House with a Clock in Its Walls
113. 22 July
114. Tomb Raider
115. Rampage
116. Hotel Artemis
117. Jurassic World: Fallen Kingdom
118. The Little Stranger
119. 7 Days in Entebbe
120. Night School
121. The 15:17 To Paris
122. Den of Thieves
123. The Catcher Was a Spy
124. Peppermint
125. Mile 22
126. The First Purge
127. Hunter Killer
128. The Hurricane Heist
129. The Cloverfield Paradox
130. Breaking In
131. Welcome to Marwen
132. Second Act
133. How It Ends
134. Mute
135. Kin
136. Hell Fest
137. Action Point
138. Proud Mary
139. Robin Hood
140. Traffik
141. Tau
142. Winchester
143. Woman Walks Ahead
144. The Happytime Murders
145. The Outsider
146. Slender Man
147. Holmes & Watson