Long has the running back position been defined by the superstars rushing for 1,500 yards at will and winning Super Bowls. You have your Emmitt Smiths, Marcus Allens, and Larry Csonkas. This list is for the underappreciated and the glorified runners who didn't quite earn the greatest accolades that they probably deserved. Maybe they were part of under performing squads or they played in markets that simply didn't highlight their stardom. So let's take a look at my top 5 underrated running backs.
Number 5: Emerson Boozer
Thanks mostly to NFL Films, many are aware of Boozer's teammate Matt Snell thanks to his Super Bowl III heroics. While Snell was the better all-purpose fullback, Boozer was an equally talented running back in his own right hidden in the shadows a bit because he wasn't required to catch the ball as much. His best attribute was running the ball downhill and he produced in that role, often accumulating over 500 yards on the ground from 1969-1974. His best season was 1973 when he ran for 831 yards and had the second most catches in his career with 22.

Credit to New York Times.com
Number 4: Natrone Means
An absolute bowling ball of a running back, he was huge to the Super Bowl run of the 1994 San Diego Chargers which many fans rightly remember. Unfortunately, they mostly forget that he was still a solid running back in the seasons after and had success with Jacksonville and a return stint to San Diego under then HC Kevin Gilbride whom oversaw him with the Jaguars. Fans remember his 1,350 yard season in 1994 but he ran for 730 yards in 1995 (in just 9 starts) then landed in Jacksonville where he ran for over 800 yards in 1997 and returned to San Diego in 1998 to run for over 800 yards again.

Credit to Nashvillegman.com
Number 3: Steve Van Buren
For an older player, Van Buren often goes under the radar which is quite unfortunate. He was one of the first NFL players that could be adequately described as electric and an absolute must watch player on the field at the running back position. Despite a very short playing career that ended in 1951, he ran for over 10 touchdowns in 4 different seasons and even led the NFL in rushing for 4 seasons. Two of those seasons saw him run for 1,008 and 1,146 yards starting a combined 17 of the 24 games he played. Van Buren proved durable and was a highlight of the post-World War II era of the NFL and should be up there with the Don Hutsons and Sid Luckmans in terms of players that gave the NFL a national appeal.

Credit to Sports Then and Now.com
Number 2: Ricky Watters
A lot of the fans out there will remember Watters as much for his brash, cocky exuberance on the field as anything else, largely aided by NFL Films footage of the San Francisco 49ers from the early to mid 1990's. What is forgotten is not only how good Watters was after he left San Francisco in 1994 but also how consistent he was. Starting in 1995, he ran for over 1,100 yards in 6 straight seasons between stints in Philadelphia and Seattle. This included a 1,411 yard effort in 1996 when he led the NFL with 353 carries. Also as a result of playing in the West Coast Offense, he finished his career with 5 seasons over 50 catches and 3 other years in which he topped 40 catches. He was largely supplanted in Seahawks memory by Shaun Alexander but Watters was a potent force as both a runner and receiver.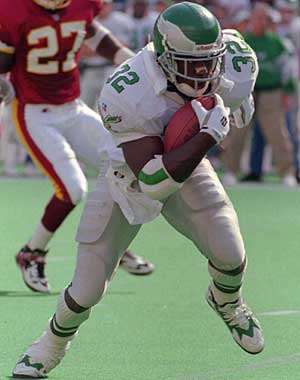 Credit to Philly.com
Number 1: Fred Taylor
Often beset with injuries in the early stages of his career, a lot of NFL fans and media forgot just how consistent Taylor was for some middling to poor Jacksonville Jaguars teams. Despite several injury plagued seasons, he ran for over 1,200 yards an impressive 6 times from his rookie year in 1998 through the 2007 NFL Season. He also proved adept as a receiver, often catching in excess of 35 passes a season. The high point of his career was rushing for 1,572 yards in 2003 yet it's telling that his lone All-Pro selection came in 2007 when he had a rather subpar year considering what he had accomplished prior. One could argue it was almost a 'lifetime achievement award' more than anything else. Taylor may not ever receive induction into the Hall of Fame but he should be #1 in the Hall of Very Good.

Credit to SeattleTimes.com
So there are my top 5 underrated running backs. Can you think of any names that deserve a place on this list? Or feel free to chime in with your own top 5!
Credit to HubSM.com for feature image