With NFL teams starting to already turn over their staffs, such as the Oakland Raiders firing HC Dennis Allen, along with college programs seeing coaches resign such as June Jones at SMU, I thought it would be fitting to take a look at the names high on the totem pole in the college football landscape. However, these names are not primarily the head coaches but rather the offensive coordinators in charge of calling the plays and helping push these offenses to their maximum limit.
Calvin Magee – Arizona Wildcats: A long time associate of head coach Rich Rodriguez, Magee has nearly perfected Rodriguez's zone read spread offensive attack. Since starting in 2005 at West Virginia, Magee has coached up multiple NFL talent including QB Pat White and RBs Steve Slaton and Noel Devine. In 2012, running back Ka'Deem Carey led the nation in rushing averaging 148 yards per game and finishing over 1,900 yards on the ground. Carey saw a boost in 2013 finishing with 157 yards per game rushing while the Wildcats finished 8-5 with their second straight bowl game victory.
Credit to arizonawildcats.com
Philip Montgomery – Baylor Bears: Continuing to ride the hot wave of offense, Montgomery has been as integral to the offensive attack as head coach Art Briles. Montgomery came over to Baylor in 2008 and immediately made an impact in the backfield with the team averaging 376 YPG in total offense, their highest output since 1995. He's coached a prolific attack that has ranked 2nd, 2nd, and 1st in total offense from 2011 through 2013 and has coached up star pupils including QB Robert Griffin III, QB Bryce Petty, RB Terrance Ganaway, and WRs Kendall Wright, Tevin Reese, and Terrance Williams.
Credit to baylorbears.com
Lincoln Riley – East Carolina Pirates: Since being named offensive coordinator in 2010, Riley has helped turn the fortunes of the Pirates around including averaging almost 565 yards of total offense through the 2014 regular season. He's coached up quarterbacks Dominique Davis and Shane Carden and helped the offense flourish including finishing 8th in passing in 2010 and 8th in scoring offense last season. In 2013, Riley helped quarterback Shane Carden become the first QB in program history to throw for over 4,000 yards in a season. He's also coached up talent at the WR position including Dwayne Harris.
Credit to eastcarolina.scout.com
Bill Legg – Marshall Thundering Herd: Legg has experience with the spread offense, having coached Purdue's offensive line from 2003-2005 while serving as offensive coordinator in 2006 and 2007. Starting in 2010, Legg helped massively turnaround the Marshall program especially in the past few seasons. To his credit, he's helped develop QB Rakeem Cato into a notable college name and his passing attack led the nation in 2012. The 2013 season with Legg at the helm was even more notable as Marshall averaged 42.1 points per game along with 294 passing yards per game and 204 rushing yards per game.
Credit to herdzone.com
Tom Herman – Ohio State Buckeyes: Herman has been coaching for a while and has flourished this season despite losing star quarterback Braxton Miller. The rushing attack blossomed in 2013 with Carlos Hyde and Miller leading the way, averaging 308 yards per game good for finishing 5th in the nation. In 2012, the attack finished 10th nationally running for nearly 250 yards per game. As far back as 2007 and 2008, Herman utilized talent such as QB Chase Clement and TE James Casey at Rice finishing with a prolific passing attack that ranked 5th in the nation with nearly 328 yards per game in 2008 and 10th in total offense.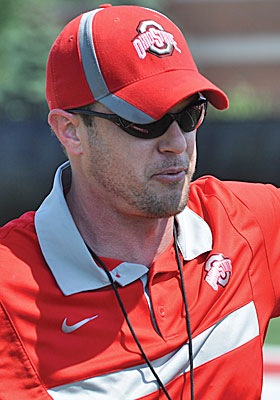 Credit to cbssports.com
Jake Spavital – Texas A&M Aggies: Spavital has received recognition this season working with quarterback Kenny Hill following Johnny Manziel but has long made his name offensively under several other coaches at several other colleges. In 2012, Spavital worked with quarterback Geno Smith at West Virginia and helped the team finish 5th in passing efficiency. Last season he helped turn Johnny Manziel into a star serving as co-offensive coordinator during the 2013 season.
Credit to aggiesports.com
Credit to collegesportsblog.dallasnews.com for feature image