Well, at the time of this post, the 1st Round of the 2014 NFL Draft has been completed and as such there will be home runs, doubles, and straight up busts 3-4 years down the road from now. The NFL Draft is a crapshoot and everybody has done a Top 10 Busts list but trying a little bit of a different tactic here as overall career will be taken into account along with injuries. One of the criteria of being a bust is not being able to stay healthy but it won't be an immediate criticism in terms of my rankings. For the most part, went far outside the box as well in terms of my selections compared to the usual Busts lists. So, let's get to my Top 10 NFL Draft Busts!

Credit to Palm Beach Post
Number 10: RB Sammie Smith (1989 NFL Draft)
Taken by the Miami Dolphins with the 9th overall pick, Sammie Smith was expected to be a feature back for the Dolphins and started 12 games in 1989 running for 659 yards with 2 TD. He improved on those totals the next year, starting all 16 games with 831 yards and 8 TD but struggled mightily in 1991: 297 yards in 6 starts. He would be surpassed by Mark Higgs, an 8th Round pick of the Dallas Cowboys in 1988, and Smith found himself with the Denver Broncos in 1992 where he started just 1 game before being out of the NFL. He'd later struggle with drug issues and be sent to prison.
Fun Fact: RB Blair Thomas, commonly cited as a Top 10 Bust, played in 20 more games than Smith did.

Credit to Spokeo.com
Number 9: LB Trev Alberts (1994 NFL Draft)
Take 5th overall by the Indianapolis Colts, Alberts would struggle with injuries during his short 3 year career starting just 7 games accumulating 4 Sacks and 69 tackles overall. Ended up being a productive long time broadcaster for the NFL after his playing career ended.

Credit to sikids.com
Number 8: RB Lawrence Phillips (1996 NFL Draft)
Everybody knew his character issues coming out of college but the Rams still selected him with the 6th overall pick. He actually started 20 games over his first two seasons but was quickly dealt to the Miami Dolphins in 1997 due to a poor work ethic and off the field issues. He was given a shot with the San Francisco 49ers in 1999 and was quickly released after constantly clashing with 49ers Head Coach Steve Mariucci. After brief stints in the AFL and CFL, he's dealt with a bevy of criminal charges and found himself in prison.

Credit to football.about.com
Number 7: CB Bruce Pickens (1991 NFL Draft)
Was the 3rd overall selection by the Atlanta Falcons but played sporadically over 7 games as a rookie. Started just 4 games in 1992 and 4 games in 1993 before bouncing around to Kansas City and Green Bay that same year (playing just 5 games between both teams). By 1995 he was with the Los Angeles Raiders and started just 1 game before being done in the NFL by 1996.

Credit to Startribune.com
Number 6: S Mossy Cade (1984 NFL Draft)
He was the 6th overall pick of the San Diego Chargers but bolted and signed with the USFL for 1 season. Cade wound up coming back to the NFL, going to the Green Bay Packers where he started 3 games in 1985 and 16 in 1986 but was convicted in 1987 of sexual assault charges, spent 15 months in jail, and was done in the NFL.

Credit to blog.cleveland.com
Number 5: LB Mike Junkin (1987 NFL Draft)
Was taken with the 5th overall pick but struggled with injuries and played only 4 games as a rookie. He bounced back in 1988 to start 7 games before injuries again ended his season prematurely. By 1989, he was already out of town and on the Kansas City Chiefs (for a 5th Round pick) where he played just 5 games before being out of the NFL by the 1990 season.
Number 4: OT Kevin Allen (1985 NFL Draft)
Selected 9th overall by the Philadelphia Eagles, Allen would start just 4 games in his rookie year and get busted for cocaine at the start of the 1986 Training Camp. Shortly after, he was charged with sexual assault and spent 3 years in jail subsequently being banned for life from the NFL.

Credit to blog.mlive.com
Number 3: QB Andre Ware (1989 NFL Draft)
A Run & Shoot quarterback in college going to the Detroit Lions, a team that ran a hybridized Run & Shoot should have been a perfect fit. Ware struggled to adapt to the demands of the NFL in terms of putting in the work ethic necessary and wound up starting just 6 games over the span of 4 seasons while Detroit eventually went to Dan Henning's pro style system in 1992, a far from perfect fit for Ware. Ware would later have chances with the Los Angeles Raiders in 1994 and Jacksonville Jaguars in 1995 but was released prior to the season in both years.

Credit to chargersgab.com
Number 2: QB Ryan Leaf (1998 NFL Draft)
Here you have a quarterback with a big arm coming from a spread offense under Mike Price to the NFLized Run & Shoot under Kevin Gilbride and June Jones in San Diego. He immediately got off to a poor start with teammates questioning his work ethic and started 9 games as a rookie with a 45.5% completion rate and 2 TD to 15 picks. He would miss the 1999 Season with a shoulder injury but return in 2000 and start 9 games again, improving slightly: 50.0%, 11 TD, and 18 picks but he was tossed out the window during the offseason and went to the Dallas Cowboys where he wound up 0-3 in 3 starts in 2001 before vanishing out of the NFL in 2002 and later battling drug issues.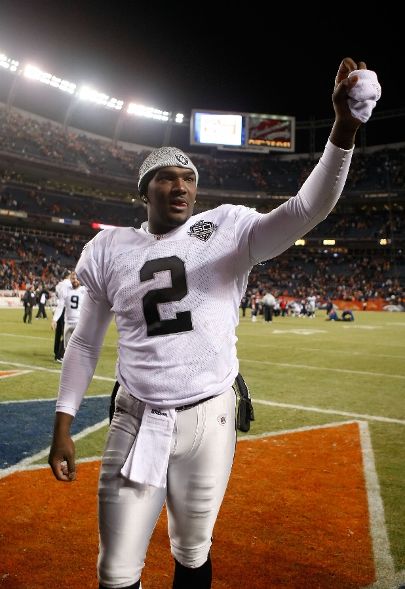 Credit to broncotalk.net
Number 1: QB Jamarcus Russell (2007 NFL Draft)
Part of what pushes Russell ahead of Ryan Leaf are two factors: Russell was the #1 pick and his contract that he signed: 6 years with a max of $68 Million and $32 Million guaranteed ($3 Million in escalators in 2010). Russell proceeded to start 15 games in 2008 actually showing some promise with 13 TD against 8 picks but melted down in 2009 over 9 starts: 48.8%, 3 TD, and 11 picks. He made Aaron Brooks' 2006 season with Oakland look like Brooks was Kerry Collins. After coming in overweight in 2010 (apparently a recurring issue), Russell proceeded to be released and later was arrested for drug chargers along with the Raiders coming after him to try and recoup their money.
So there you have it, my Top 10 NFL Draft Busts. Anybody overlooked? Anybody that you'd swap out?
Credit to therealsportcave.com for feature image