With the 2014 NFL Draft nearly two weeks away, a lot of the media has been speculating about quarterbacks and who will fall down the board while others will rocket up the boards. Currently, two such quarterbacks are Teddy Bridgewater and Tom Savage. NFL scouts, media heads, and even fans will tout the line, "Watch/Look at the film," when scouting quarterbacks (and any other position) but statistics are still capable of blinding even the best of them. They see that game against Southern Miss where a quarterback threw for 350 yards or they see that game where they struggled and threw for just 200 yards with 3 interceptions against an NFL level defense. Even Todd McShay recently said that he viewed a couple of Tom Savage's poorest games first which initially skewed his thoughts but as he watched more he started to turn his opinion around.
Growing Complexity of the "System" Quarterback
As the spread offense has evolved and the passing game in general has grown tremendously, passing statistics have also made a radical jump. Nowadays, throwing for 3,000 yards is nearly automatic and 20 touchdowns are merely ho hum to most fans of college football. With that said, sometimes the stats do tell some of the story around the eventual struggles of quarterbacks. A quarterback whom struggles to complete 60% of their passes has to raise eyebrows even if their teammates contribute with an inordinate amount of drops.
With all that said, there have been "system" quarterbacks with gaudy statistics that have struggled such as Andre Ware & David Klingler compared to average quarterbacks (Case Keenum, possibly Geno Smith) to productive quarterbacks such as Jim McMahon & Steve Young at the height of the BYU pass heavy era. This further showcases that each quarterback prospect is their own entity and that a system label does not define such players in and of themselves. This is made more imperative given the sharp rise in up temp no-huddle pacing and spread formations in general.
Russell Wilson and Completion Percent
Russell Wilson was taken in the 3rd Round mostly due to his height despite proving he could handle a high volume of passing attempts (527 attempts in 2010 with North Carolina State) and dramatically improved his accuracy from 59.3% & 58.4& to 72.8% in his one season at Wisconsin along with far better efficiency throwing 33 touchdowns on just 309 pass attempts.
On the flip side you have some notable busts such as Kyle Boller and possibly Jake Locker. Locker struggled in two years as a starter at Washington: 56.9% on 727 pass attempts with 38 touchdowns to 20 interceptions. He's battled health and threw just 10 touchdowns to 11 interceptions in 2012 despite being drafted 8th overall in the 2011 NFL Draft (ahead of Blaine Gabbert, Christian Ponder, Andy Dalton, and Colin Kaepernick). Kyle Boller was expected to be the new quarterback of the future for the Baltimore Ravens under head coach Brian Billick. He was virtually a one year wonder at California struggling to complete more than 50% of his passes two years before jumping to 53.4% as a Senior. Upon entering the NFL as the 19th overall pick, he struggled in 4 seasons starting for the Ravens as he threw 40 touchdowns to 42 interceptions and gradually went up to 61.1% in his 4th season.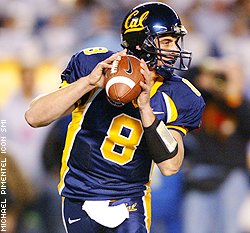 Credit to Michael Pimentel and ESPN.com
For comparison's sake, Aaron Rodgers fell to the 24th overall pick in the 2005 NFL Draft but had far better college statistics at California over 2 years: 424/665 (63.8%) with 43 touchdowns to 13 interceptions.
Bearing the Load and Efficiency as a Senior
Matt Ryan had a similar turbulent college career but showcased his passing ability as a Senior throwing 654 times with 31 touchdowns to 19 interceptions despite just 59.3% completion rate. Scouts and most in the NFL took into account his stats but also understood that Boston College heavily leaned on his arm that year and Ryan was forced to make plays nearly every game, leading to a rather high 19 interceptions. With that said, high interceptions tend to come with a high volume, aggressive approach as Drew Brees has proven at the NFL level (seasons of 18, 17, 22, and 19 picks).
One of the factors that the New England Patriots liked about Tom Brady coming out of Michigan was the fact that despite his balancing act with teammate Drew Henson, he was far more efficient his Senior season compared to his Junior season.
Tom Brady Junior Year: 214/350 for 2,636 yards and 15 vs 12.
Tom Brady Senior Year: 214/341 for 2,586 yards and 20 vs 6.
Brady was able to improve his numbers despite 9 fewer pass attempts by throwing for 5 more touchdowns (on the same number of completions) while cutting his interceptions in half. Peyton Manning also showed improved decision making as a Senior at Tennessee throwing just 11 interceptions on 477 attempts compared to 12 on 380 as a Junior.

Credit to t-i4.blogspot.com
Eli Manning, despite a subpar team around him at Mississippi, also showed much greater efficiency from his Junior year to Senior year as well: 279/481 for 3401 and 21 vs 15 compared to his Senior numbers of 275/441 for 3600 and 29 vs 10. He wound being selected #1 overall but was subsequently traded to the New York Giants in the 2004 NFL Draft.
How the 2014 NFL QB Class Breaks Down
Tajh Boyd (Clemson): 901/1402 for 11904 and 107 vs 39. Kind of stagnated as he went 33 vs 12, 36 vs 13, and 34 vs 11 in 3 seasons as a starter despite quality talent at skill positions around him.
Teddy Bridgewater (Louisville): 781/1142 for 9817 and 72 vs 24. Went from 27 vs 8 to 31 vs 4 while throwing 8 more passes.
Derek Carr (Fresno State): 1087/1630 for 12843 and 113 vs 24. Went from 37 vs 7 to 50 vs 8 despite throwing 148 more passes.
David Fales (San Jose State): Stagnated from 72.5% and 33 vs 9 as a Junior compared to his Senior year where he went 64.1% and 33 vs 13 despite throwing 36 more passes.
Garrett Gilbert (SMU): Massive jump from 53% to 66.5% as Senior with 21 touchdowns to 7 interceptions.
A.J. McCarron (Alabama): Struggled a little more when asked to carry the load as he threw 28 to 7 on 336 pass attempts compared to 30 to 3 on 314 as a Junior.
Johnny Manziel (Texas A&M): 595/863 for 7820 and 63 vs 22. Jumped from 26 vs 9 to 37 vs 13 on 5 fewer attempts.
Zach Mettenberger (LSU): Big jump as a Senior to 64.9% (from 58.8%) and 22 vs 8 compared to 12 vs 7 the year prior.
Aaron Murray (Georgia): Peaked as a Junior with 386 passes for 36 touchdowns to 10 interceptions but threw 26 to 9 on 347 attempts as a Senior.
Tom Savage (Pittsburgh): 238/389 for 2958 and 21 vs 9 as a Senior at Pittsburgh despite not starting since 2010.
Credit to Wired.com for feature image