Presented by RF Video 
Baron makes a series of goofy faces before throwing the claw up at us.
He then goes into his promo voice and screams wildly about how he idolized his brother, and since his brother was a great athlete, it made Baron want go out for sports.
Baron was cut from the basketball team, which lead to him joining the wrestling team.
Wrestling takes a lot of practice and focus to learn and perfect. He was then cut from the wrestling team and actually failed to make the team until he was a senior.
Raschke then began to have a lot of success on the mat. He even upset the state champ in an early tournament, lost to him in a rematch soon after and they ended up meeting a third time in the state finals in which Baron won.
The Baron next joined the University of Nebraska. He was a walk on for football, and made the team, eventually earning a scholarship.
The wrestling coach was a former Olympian and he advanced Baron's game.
Raschke fires through winning Big Ten and world wrestling meets, as well as earning a spot on the Olympic wrestling team. No details were offered up.
He missed the Olympics due to injury.
The interviewer tells him he doesn't have to do this in character, and suddenly Jim Raschke and his much softer voice appears after 10 minutes of screaming.
The mats were thin at the Olympic training center and Baron ending up hyper extending his elbow and missing the games.
Baron was in the U.S. Army and contacted Joe Dusek in Omaha to try and find an opening to learn how to train to be a pro wrestler.
Raschke became a science teacher for a year before going back to wrestle in the amateur world championships. He didn't do too well.
Dusek then hooked him up with Verne Gagne.
Verne trained the Baron in his barn. It took a little over a month for Gagne to explain to Raschke that wrestling was a work.
Gagne took him to a show and the Baron watched a match between Mad Dog Vachon and Da Crusher which was violent enough to intimidate Raschke into second guessing his career choice.
In order to learn the business, the Baron was given ring crew duties, as well as a referee's gig.
His first few matches went very well and Baron thought he was pretty good at this. Then he was placed in a match with another greenhorn who wanted to plan out the match beforehand. The match stunk and it happened to be the first time Gagne saw him live. Verne was not too impressed and it hampered Baron's progress up the card.
Raschke spent a bunch of time in the AWA production area watching guys work and cut promos in order to learn his craft.
Mad Dog Vachon saw Baron in the back and told him he'd make a good German. They became friends since they shared a similar background. Vachon ended up getting Baron booked in Quebec with him. It was there that his Nazi gimmick was introduced.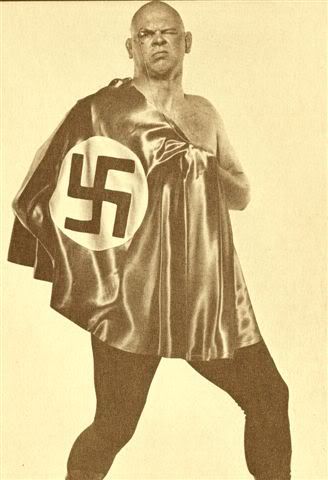 He moved on to Toronto to work for The Sheik, then went to Texas where The Spoiler and Fritz Von Erich were both using the claw as a finish.
Prior to going to Texas, Baron got a chance to work with Pat O' Connor in St. Louis. Since Raschke wasn't a wrestling fan before getting in the business, he didn't even know O'Connor, who was already a legend. O'Connor introduced him to the claw.
Baron ended up forming a brief team with Dusty Rhodes in Ohio. He then moved on to working for Dick the Bruiser in Indianapolis. O'Connor came in to work some shows and convinced Bruiser to make Baron use the claw as a finish.
Horst Hoffman became Baron's partner when he came back to the AWA. Verne met Horst while he was scouting talent at the Munich Olympics. Both men could speak German, so it helped them bond.
Superstar Billy Graham was a good guy. He never hid his roid abuse, and he did not enjoy working with stiff guys like Wahoo McDaniel.
Giant Baba was working for JCP, and Baron got a chance to work with him there. Baron found it nerve wracking, since Baba owned a big promotion in Japan and Raschke didn't want to screw up.
Jimmy Snuka was tearing up the area with his fast paced, high flying style.
Paul Jones and Raschke formed a team, and when they split, it turned Baron babyface.,
The Baron went to Georgia in the middle of the wrestling war with Ann Gunkel facing off with the NWA. Bill Watts was booking, and came across to Raschke as very arrogant.
Baron was able to tour Europe, which made him nervous at first given his German gimmick.
Verne paid decently and it helped Gagne form one of the premier wrestling territories.
Greg Gagne was a great worker. Baron pokes a little fun at Greg's body, but noted that he himself did not have a great physique either.
Greg served as the agent for the AWA locker room, making sure guys understood what Verne and Wally Karbo wanted them to do.
The Road Warriors had a good gimmick, but their style killed off the credibility of the guys they faced off with.
Crusher had heat with the Warriors since they did not treat him as the toughest guy in the ring.
Scott Hall was "tall". Larry Zbyszko was "okay". Rick Martel was a good worker who could bounce around.
Hulk Hogan was pushed hard right away, but it took years for Hogan's ability to match his push.
Andre was a great athlete in his early days. He and Baron drank lots of beer and played lots of cribbage.
Nick Bockwinkel was a classic champion and a great worker.
Stan Hansen's style was murder and mayhem.
Jerry Blackwell was far more athletic than his body would have suggested. Rumors were that he could even dunk a basketball.
Krusher Kruschev hurt his knee, so Dusty Rhodes called in the Baron to team with the Koloffs in his place. .
Rhodes had big ideas and was able to implement them within the confines of wrestling.
The Baron was called into the WWF as a manager for the Powers of Pain. He and Vince had different ideas for how he should work the gimmick, and Vince fired him.
As the AWA died, they still had some decent young talent, but earlier mistakes made it impossible for Verne to compete.
Baron did not feel any particular connection to the AWA, and was willing to work for whoever was willing to pay him.
Raschke tried to go back to teaching after his AWA run. He had at least one principal not hire him due to the fear of Baron snapping ala his wrestling gimmick.
The kids were excited to see him at first, but after a few weeks in a school he became just another teacher.
Today's wrestling "makes no sense". They do high spots for the sake of high spots and fail to tell a story within the ring.
The Baron was blessed to work with loads of top talent over his career.
Final thoughts: It was good to see the Baron was still mentally sharp in his mid-70's. You can tell Baron is a funny guy, as well as intelligent. While some things were not touched upon, this served as a fairly nice overview of Baron's career.