Presented by Hannibal TV
Bruce Hart has consistently presented a "unique" view on the history of Stampede, the Harts and the WWF in the past and I am intrigued to see if an older (wiser?) Bruce has mellowed at all.
Hart now sports a Tony Clifton mustache.
A number of different veterans had a hand in Bruce's development as a talent. Growing up with a father who was running a territory gave Hart a unique chance to learn every aspect of the business.
Brian Pillman, Chris Benoit and others who learned in the Hart's Dungeon were raw talents who could learn things the right way from the ground up, compared to some who were improperly trained by some jabroni.
Stu's days as a trainer involved more shooting on the rookies in order to protect the business and weed out the weak.
Stampede in the 70's was full of big lugs who worked a slower style. Things changed after Bruce toured England and discovered the Dynamite Kid and others who worked a fast paced, high spot style. Once Bruce got booking control, he brought the Brits and Japanese in to change the Stampede landscape.
Other colorful gimmick workers such as David Schultz and Wayne "Honky Tonk Man" Ferris came in around the same time to spice up the roster.
The Canadian Broadcasting Channel tried to do an expose on the business and Schultz nearly attacked the reporter once the CBC's intent became apparent. Hart praises Schultz defending the business.
Stampede worked a stiff style, with a few live rounds possibly tossed in during the heat of battle.
The long road trips on dangerous Canadian back roads were a challenge. One night this caused Bruce to work two 45-minute matches in a row due to the roster not showing up for a show. Dynamite Kid and others finally arrived, and Bruce read them the riot act, leading to Kid cheap shotting him (and breaking his jaw).
Brian Pillman was still a starter level talent for the CFL when he jumped into the wrestling game. Pillman would have been an all-time wrestling great had he not been involved in a car wreck that ruined his ankle and drove him into heavy drug use.
Pillman was legit tough and once beat up a much larger Stampede worker to a bloody pulp in a locker room fight. The big man quit the business after that.
Bill Kazmaier, legitimately one of the world's strongest men, worked in Stampede. Kazmaier supposedly claimed that he beat Mike Tyson in a sparring match. Pillman and Kazmaier did not get along, which led to Pillman making up a series of stories of running into top athletes in gyms and beating them at their own game. This culminated with Pillman claiming to have whupped Pittsburgh Steeler legend Mike Webster, who Pillman knew was Kazmaier's hero as they played on the Wisconsin Badgers together. This drove Kazmaier crazy.
The Dynamite Kid and Pillman also had heat.
We fast forward a bit to the WWF in 1993. At Summerslam '93, Doink was suppose to dump water on Bruce, leading to him running in on Jerry Lawler and Doink while they beat Bret down. This was to lead to tag matches with the four men, then a 8-man tag event at Survivor Series. Lawler ended up arrested for statutory rape and Doink (Matt Borne) was fired, so all the plans fell apart and Owen ended up being picked to turn on Bret instead of Bruce.
Bruce compares Owen to Daniel Bryan in terms of a massively talented individual who the office simply refused to properly push.
Owen's death being due to a stupid stunt that had nothing to do with wrestling still upsets Bruce.
Bret should have done business in Montreal. Both Vince McMahon and Bret were wrong in that whole matter.
Vince McMahon being booked against Bret Hart and his whole family at Wrestlemania was a disaster. An old man being beaten up by a dozen others is hardly a babyface move.
TJ Wilson having his neck hurt by Samoa Joe is a side effect of the modern style and not really anyone's fault.
Women and midgets should still be a limited gimmick. Using them on every event diminishes any of their value on a card. The WWE seems unsure whether they want the women to be athletes or strippers.
Harry Smith and a number of other top Canadian talents have been wasted or ignored by the WWE, much to Bruce's frustration.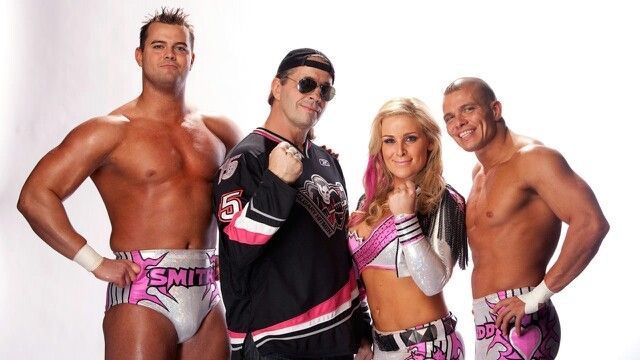 Bruce hopes the future is more old school wrestling and less talking and gaga.
Final thoughts: The brevity of the interview kept Bruce from veering off on some of his usual tangents about his WWF runs that were ruined by Bret, among other bitter rants. The Pillman stories alone made this a worthwhile listen.