Presented by Highspots.com
This appears to have been taped around the year 1999 or 2000.
Wahoo amateur wrestled in Oklahoma in the fifties, while also excelling at football. Oklahoma was the nation's top wrestling college, so McDaniel spent a lot of his early time there getting his butt kicked.
McDaniel heard from a football teammate about how much money pro wrestlers made. This led to Wahoo getting in touch with Leroy McGuirk, who was looking for an Indian wrestler to push.
The Cowboys drafted McDaniel into the NFL. During his first game, McDaniel separated his shoulder. He regrettable admitted to his coaches that he was hurt and they cut him for it.
Instead of healing up, McDaniel called the Jets and got a job there as a linebacker until too many offensive lineman injuries forced the coaches to ask McDaniel to play guard. They ended up winning the championship.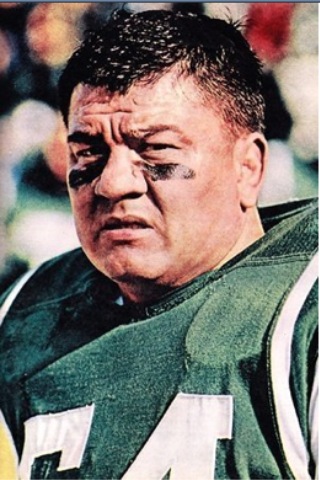 The Denver Broncos took in Wahoo next. He played there for a bit before being traded to New York. He eventually also played for Miami. New York was the best of all the stops because the press built him up and that lead to a lot of money-making opportunities.
The coaches were amazed at McDaniel's conditioning. They would tell him that he made them look bad by going golfing between practices instead of resting.
Wahoo wrestled during the entirety of his NFL career. It didn't take too long for McDaniel to make more money wrestling than with football.
The Attitude era has turned McDaniel off of wrestling. He still does autograph sessions and hears from the fans that the smut has caused them to stop watching.
McDaniel bounced around between Florida, Texas, the east coast and the Midwest, basically headlining everywhere he went during his prime in wrestling. In the 80's he ended up booking in Florida and the AWA as well as wrestling on top there.
The promoters tried to screw the talent on payoffs quite often. Wahoo wasn't scared to confront them and demand his rightful payday.
After headlining a sell out card in Amarillo, Dory Funk Sr. gave McDaniel a 200-dollar payoff. Wahoo balked at this and Funk told him he could be making nothing by not being booked, so McDaniel walked out. The Funks tried to talk him back, but McDaniel called Eddie Graham and he was headlining in Florida within two days.
The money for wrestling was great, especially if you consider that gas was 11 cents a gallon, and a two bedroom apartment cost 125 dollars a month to rent.
Promoter Phil Zacko tried to short McDaniel in Philadelphia one night. When McDaniel got his payoff, he asked why he was only getting a draw and not a full payday. Zacko told him "that is the payoff." McDaniel snapped and flipped over the table the money was on. Zacko ran and hid as Bobo Brazil and Haystacks Calhoun tried to hold McDaniel back.
Florida was the best place to work because the weather was always warm and the state was loaded with good food and many places to golf.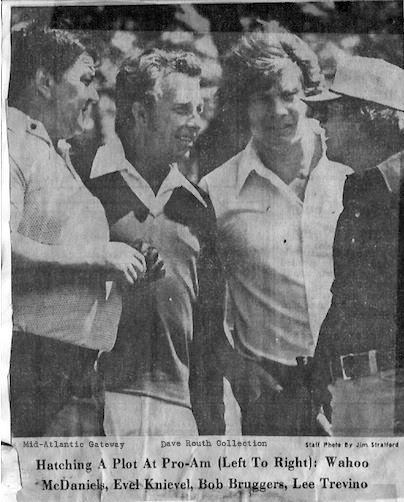 Johnny Valentine and McDaniel drew well in Florida. The Great Malenko, Tarzan Tyler and many others came in to work with Wahoo as well.
The WCW and WWF are burning out their rosters with overexposure. Where is the talent suppose to go next if the whole country has seen their act for years?
"Ric Flair needs to quit soon, he's been on top for 25 years!!"
McDaniel does a mini rant about how no one knows how to work now and most workers are bulked up on roids.
Everyone having music causes the luster of such a thing to be lessened. If only a top match or two had guys with music, the fans would accept and understand who the real stars were.
The money is tremendous now, and Wahoo would love to have earned the kind of contracts the guys have secured.
Japan paid very well. McDaniel loved the food and would seek out new dishes to try each night. Wahoo was making 5,000 dollars a week, but others like Stan Hansen were doubling that.
Abdullah the Butcher and McDaniel drew a $300,000 house in Sapporo one night.
The Giant Baba had young wrestlers act as servants for the Americans, guiding them to food, sex and whatever else they wanted to indulge in.
Jesse Ventura found out Arnold Schwarzenegger was training at a certain gym. Ventura got himself a membership and began training early in the morning when Schwarzenegger was there. After a few days they met formally and began training together. This led to Ventura getting some gigs in Arnold's blockbusters.
The AWA was great to work for if you were a sportsman. The hunting and fishing in Wisconsin, Minnesota and beyond was plentiful.
Hulk Hogan could not wrestle. Being in "Rocky 3" bolstered him into being a top babyface and a draw.
McDaniel had done record gates in the AWA by headlining everywhere with "Superstar" Billy Graham. Hogan broke all of the records Wahoo had set. Being on the card with Hogan headlining was still very prosperous for the guys working underneath.
Jim Crockett's expansion efforts were doomed almost from the start. JCP had been making over 10 million a year during their hot period in the 70's. Trying to expand cost Crockett big money (8 grand a week just to run syndication in New York) compared to the deals Vince McMahon worked out where NBC was actually paying him for putting the WWF on national TV.
JCP did well at first, but squandered their money on jets and other things. The payoffs went down and McDaniel quit. (Wahoo's timeline is a bit off here as he went to Florida and the AWA before JCP crumbled.)
Johnny Valentine fell on Wahoo one night and broke his ankle. The recovery process was long and the bone still hurts him some days.
Magnum T.A. had the look, he could wrestle and the booker (Rhodes) liked him. Wahoo put him over for the U.S. title.
JCP had given Wahoo and other talents towns to run. Dusty Rhodes was able to convince Crockett that he was the best option as booker and took over all the duties.
McDaniel went to book Florida, which was dead. They could barely draw $150,000 a week for all the shows they ran combined.
Wahoo recently went to a WCW show with his son. The only guy in the whole locker room he knew was Lex Luger. McDaniel's generation of talent is gone.
Nick Bockwinkel, Ron Garvin, Ricky Morton and others still call Wahoo. Red Bastien married a rich woman and is living well. Dick Murdoch, Ray Stevens and other guys McDaniel had been close to have died.
Death has knocked on McDaniel's door as well. His kidneys are not functioning and he needs dialysis and a transplant. The dialysis wears McDaniel down, but he recovers fast. (Sadly he'd be dead within 2 years of this interview.)
WCW is full of old guys and they need to build a new generation of stars pretty quickly.
Reid Flair ended up wrestling Wahoo's son at the wrestling meets in elementary school. He and Ric would both be cheering their sons on from the stands. McDaniel does not like Flair's wife, so he avoided them at those events.
Ric and his wife do not get along to the degree that they have separate bedrooms. She's hanging on because Flair brings home big money.
McDaniel has been married 5 times, so he's no saint either. The women were plentiful for athletes.
http://www.tmz.com/2017/09/26/ric-flair-10000-women/
Manny Fernandez lived with Wahoo for a bit. The cops were constantly coming because Fernandez was always doing something stupid and getting arrested. McDaniel kicked him out.
Dick Murdoch first met Wahoo in 1964. Murdoch's dad was a promoter. The main event that night was a ring covered in chicken wire with a bunch of wrestlers inside it for a battle royal…oh and a BEAR. Dick was a teenager at that point and spent most of the night pestering the bear, until he got bit.
McDaniel wrestled for as long as his body was willing to go and the promoters were willing to pay.
If the fans hit McDaniel or yanked on his feathers, he'd slap the shit out of them. He was sued multiple times, but most people didn't want to deal with getting a lawyer and having to show up for multiple court dates.
Jack Brisco, Harley Race and Johnny Valentine were among the toughest men McDaniel wrestled. Ric Flair came back from a plane crash to become a superstar, so he's a special breed of tough as well.
Billy Graham faced Wahoo in a strap match in Chicago that did huge business. The match was as hard fought as any he ever competed in. McDaniel figures he wrestled in 11,000 matches.
Lex Luger received a cut on the cheek from Cocoa Samoa while wrestling as a rookie in Florida. He went to have it surgically fixed up because he was afraid any kind of scar would ruin his good looks.
WCW offered Luger $800,000 a year to come back in 1992, but Lex figured the WWF would make him a megastar and thus earn him a lot more money. Things did not work out in Luger's favor.
El Santo was short, but the Mexicans loved him. He and Wahoo sold out a show in Dallas as partners. McDaniel loved the money he drew, and Santo could work.
ECW is okay to watch, but the guys are going to tear their bodies up at an alarming rate from the violent style.
Wahoo wishes all the modern workers well:
"I hope they get all the money and pussy they want."
The only places McDaniel never worked was for Don Owens in Portland and Roy Shire in California.
The Puerto Rican fans would throw batteries and all sorts of other things at the heels. Ric Flair and Roddy Piper caused a riot in one of the Caribbean islands and had to have an armed police escort to make it back to the airport.
Mil Mascaras was being attacked by Johnny Valentine one night in Houston, which caused the Mexican fans to riot. Valentine blasted one fan after another until the ring was littered with bodies.
Wahoo was at the card in Greenville where a fan stabbed Ole Anderson in the arm and chest and forced him to receive dozens of stitches. .
A fan stabbed Roddy Piper right in the chest. The knife nearly got him in the heart. The heat the heels drew was very real.
In Nassau, the fans chucked bricks at you. The promotion had to install a wire cage to protect the guys while they were coming and going from the ring.
Final thoughts: I got all sorts of fuzzy feelings watching this as McDaniel was one of the guys I loved as a youngster and I have a soft spot for the wrasslin' that I connect with my Grandpa, who spent a lot of time watching with me.