Thanks to Kris Zellner, Jim Zordani, Graham Cawthon, Matt Farmer, Tamalie, Dave Meltzer, Karl Stern, wrestlingdata.com, crazymax.org, prowrestlinghistory.com and the "Between the Sheets" podcast for the results and historical information I have used for this series. The Wrestling Classics and Kayfabe Memories message boards have also been invaluable in answering my questions on certain issues and angles.
WWF
Although other happenings in the fallout of Wrestlemania would prove to have more long-term repercussions in the wrestling landscape, the biggest mainstream occurrence in the universe of sports entertainment was Hulk Hogan getting his own cover on Sports Illustrated. This would mark the first and only time a wrestler had earned that distinction, although Andre the Giant had previously had an extensive write up done of his career in a previous edition of the magazine.
The WWF reacted to the Missing Link getting one of the few non WWF-centric pictures in the spread by signing him up soon after.
After being abandoned by Bob Orton and Roddy Piper at the conclusion of Wrestlemania's tag team main event, Paul Orndorff began a slow turn towards becoming a babyface. This included begrudgingly shaking Hogan's hand after a match in Toronto. By the end of the month Orndorff decided to fire his manager, Bobby "The Brain" Heenan. Heenan did not take the news well as he announced the change to the world on "Piper's Pit". During one televised bout, Heenan refused to leave ringside, even though Mr. Wonderful went on the house microphone and reiterated they were no longer aligned.
Behind the scenes Orndorff was upset with the WWF office after he appeared in a commercial for Absorbine Jr. His payday was $7,500, while the WWF received $42,000 from the company as they were acting as Orndorff's agent.
The WWF took off two weeks from touring after Mania, probably to ensure that as many closed circuit locations as possible would draw for the event.
Most of the feuds that were ongoing prior to Wrestlemania persisted. Andre continued to find partners to help him batter Ken Patera and Big John Studd.  Jimmy Snuka and Roddy Piper were unrelenting in their blood feud that had been unfolding in various forms since last summer. Tito Santana's quest to capture Greg Valentine's Intercontinental gold carried on in singles bouts, as well as tag team action. Barry Windham and Mike Rotunda, now the hunters and not the hunted, pursued Nikolai Volkoff and the Iron Sheik after the heels had robbed the U.S. Express of their gold at Mania.
Volkoff and Sheik actually incited a near riot in Anaheim as 30 fans stormed the ring during Volkoff's rendition of the Soviet national anthem.
World champion Hulk Hogan fended off a wide variety of opponents. This included Bob Orton Jr., Don Muraco, Brutus Beefcake, Jesse Ventura, Paul Orndorff and Roddy Piper.
In a move that would prove to be historically significant, but barely raised an eyebrow at the time, Bret Hart & Jim Neidhart were placed together as a team.
It was rumored that Tony Atlas quit the WWF as he only worked two dates, but he's back to a full schedule in May, so whatever happened was cleared up fast.
Tommy Rich was believed to be coming in, and it appears he may have even been booked at a house show in Ohio before the deal fell apart.
The WWF talk show "TNT" aired an interview with the legendary Dr. Jerry Graham. He was bloated from years of alcohol abuse. Graham indicated he planned on coming in as a manager, with Jack, Mike and Mad Dog Graham all coming to "New York" with him. Jerry even put over "Superstar" Billy Graham, who was working on JCP's TV at the time.
Jesse Ventura had a confrontation after a TV squash match with his fellow commentator Bruno Sammartino. This teased a match that ended up being rumored up to the time of Wrestlemania 3, but never came to pass.
Booker George Scott and Hulk Hogan were having issues. Scott wanted to clean up the roster's widespread drug abuse and pushed for a drug testing program to began. Scott ended up confronting Hogan backstage during a Madison Square Garden house show over the "unsavory" people who were hanging out with the World champion backstage. Hogan ended up going to Vince McMahon and complaining about Scott's meddling.
With the ratings success the WWF is enjoying on the USA network, McMahon began looking into other forms of "sports entertainment" to put on TV. He and the USA network agreed in principal to develop a roller derby league, but McMahon would eventually get cold feet and back out of the plan.
"Bloopers, Bleeps and Bodyslams" was released on VHS, kicking off the WWF's video library.
49-year-old Ricky Hunter, who debuted in the late 1950's, began working as a prelim talent for the WWF.
Los Angeles drew 12,000 fans for a loaded show. Hogan battled Piper in the main event, Tito Santana fell to Greg Valentine after Don Muraco ran interferance, and the JYD fought with Mr. Wonderful to a draw in the key matches.
Oakland drew 12,000 fans to see Piper tangle with the Hulkster, Jimmy Snuka brawl with Bob Orton Jr. and the U.S. Express fight the Iron Sheik and Nikolai Volkoff.
18,000 New York fans came to Madison Square Garden to see the Hulkster fall to Don Muraco via count out after Mr. Fuji distracted Hogan and allowed Muraco to get the jump on him on the floor. Tito Santana partnered with the JYD to batter Brutus Beefcake and Greg Valentine, Barry Windham bested Volkoff by DQ and Mike Rotondo pinned the Iron Sheik. Tatsumi Fujinami and the Cobra came in from New Japan as special attractions on the under card.
Central States/St. Louis
The local group run by Bob Geigel, Harley Race and Verne Gagne put on a weak Kiel Auditorium show, with Harley Race facing Butch Reed in the main event and Dick the Bruiser knocking heads with Wahoo McDaniel in a cage. The only undercard match of note was Marty Jannetty downing the Missing Link.
The WWF's show later in the month drew 2,600 fans, which was a disappointing number considering they stacked their event with 3 big matches. Andre the Giant downed Big John Studd and Bobby Heenan in a handicap match, Roddy Piper bested Jimmy Snuka via count-out and the U.S. Express earned a count-out win over the Iron Sheik and Nikolai Volkoff.
CWG
Despite essentially merging this group with JCP's roster, a skeleton crew of Georgia talent and few Crockett stars ran small house shows all month long, once again dipping into the WWF's territory for several shows in New Jersey and Pennsylvania.
NWA champ Ric Flair defended his gold against Tommy Rich at four events and Ronnie Garvin received a title match at another show.
Gene Anderson came out of retirement to team with Ole Anderson and Buzz Sawyer at several events against Kareem Muhammed, Scott Irwin and Rip Rogers. Gene would return to retirement as other angles unfolded.
Ole Anderson and Thunderbolt Patterson's National tag title run took an awkward turn when Ole Anderson began supporting the heelish manner Arn Anderson was using to win matches. Ole and Patterson split the team up, with Anderson warning Thunderbolt to stay out of his business or face the consequences. Patterson did not heed this warning and ended up beaten down by Arn and Ole on national TV.
The current AWA tag team champions, the Road Warriors, were brought in for a Cleveland house show match against the Sawyer brothers.
CWG and the WWF fought over the Cincinnati's fans money. CWG presented NWA champ Ric Flair against Tommy Rich, plus the Boogie Woogie Man besting the Barbarian. The WWF countered with Hulk Hogan defending his gold against Brutus Beefcake, plus Jimmy Snuka fought Roddy Piper.
Atlanta fans were treated to both groups running the Omni. The combined JCP/CWG effort saw a main event of NWA champ Ric Flair facing Michael Hayes, Manny Fernandez teamed with Thunderbolt Patterson to battle Ole and Arn Anderson, Magnum T.A. downed Buddy Landel, plus Dusty Rhodes teamed with Jimmy Valiant and Buzz Sawyer to take down the trio of Ivan and Nikita Koloff, along with Krusher Kruschev.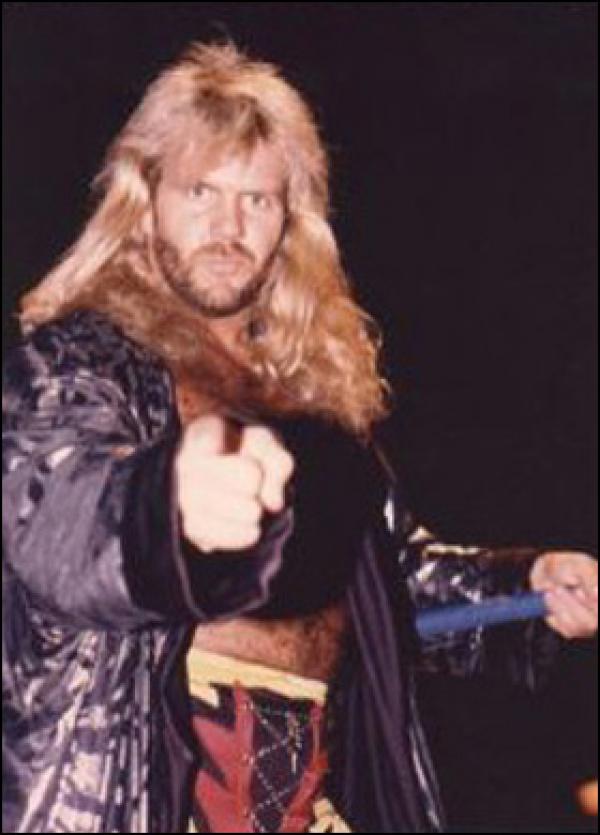 The WWF managed to draw just 900 fans to their Omni show. The main event saw Mr. Wonderful fail to take down the Hulkster, Wendi Richter bested Leilani Kai, the U.S. Express earned a count-out win over Volkoff and Sheik, plus Mr. Wrestling II and Ricky Steamboat took part in action against lesser talent.
Much more to come from the other territories for this month in part two.  Thanks for reading!