Thanks to Kris Zellner, Jim Zordani, Graham Cawthon, Matt Farmer, Tamalie, Dave Meltzer, Karl Stern, Brian Last, wrestlingdata.com, crazymax.org, prowrestlinghistory.com and the "Between the Sheets" podcast for the results and historical information I have used for this series. The Wrestling Classics and Kayfabe Memories message boards have also been invaluable in answering my questions on certain issues and angles.
Where I last left off: January 1985
WWF
The WWF presented what could be argued as being the most important angle in the history of the company at Madison Square Garden on February 18th. Over 26,000 fans sold out MSG, with several thousand more filling the Felt Forum to see "The War to Settle the Score" between Hulk Hogan and Roddy Piper. The match was the main feature on an MTV special which featured a rundown of the feud so far, including how it tied into the Wendi Richter/Cyndi Lauper "Rock n Wrestling Connection" angle.
The special scored a 9.1 rating, which was huge for MTV. Celebrities such as Tina Turner, Dee Snider, Ted Nugent, Little Richard and others chimed in on rock and roll's behalf. The wrestlers meanwhile were also given a chance to offer their opinions, with the heels supporting Piper and the faces deriding him.
Bob Costas, Danny Devito, Andy Warhol and other celebrities were live at MSG to see the big fight, which ended in less than 8 minutes after Paul Orndorff and Bob Orton Jr. became involved in the action. Piper and Orndorff were attempting to injure Hogan when Cyndi Lauper stood up on the ring to distract them. The heels began to converge on her, which drew A-Team star Mr. T out of the crowd to save her. T took a beat down before Hogan was able to rise up and save him. This led to immediate challenges from both sides for a tag team match to settle things. Wrestlemania was born.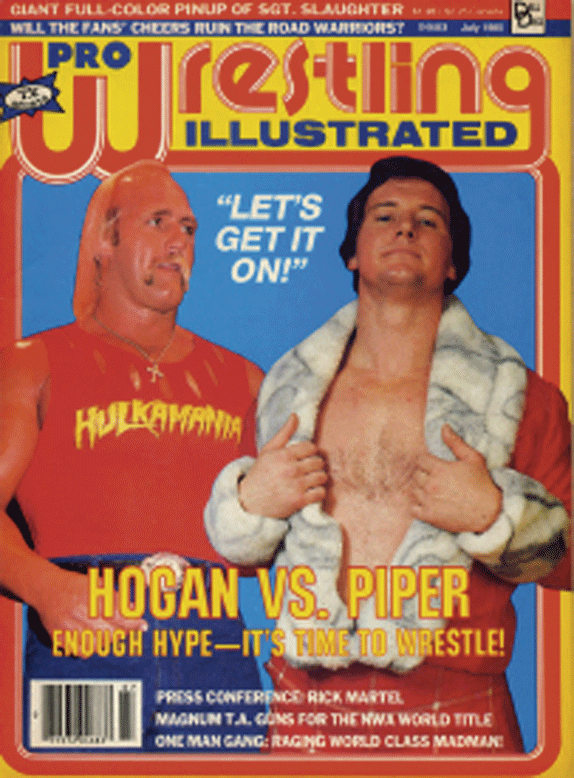 The other major happening of the evening was Lelani Kai upsetting Wendi Richter for the Women's title. The Fabulous Moolah attacked Cyndi Lauper at ringside, which caused Richter to look away from Kai long enough to be rolled up from behind and pinned.
Piper ended up taking his "Piper's Pit" on the road to the A-Team set and nearly started a brawl with Mr. T while harassing him during their interview which aired on WWF TV over the following weeks.
Cyndi Lauper won the Grammy for "Best New Artist" on February 26th, going on stage with Hogan in tow.
Piper's feud with Jimmy Snuka continued in many arenas across the country, with Snuka teaming with various men like Tony Atlas, Tito Santana and others to face off with Piper, Orndorff, Orton, and Don Muraco.
Andre the Giant continued his war with Ken Patera and Big John Studd. His scheduled partner for a bunch of the tag team bouts was Blackjack Mulligan, but Mulligan elected to quit the WWF. Andre used the JYD, George Wells, Snuka, Mad Dog Vachon, and Pat Patterson as his replacement partners. The WWF aired TV segments with the Heenan Family attacking Mulligan followed by Andre making the save after it was already clear that Mulligan was gone.
World champion Hulk Hogan spent the early part of the month on a New Japan tour, facing off with Antonio Inoki, Tatsumi Fujinami, King Kong Bundy and other top stars.
World tag team champions Barry Windham and Mike Rotunda defended American values against Nikolai Volkoff and the Iron Sheik for much of the month. The Wrestling Observer from this era noted that Windham was expected to drop the titles soon and head to Florida with his father. One of the main reasons Windham and Rotunda were pushed by McMahon is that Vince loved Bruce Springsteen's "Born in the USA" and wanted to create an all-American team who could use the song as their theme.
Intercontinental champion Greg Valentine hired Jimmy Hart to manage him. I'll have much more on Hart's departure from Memphis in part two of this article. Valentine spent the month fending off the challenge of Tito Santana in a feud that has no end in sight.
In a sign that Vince McMahon was playing chess and the other promoters were still figuring out checkers, the WWF was the only wrestling promotion to have a booth at a national television convention. This gave them the sole attention of the advertisers and network stooges who also attended.
Hillbilly Jim was getting big reactions for his matches everywhere thanks to his alliance with Hogan. His career suffered a major setback though as he broke his leg while chasing Johnny Valiant around ringside during a Hogan title defense against Brutus Beefcake. He would end up missing 7 months of ring action at the hottest point in his career.
"20/20" aired their infamous special that saw Eddy Mansfield reveal how blading was done, as well as David Schultz slapping reporter John Stossel for asking him if wrestling is real. That slap ended up earning Stossel $280,000 in damages as he sued the WWF and Schultz over the incident.
Stossel actually contacted Dave Meltzer while researching for the segment. Stossel did not know who Ric Flair was and asked Meltzer why he wasn't in the WWF if he was supposedly such a good wrestler.
Schultz was given a 3000 dollar fine and a three month suspension by the New York commission for attacking Stossel. Schultz' bad month continued on February 21st when he made an attempt to legitimately attack Mr. T at a show in Los Angeles in order to get himself into the main event angle. For this breach in protocol, the WWF fired him
The Iron Sheik was arrested after a match in a New Jersey high school as he started throwing chairs around ringside and things escalated.
As I stated in the January 1985 edition of this series, Adrian Adonis was attempting to quit the WWF and work Japan full time. Adonis ended up being temporarily fired by McMahon in early February after he refused to lose a match to Mike Rotunda.
Former NWA champion Jack Brisco abruptly retired one morning while he and Jerry were at a rental car lot. There was fresh snow everywhere, and the Briscos were struggling to find their snow-covered car. Jack finally just turned around and told Jerry he was going back to buy a plane ticket to Florida and won't be coming back. Jack later admitted he never really wanted to work in the WWF since they had a hectic schedule and often traveled in poor climates. He only did a run because Jerry asked him to.
The WWF shows run in the old Stampede Wrestling areas were met with fan apathy as the action was much slower than they were accustomed to from Stampede.
Matt Borne told Portland promoter Don Owens that he was retiring to focus on a job at a construction company. In reality, he came to terms with the WWF to start wrestling in early March.
In a trivial note, the WWF was booking Brian Mackney as an enhancement talent at this time. Mackney was a long time journeyman who made a career out of wrestling despite being a mute.
Detroit drew just under 12,000 fans for a clash between Tito Santana and Greg Valentine, along with the Briscos tangling with Adrian Adonis and Dick Murdoch. A second show in the city saw Andre and the JYD draw 13,000 fans to support them in their bout against Studd and Patera.
15,550 fans sold out the Boston Garden to see Andre and the JYD batter Patera and Studd in a "Texas Tornado" match. Wendi Richter, Barry Windham, and Paul Orndorff also took part in action.
The WWF ran Pittsburgh twice, first drawing 12,500 to see Santana grapple with Valentine, along with Snuka colliding with Orton. Then on the 23rd, the return of Bruno Sammartino helped spark a sell out of 17,500 fans as he teamed with his son to battle Mr. Wonderful and Bobby Heenan. JYD butted heads with Roddy Piper and Andre smashed Patera in the other top bouts.
To show how hot the product was, THIS card drew 9,000 fans to Anaheim on the 9th: Greg Valentine defended his title against Rick McGraw, JYD brawled with Alexis Smirnoff, Tito Santana downed Terry Gibbs, Mr. Wrestling II grappled with Les Thornton to a draw, David Sammartino bested Jesse Ventura by DQ and Bret Hart fell to Jim Neidhart by pinfall. Everyone then piled in the ring for a battle royal that Santana won.
Los Angeles drew over 15,000 fans to see Andre and the JYD clash with Patera and Studd. Valentine faltered against Santana and lost via count out in the other match of note. The card drew the biggest crowd in L.A. since the famous John Tolos/Fred Blaisse wars of 1971.
The WWF ran L.A. a second time, with Hogan battling Don Muraco in the main event. Mr. T was with Hogan to help fend off Mr. Fuji. Snuka and the JYD battered Orton and Piper in the co-feature.
Oakland drew 15,000 fans to see Hogan battle Mr. Wonderful, as well as Snuka and the JYD assault Orton and Piper.
St. Louis/Central States
Harley Race attempted to sell his stock in Central States to Verne Gagne, but the negotiations fell apart. Rumors abounded that Jim Crockett would step in and buy the shares instead.
Bob Geigel told the local press that Vince McMahon made him a buyout offer, but when it came time to produce the money Vince backed out of the deal.
The Geigel/Gagne tandem drew 7,000 fans to St. Louis to see NWA champ Ric Flair defend his title against Bruiser Brody. Crusher Blackwell fought Harley Race to a draw in a bout over the Missouri title, Wahoo McDaniel pinned 56-year old Gene Kiniski, Sgt. Slaughter battled the Missing Link and 56-year old Dick the Bruiser teamed with Bob Brown to down Mr. Pogo and Sheik Abdullah. The WWF came into town two days later with Andre and the JYD facing Studd and Patera in the headliner. Valentine and Santana tangled yet again on the undercard.
Flair defended his title against Brody in Kansas City while in the area as well. The basic facts are that only Flair, Brody and Kerry Von Erich were able to pop a house here, so the promoters were trying to use them on top as much as possible before the audience burned out on them.
CWG
The money issues continued for Ole Anderson, so he was forced to use a bunch of geeks Abdullah the Butcher trained in order to fill out his roster.
Among the other newcomers are Paul Diamond, fresh out of wrestling school and green as grass Fred Ottman (aka Tugboat) who used "Siegfried the Giant" as his moniker.
Despite the depleted roster, Anderson was still on national TV on TBS, which gave JCP the incentive to send him talent to use on the TV show and some house shows.
The Long Riders aligned with Kareem Muhammed because he's African American and they needed him to tell them how a black man like Thunderbolt Patterson thinks. Muhammed and Patterson cut racially charged promos on each other.
Ivan and Nikita Koloff focused on getting their hands on Ole and Thunderbolt.
Gene Anderson was brought out of retirement to join Ole and Thunderbolt for some future six-man tag team bouts.
National champion Ron Garvin was embroiled in battles with Bob Roop and "Rotten" Ron Starr. Garvin suffered several attacks from the men, and even had his hair cut. This prompted Garvin to seek out Dick Slater for help. Tommy Rich also sided with Garvin, with Rip Rogers aiding the heels.
The WWF ran two shows at the Omni. February 3rd drew 4,200 fans to see Andre stand toe to toe with Big John Studd, plus Roddy Piper tangled with Tito Santana, who was replacing the departed Tonga Kid. The Briscos fell to Dick Murdoch and Adrian Adonis in the other match of note.
The WWF returned on the 24th. This event was headlined by Piper and Orton fighting the JYD and Snuka. Snuka bladed himself in an obvious manner during the contest, leading the snarky fans at ringside to chant "20/20" at him.   Greg Valentine bested local favorite Tony Atlas in the only other match of note.
Cleveland was a battleground city as the WWF and CWG vied for the fan's money. The WWF drew a sell out of 17,000 fans to see Hogan down Brutus Beefcake. Tony Atlas and Snuka put away Piper and Orton in the co-feature. CWG brought in National champ Ron Garvin against Ox Baker, plus Tommy Rich tangled with Bob Roop.
AWA
Larry Zbyszko is now the "AWA Americas" champion. Pro Wrestling USA TV announced he won the title in a tournament in Mexico. Wikipedia has a date in Memphis listed. Either way the tournament was made up and the title was given to Zbyszko to build to Bob Backlund winning it, thusly fulfilling his promises to once again win a title since he's the "uncrowned champion".
The Road Warriors continued to make friends. The latest incident went down during a six-man match between Hawk, Animal and Paul Ellering facing off with Curt and Larry Hennig along with Baron Von Raschke. The Warriors were cheered, despite being the heels, until they started to sell fear of the Baron's claw. The fans then pelted them with trash. Hawk and Animal started to grab the trash, rub it on their crotches and toss it back at the fans. The locker room readied itself for a riot, but things calmed down. On top of everything else, the Hennigs were subs for the Fabulous Ones, who Verne kept promoting as appearing despite the fact that they had quit the AWA weeks earlier.
The Masked Superstar was in the process of getting a headline push. If you believe Bill Eadie's side of things, Verne was actually pushing for him to beat Martel for the title. The deal fell apart fast when Gagne went on to explain to him that as AWA champ he'd get booked in All-Japan for 7,500 grand a week, with 2,000 of that being given to Verne for serving as the middleman. Eadie told Verne he already made 10 grand a week working for Inoki and didn't have to share any of that, so no deal. This soured Verne on Eadie and the Masked Superstar was gone from the AWA soon after. That scenario won't unfold for a few more months though.
Greg Gagne and Crusher Blackwell spent much of the month clashing with King Tonga and the Masked Superstar.
AWA champion Rick Martel continued to tangle with Jimmy Garvin at most of the AWA's events.
Kamala began to appear on AWA TV to build him up as another monster heel.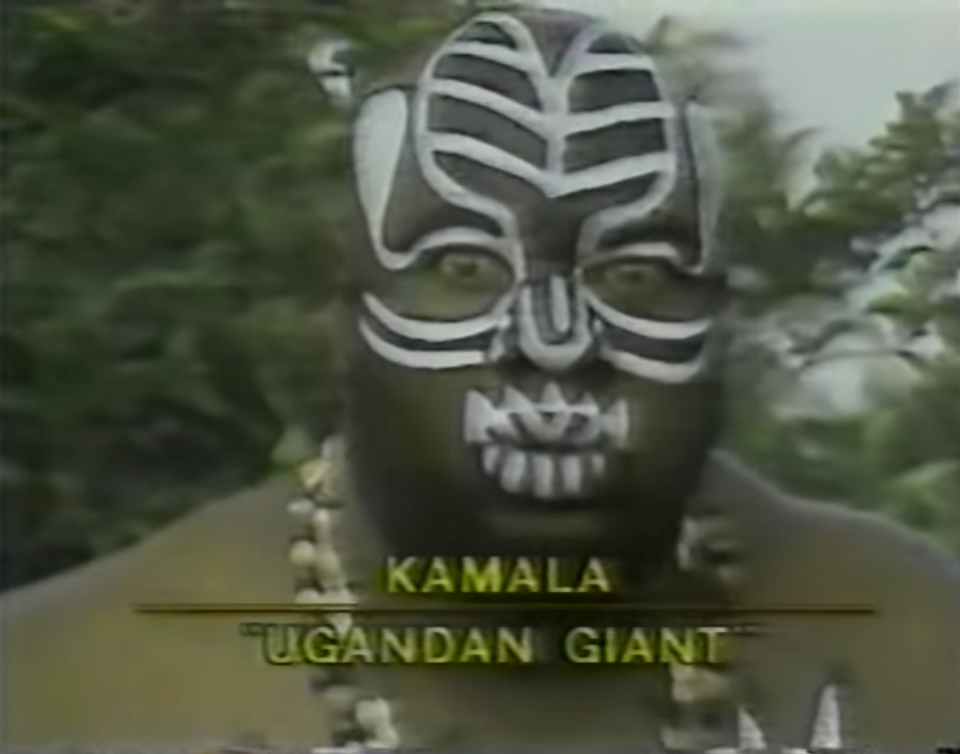 The AWA and the WWF battled over Chicago. The WWF drew 10,000 fans to see Studd and Andre go one-on-one. The JYD tangled with Mr. Wonderful, plus Santana and Valentine also grappled. Mad Dog Vachon took part in the undercard.
The AWA show had a unique main event as Mr. Saito missed his flight, which forced Nick Bockwinkel to team with his enemy Sgt. Slaughter against the AWA tag champion Road Warriors. Bockwinkel turned on Sarge and ultimately the match ended in a DQ. The match had been billed as having no disqualifications. Jim Brunzell and Greg Gagne tangled with Sheik Adnan and King Tonga in the other match of note.
The AWA and WWF also battled over the Twin Cities, with the AWA drawing over 10,000 fans to see Sarge and Crusher Blackwell best the Road Warriors by DQ. AWA champion Rick Martel faced off with Bob Backlund in a battle of babyfaces. The fans did not give the match a chance and chanted "boring" through much of the encounter. Greg Gagne bested Nick Bockwinkel in the other match of note.
The WWF drew 3,000 fans for a big six man battle between Andre, Mad Dog Vachon and Rocky Johnson (subbing for Mulligan) facing off with Mr. Wonderful, Studd and Patera. Jesse Ventura took part in the undercard.
Winnipeg drew 4,000 fans. Both Jerry Blackwell and Bruiser Brody failed to appear for their advertised bouts. Gagne and Brunzell bested the Road Warriors in the main event, meanwhile Blackjack Lanza took Blackwell's spot in a tag match with Slaughter against the Masked Superstar and King Tonga. Tonga took Brody's place.
San Francisco drew less than 2,000 for Slaughter and Blackwell facing off with Tonga and the Masked Superstar. Martel defended his gold against Jim Garvin and the Hennigs drew Bockwinkel and Saito.
Salt Lake City drew 7,700 for Blackwell fighting the Masked Superstar and Jimmy Garvin's attempt to wrest away the AWA gold from Martel.
Montreal
Since Verne Gagne had a piece of the promotion, he was used as the special ref for a match between International champ King Tonga and Dino Bravo. Bravo captured the gold at the end. In other action, the Road Warriors fought Joe Leduc(!) and Gino Brito and Martel bested Sailor White.
Quebec City saw Tonga take Martel to a draw, the Road Warriors collided with the Rougeau Brothers and Dino Bravo either faced Richard Charland or NWA champion Ric Flair. It appears the Wrestling Observer erroneously listed Flair as a no show, as several other places online cite the Bravo/Flair encounter as being legit.
Pro Wrestling USA
The TV was heavily geared towards pushing the PWUSA megacard "Star Wars" at the Meadowlands.
The event drew over 18,000 fans. The main event was a tag team battle royal with Road Warriors,Ivan & Nikita Koloff, Greg Gagne & Jim Brunzell, Kamala & Billy Robinson, Jay & Mark Youngblood, Jerry Lawler & Baron Von Raschke, Bob Backlund & Jimmy Valiant (a sub for Carlos Colon), Mr. Saito & the Masked Superstar, Nick Bockwinkel & Dory Funk Jr., Jimmy Garvin & Larry Zbyszko, Jerry Oski & Steve Keirn and Sgt. Slaughter & Jerry Blackwell. Blackwell was removed from the match for failing his blood pressure test done by the state commission. Some speculation arose that the promoters forgot to bribe someone and thus the negative test resulted, but I am not unconvinced that it wasn't just an angle to put over Sarge as he went in alone and won the match without any help.
The card also saw NWA champ Ric Flair pin Harley Race. AWA champ Rick Martel came up short against Garvin as he was disqualified for throwing Jimmy Jam over the top rope. The AWA tag champion Road Warriors beat Baron Von Raschke (subbing for Tommy Rich) and Jerry Lawler when the Baron was pinned. Ivan and Nikita Koloff bested Jimmy Valiant (a sub for Stan Lane) and Steve Kiern. Larry Zbyszko, Nick Bockwinkel and Dory Funk Jr. bested the Youngbloods and Jimmy Valiant. Kamala squashed two jobbers, Billy Robinson (replacing Ray Stevens) fell to Bob Backlund and Jim Brunzell and Greg Gagne took Mr. Saito and the Masked Superstar to a draw.
As you can tell, the card was littered with replacements. Terry Funk missed the show in order to tape a TV series and Ray Stevens was never planning on coming as he had told Verne for months that he did not want to come out of retirement. The Baron was the original partner for Jerry Blackwell, but he was "hurt" by the Road Warriors on PWUSA TV and Slaughter stepped up to take his spot.
The Pro Wrestling USA TV saw Terry Funk cut a couple of crazy promos. One week he called Cyndi Lauper a "pig nosed airhead" and another week saw Funk and Bockwinkel mock Hulk Hogan for using steroids, noting that his muscles do not make him a real champion.
Greg Gagne and Jim Brunzell made it a point to call out the Road Warriors, but they were also involved in a feud with Sheik Adnan's army.
The Pro Wrestling USA concept was utilized by Jim Crockett as he rolled out a group of mixed talent in a large number of major cities:
Washington DC fans witnessed Wahoo McDaniel upend Ricky Steamboat, plus Ivan Koloff earned a DQ against Bob Backlund, Dusty Rhodes and Jimmy Valiant brawled with Ron Bass and Black Bart, Dick Slater was thwarted by NWA TV champ Tully Blanchard and Magnum TA pounded JJ Dillon.
Philadelphia was a battleground as PWUSA presented NWA champ Ric Flair taking on Ricky Steamboat in a 45-minute wrestling clinic. Ole Anderson and Thunderbolt Patterson bested Ted Oates and Rip Rogers, Blanchard survived a test against Manny Fernandez, Wahoo slugged it out with Ron Garvin, Dusty Rhodes aligned with Bob Backlund to down Black Bart and Ron Bass, plus Dick Slater and Superstar Graham were in action. The card drew 3,770 fans, which the local TV sports reported as being the smallest crowd to ever watch a wrestling show in Philly.
The WWF brought in Hulk Hogan to defend his gold against Brutus Beefcake, plus the event saw return of Bruno Sammartino to Philly, who teamed with his son against Bobby Heenan and Mr. Wonderful.
PWUSA returned to Philly at the end of the month with NWA champ Ric Flair facing Sgt. Slaughter, plus Dusty Rhodes went after Blanchard's TV title, Bob Backlund pinned Ron Bass, and Wahoo downed Dick Slater.
Baltimore also served as a battleground. PWUSA presented NWA champ Ric Flair defending against Sgt. Slaughter, Dusty and Fernandez clashed with the Koloffs, McDaniel butted heads with Ole Anderson, Dick Slater downed Dory Funk Jr and Bob Backlund teamed with the Boogie Woogie Man to face off with the Barbarian and Superstar Billy Graham.
The WWF brought in Snuka and Piper to continue their blood feud, as well as Greg Valentine attempting to fend off Tito Santana. They drew just over 13,000 fans.
A second Baltimore show was run by the WWF (perhaps to cull any extra money from a fan who might otherwise consider a ticket to the PWUSA show) with Andre facing off with Patera and Studd. His partner is listed as Blackjack Mulligan, but there's a good chance that was changed based on all of Mulligan's other no shows this month. Santana and Valentine tried to settle their matter in a lumberjack match in the other match of note.
The PWUSA show in Altoona drew 200 fans.
As you can see from the results, those shows basically had no AWA involvement, with the JCP talent being supplemented by CWG and a few free agents. The Gagne/Crockett relationship is clearly fractured.
The PWUSA taped 5 weeks of TV in St. Paul, and the only non-AWA stars used were Kendo Nagasaki, Terry Funk, Bob Backlund, and the Youngbloods.
Next time I'll hit on the news, notes and results from JCP, Japan, Florida, Mid-South, Memphis, Continental, WCCW and more!