For the other parts of this article covering the rest of March, click here. 
 International
The Road Warriors debuted in Japan and became instant sensations. 35 photographers and 25 reporters were awaiting them at the airport as they landed for their All-Japan tour.
Bruiser Brody made the jump from All-Japan to New Japan. He would began to have issues with Antonio Inoki almost right away as neither man had any interest in jobbing to the other.
Carlos Colon, Stan Hansen, Samu, Afa, Sika, the Tonga Kid, Eric Embry and others went on a Middle East tour working in Kuwait.
Masakatsu Funaki debuted in New Japan on March 3rd. The 15 year old was the youngest pro wrestler in Japanese history. He graduated from the Dojo with such names as Jushin Liger, Minoru Suzuki, Chris Benoit, Masa Chono and Shinya Hashimoto as training mates.
The Wrestling Observer reported that the TV series "Webster" would be doing an upcoming episode with pro wrestling being involved in the story. I looked up the episode guide and did not find any wrestling involvement until a January 1987 episode, so I'm not sure what happened here.
Darryl Peterson of Iowa State placed 5th in the NCAA wrestling tournament. He would go on to learn his craft in the New Japan dojo and eventually became "Maxx Payne".
Memphis
Jerry Lawler lost to Nick Bockwinkel in a "Texas Death match" after manager Tux Newman helped Bockwinkel to his feet first during a double knockdown. Bockwinkel was billed as the "AWA World champion" in spite of Rick Martel holding the title.  Jerry Jarrett did not believe Martel would draw against Lawler, so they made up a title change that was still under scrutiny by the AWA board and let Bockwinkel come in as champ.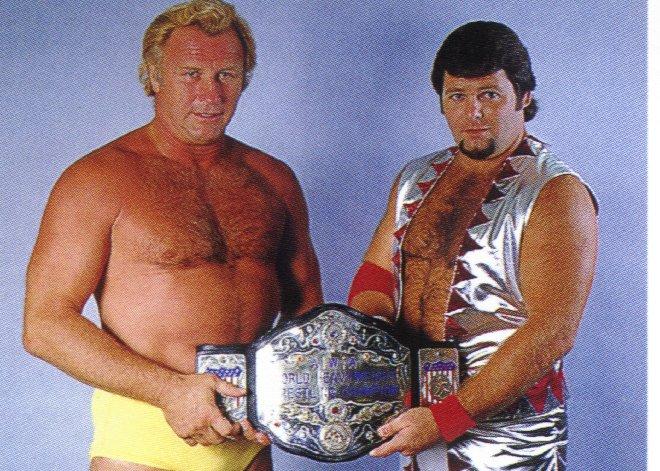 At the conclusion of the match Eddie Gilbert and Mike Sharpe ran in and beat down Lawler. Lanny Poffo and Randy Savage ran in to seemingly make the save, but they instead turned on Lawler and aided in the beating. This led to Savage defeating Lawler for the Southern title in the following weeks.
Prior to the heel turn, Savage had been feuding with "Exotic" Adrian Street.
In a battle that must have had the local ladies swooning, the Fabulous Ones took on the Rock and Roll Express. The Fabs also did battle with the Interns as well as the team of Poffo and Gilbert as the month progressed.
Andy Kaufman was still being used as fodder on TV, this time with Tux Newman claiming that Lawler piledriving Kaufman caused his cancer to spread and kill him. He'd been dead for a year at this point.
Old timer Sweet Daddy Siki made a rare appearance.
Florida
One of the more tasteless angles of the 80's went down as Mike Graham returned to TV after several months of mourning his father's suicide. Graham promised to win the NWA World title in honor of his dad. His promo was interrupted by the Freebirds, who promptly turned heel after becoming angry over Graham's title aspirations stepping on their own goals of being NWA champion. Buddy Roberts ended up calling Mike a "loser" like his father, which started a brawl that culminated with Graham taking a 3-on-1 beating and ending up bloodied. This set up tag matches with Graham teaming with Wahoo McDaniel, Brian Blair and Bugsy McGraw against the Birds. Michael Hayes in particular is really good in this angle as he slowly reveals his dark side as the interview progresses. This is well worth seeking out on youtube.
Michael Hayes was removed as Florida's booker by Graham. The area had been slowly dying since Dusty Rhodes left and gutted the roster along the way.
Brian Blair and Rick Rude were involved in another of the top feuds in the area.
Jack Hart (Barry Horowitz) kept losing all of his matches. This has a pay off….someday….
3,121 fans came to Miami to see Blair, Graham and McGraw face off with Terry Gordy, Rick Rude and Buddy Roberts. The WWF drew just under 3,000 fans that same day at Miami's Knight Center with Hulk Hogan defending his WWF gold against Ken Patera, plus Barry Windham and Mike Rotunda downing Nikolai Volkoff and Iron Sheik. So there it is, proof Bugsy McGraw > Hulkamania!
World Class
Kevin Von Erich continued his endless feud with Chris Adams. The twist this month was that the men would face off with an "I Quit" stipulation placed on their bout. As the match reached it's climax, Von Erich locked his Iron Claw on the bloodied head of Adams. Gary Hart tossed in a towel to surrender on behalf of his man. Adams did not take this decision well, even after Hart explained he was trying to save Adams' health due to his upcoming match with Ric Flair. Adams fired Hart on the spot.
Hart had his revenge soon after though as he ordered the One Man Gang to run in and attack Adams during his battle with Flair, thus costing Adams his chance at winning the NWA gold. Gino Hernandez sided with Adams during this whole affair, and Hart promised to ruin both their careers.
Behind the scenes, Gary Hart was attempting to secure a spot with Jim Crockett for Gino Hernandez, as he realized Gino was surrounded by bad influences in his real life and needed a fresh start. Crockett accepted the proposal, but Hernandez refused to leave Texas. He would be dead in less than a year.
Michael Hayes followed Terry Gordy's recent babyface tendencies in Texas and teased teaming with Kevin Von Erich to face Adams and Hernandez. I have to dig out my Apter mags from this era and see how they covered the Birds' alliances in the wake of these heel/face turn dynamics.
Kevin Von Erich failed to wrest the NWA gold from Ric Flair after suffering a count-out loss during his latest shot at becoming the champion of the world.
Fritz Von Erich finally tried his hand at promoting his very popular sons (well….Kerry) outside of Texas as WCCW had shows planned for Worcester, Massachusetts and Anaheim, California. Kerry was expected to headline both shows against Ric Flair.
Sunshine found herself feuding with Jim Cornette, who was just tearing her apart verbally about her loose morals. Sunshine ended up bringing in Hercules to avenge her honor. Herc would not last too long, as he quit the promotion just prior to May's "Parade of Champions" show where he was to team with Kabuki against Adams and Hernandez. Scott Casey took his spot as Sunshine's aide. Herc ended up in Florida up until late July when he and Florida booker Wahoo McDaniel got into an altercation in the locker room. Herc packed his bags for the WWF soon after.
Ricky Vaughn made his wrestling debut in Portland in late February. He would go on to become "Lance Von Erich" in October. I believe he was being intentionally groomed here to prep him for the WCCW position. Kevin Von Erich and his brothers were not in favor of a fake Von Erich being used, however Fritz wanted to maximize the family name value and they needed a replacement for Mike Von Erich, who had fallen ill after surgery. More on that when we get there…
Mike Von Erich was forced to vacate his TV title after Rip Oliver smashed his hand. Mike was actually going to Japan for a tour and Fritz was not going to have him look weak by losing his championship.
The Fantastics feuded with Dennis Condrey and Bobby Eaton over the American tag team titles. The Rock and Roll Express made a rare WCCW appearance to face their old foes Eaton and Condrey.
Kamala and Dr. Death made special appearances to help spice up the cards in the area.
Southwest Championship Wrestling
This promotion was on life support. Their roster dwindled down to booker Buck Robley, Pat Rose, Al Madril, Ricky Gibson and a few assorted nobodies. Bob Sweetan was fired, and Scott Casey jumped to WCCW. Despite that, they apparently drew 2,000 fans to a house show in Ohio. (WHAT?) I can't locate results for that show in any of my usual locations.
From what I am able to cobble together from online sources, it appears the promotion's downfall began when Joe Blanchard's partner Fred Behrend secretly sold Southwest's San Antonio TV time to Fritz Von Erich, leaving SCW with a Spanish channel and a few small stations to try and draw from. This caused SCW to bleed money and Behrend bought out Blanchard soon after. He renamed the company several times but never made a success of his promoting endeavors. Behrend ended up being investigated for a fire at the wrestling office that may have been intentionally set for the insurance money. Behrend ended up going into the restaurant business and doing okay for himself in the 90's.
Mid-South
Bill Watts' promotion joined a loaded TBS line up. Watts snagged a 7:05 timeslot on Sunday nights, Ole Anderson's CWG was barely surviving with a Saturday morning time slot, the WWF was handed more time (giving them 2 hours each 6:05 Saturday night) as part of the deal to have McMahon tape TV in Atlanta each week. The WWF's ratings were slipping, and once Wrestlemania went off at the end of the month, McMahon sold the slot to JCP for a million dollars. Watts' show was a major hit and Ted Turner was supposedly in discussions with Watts to back a national push, but JCP ended up getting Turner's blessings and Watts ended up off the network in a few months.
Ted Dibiase lost the North American title to Terry Taylor.
John Nord, jacked to the gills, went from AWA prelims to receiving a push from Watts as Jake the Snake's muscle. Butch Reed was building up a program with Nord, but it proved to be short lived, as Reed headed to the AWA himself.
Edgar "Boo" Thomas was being pushed hard as a protégé of Dr. Death. Thomas was a NCAA All-American in wrestling, circa 1979. He fell out of favor of Watts rather quickly. The best story about his wrestling career happened behind the scenes: The Road Warriors were being used for a spell by Watts and were refusing to sell for Terry Taylor and Brad Armstrong, telling Watts his babyface stars were too small. Watts threatened to give the Warriors a week of matches with Dr. Death and Thomas, with the implication being that the Warriors would get stretched. Hawk and Animal were happy to sell for Armstrong and Taylor with that threat looming.
Kerry Von Erich and Gino Hernandez came in as special attractions.
Duggan filmed some videos with Hank Williams Jr. and John Anderson. (Without seeing them, I'd wager they were little vignettes with Duggan getting put over by the music stars. Mid-South ran similar bits for other talents over the years.)
"Hacksaw" Jim Duggan and Ted Dibiase's on and off again blood feud culminated this time around with one of the most famous matches in Mid-South history as the men tangled in a "steel cage, coal miner's glove, loser leaves town tuxedo match" which saw Duggan walk away as the victor at the end of a Superdome show that drew 9,500 fans. Other top matches included the Road Warriors, Terry Gordy and Buddy Roberts, The Dirty White Boys and the Rock and Roll Express taking part in a "four corners" match, which the Express won. Reed fell to Nord in a "ghetto street fight", Kerry Von Erich bested Chris Adams by DQ, Terry Taylor slipped by Kamala due to a DQ, among other action.
JCP
Dusty Rhodes decided to commemorate 25 years of wrestling at the Greensboro Coliseum, with a supercard dubbed "SilverStarr '85". The event would also serve as part of the yearlong celebration of JCP being in business for 50 years. Rhodes' initial plan was to use closed circuit to try and compete with the WWF's "Wrestlemania" national push. That part of the plan never came to fruition. The event drew a hair under 10,000 fans. Considering what Rhodes had dreamed of for the event, that must have been a big disappointment, since the arena held over 23,000 fans at capacity.
The main event was Dusty Rhodes putting his JCP career and 10 grand up against Blanchard's TV title and 10 grand of his own. Baby Doll was placed in a cage above the ring. Rhodes walked away with the title and Tully's money. The TV title was from then on dubbed the "World" TV championship.  Other action saw NWA champion Ric Flair best Wahoo McDaniel in a strap match, Ron Bass dropped the Mid Atlantic title to Buzz Tyler, Sgt. Slaughter partnered with his old friend Don Kernodle and Magnum T.A. to down the Koloffs and Krusher Kruschev, Dick Slater battered the Barbarian, Sam Houston stunned Arn Anderson, Jimmy Valiant pinned Black Bart and Manny Fernandez tangled to a draw with Buddy Landell.
The same weekend as the "Silverstarr" celebration was unfolding, the Crockett family took a business and personal loss as the 40-plus year old building used by the family's minor league baseball team was burnt to the ground via arson. The Crockett's rebuilt it in short order, but the fire caused a drop in attendance that never fully recovered and the Crockett's sold the team off in 1987. The family was reported to have lost a plethora of personal memorabilia in the fire.
Magnum T.A. beat Wahoo McDaniel for the U.S. title on March 23rd. It's hard to believe T.A.'s megapush was a byproduct of Barry Windham jumping to the WWF. T.A. had originally been pegged for the WCCW roster before getting this golden opportunity.
Ivan and Nikita Koloff bested Manny Fernandez and Dusty Rhodes for the NWA tag team gold on March 18th.
One of the more memorable angles of the era went down as Dusty received a big pop for slapping Baby Doll.
Buddy Landell was expected to get a headline push against Flair as he's basically a Flair clone, complete with calling himself the "Nature Boy".
Arn Anderson was told by booker Dusty Rhodes to alter his working style to be more like Ole and Gene Anderson's grinding style. Anderson was credited with breaking a jobber's arm one week, which prompted Thunderbolt Patterson to confront Ole Anderson (who was commentating) about his family member's actions. Ole turned heel again at that point and buried Patterson, Rhodes, and Tommy Rich. Several weeks in a row Manny Fernandez stood up for the jobbers Anderson was abusing, which led to them brawling multiple times.
Crockett and Ole Anderson co-promoted several events in order to take the fight to the WWF. Philadelphia was treated to Magnum T.A. facing Ivan Koloff, Rhodes butting heads with Blanchard and Fernandez brawling with Arn Anderson. The WWF's Philly show drew 8,000 fans to see Roddy Piper brawl with Jimmy Snuka, Greg Valentine defend his IC gold against Tito Santana and Bruno Sammartino teaming with his son David to batter Paul Orndorff and Bobby Heenan.
The groups also battled for the cash of Pittsburgh fans as the WWF drew 13,000 people with the same triple feature that Philly fans saw. JCP brought Koloff vs. Magnum and Rhodes against Blanchard in as their main draws..
April 1985 will be coming soon! Thanks for reading!