Courtesy of the WWE Network
"Mean" Gene hosts this video. He proudly states this is the 35th WWF VHS release, and is a selection of the best of the best moments in history.
Dynamite Kid vs. Nikolai Volkoff
This is from the "Wrestling Classic". Volkoff tries to do his usual singing routine, and the Kid scales the ropes for a drop kick to beat him in seconds. I'd imagine that was a pretty big surprise since Volkoff was challenging Hulk Hogan on national TV on NBC only a few weeks prior.
Greg Valentine vs. Tito Santana
This is the same steel cage match that was shown in full on a previous WWF release, and then the ending was featured on another release. It is a cool finish and worth the induction here. Gene spoils the ending in detail before it is shone, which is a pretty lame thing to do.
Special Delivery Jones vs. King Kong Bundy
This is from Wrestlemania 1. Bundy wins in "9 seconds", despite Jones screwing the timing up to save face (if you believe Bundy's version of events.)
Roddy Piper takes the "Pit" on the road to harass Mr. T on the A-Team set. T says what he does is "for real", unlike Piper fighting geeks on TV. That amused me.
Wendi Richter vs. The Spider Lady
This is the infamous double-cross after Richter refused to sign a contract, so the office took the belt off her abruptly that same night.   The Fabulous Moolah put a mask on for the match. She pinned Richter despite Wendi kicking out. Richter keeps working after the "finish", and tries to keep the match going. Moolah surprisingly does not storm off, but stays and poses. Richter grabs her by the hair several times, but never starts "shooting" even after Moolah is declared the winner. I would love to have been a fly on the wall in the locker room after this all went down. The WWF even pulled this stunt in MSG, about as a high profile of an event as possible.
Kamala eats a live chicken on Tuesday Night Titans. Har Har…
MIDGET MADNESS between Danny Carpenter against the Haiti Kid. We see a few comedy spots.
We see Bob Backlund lose to the Iron Sheik when Backlund's manager, Arnold Skaaland threw in the towel to surrender the match for his charge. I recently heard an alternative version of this part of history. The common story was that Backlund wanted to lose to someone with a legit background to save face. However, in the new view I heard was that whoever happened to be facing Backlund was going to become the transitional champ as soon as Hulk Hogan signed with the WWF. This almost led to Paul Orndorff becoming champion as he and Backlund were already being promoted for title matches for February of 1985.
Mr. Saito and Mr. Fuji win the tag titles from Tony Garea and Rick Martel. Fuji blinds Martel with salt in mid-air and Saito rolls through on a crossbody to steal the titles. At least one fan cheers for the evil duo's conquest. The women shriek at the sight of their handsome heroes falling to the foreign fanatics.
Tony Atlas and Rocky Johnson down Afa and Sika for the World tag titles after Captain Lou accidentally cracks his charge with it while swinging for Atlas. The crowd goes wild. The ref called for the 3-count despite Sika having a chair draped over his head during the pin. Solid officiating as always.
Nikolai Volkoff and the Iron Sheik used Fred Blassie's cane to screw the U.S. Express out of the tag gold at Wrestlemania. I mentioned this while writing about Mania 1 in long form, but Windham is knocked out from a cane shot to the shoulder, which I find a bit fishy…
Randy Savage uses a foreign object to knock out Tito Santana and steal the Intercontinental title. A cameraman actually picks up the gimmick after Savage tosses it to the floor.
Tito Santana and JYD battle Terry and Dory Funk Jr. at Wrestlemania 2. Terry bumps like a madman, per usual. JYD gets bonked by the megaphone and drops the fall. This match probably would have drawn a good house in Houston in the early 80's.
Ivan Putski competes with Jesse "The Body" Ventura in an arm wrestling challenge. Ventura stalls and stalls. Putzki then walks off and Ventura rages out. They finally lock hands. Once Jesse is on the verge of losing he attacks Putzki and cracks him with a chair.
Andre the Giant grapples with 3 jobbers at once. They do a series of essentially comedy spots as Andre tosses multiple men around at once. Andre eventually tires of this exercise, piles then up and pins all 3 simultaneously.
"Superstar" Billy Graham and Bruno Sammartino fight with Gorilla Monsoon serving as the guest referee. Watch this one in full on Grudge Match 86.
Gorilla Monsoon boxes Andre the Giant in a Puerto Rican stadium. Monsoon had points in the promotion, I'm sure he was willing to try a wacky gimmick like this to draw a house. Monsoon throws non-boxing style punches, and Andre uses headbutts, so this whole thing is a farce.
Muhammad Ali shows up on WWWF TV to challenge Gorilla Monsoon. Ali tries to throw some jabs, but Monsoon isn't impressed. He grabs Ali's arm and gives him and airplane spin. Monsoon buries Ali something fierce in a most match promo.
Hulk Hogan escapes the Iron Sheik's camel clutch and goes on to win the WWF title for the first time. The WWF released a kid's book about this match and made up a whole story about how all the top names of the era ran in and played a role in the match. When I finally saw this match years later, I was a very confused kid as NONE of it happened.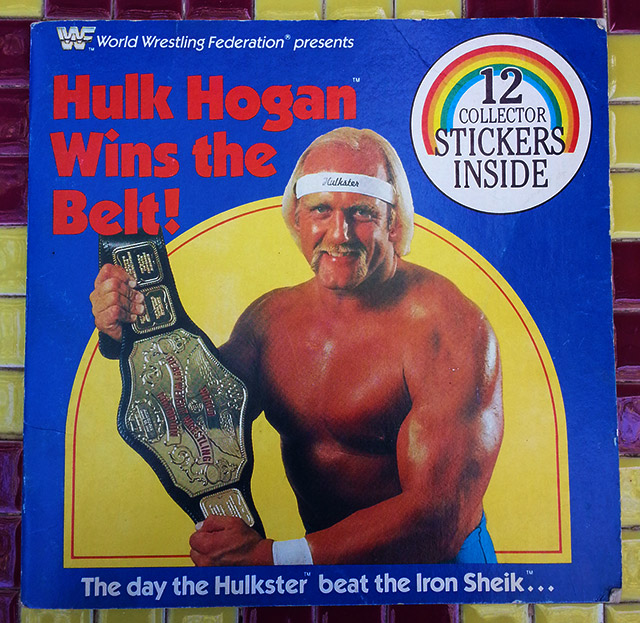 Hulk Hogan and "Mean" Gene face off against George Steele and Mr. Fuji. In 1984, the WWF took the AWA's top star and top announcer- then just to rub salt in the wounds, they ran this comedy tag team match in Verne Gagne's home territory a few months later. The fans ate it up.
The Killer Bees grapple with Dory Funk Jr and Jesse James Funk in front of 70,000 people in Toronto. This is added on here because the Bees put on masks to switch places. Meh.
Highlights of a 20-man battle royal are shown. Laurent Soucie probably makes his WWE network debut here. Soucie was a Wisconsin NCAA star wrestler who trained at the Hart Dungeon and later briefly worked for the AWA and WWF.   Tony Atlas and Special Delivery Jones are the final two men, and since they are friends they decide to flip a coin to determine a winner.
We see the ending of the Wrestlemania 2 battle royal, with William Perry and Big John Studd getting into it before Andre gets rid of the Hart Foundation to win it. I've felt for years now that they should have had Andre and Perry team up and face some heels instead.
Another clip from a battle royal sees Jimmy Hart hide under the ring for the duration of the action, only to be pulled in by JYD at the end of the match. Hart cheers on Greg Valentine as he and JYD tangle. Hart gets in some shots as JYD is held back by Valentine. Then Valentine and JYD fall over together, making Hart the winner. They spoiled the ending before showing it here too. Ugh.
Andre the Giant seeks revenge against Killer Khan, who was credited with breaking Andre's ankle. Andre sits on him several times, but Khan refuses to quit. Andre squashes him again, and then Khan is carried off on a stretcher. I've heard good things about the full match.
Big John Studd gets roughed up by Andre before being slammed at Mania 1. The crowd goes bananas.
Vince McMahon interviews "Crazy" Luke Graham and the Grand Wizard. The Wizard talks about McMahon buying himself an announcer of the year award and that the fans must be drunk, otherwise he and Graham would be beloved. I'm not sure how this made the cut.
Bobby Heenan loses the "manager of the year" award for 1985 after Hillbilly Jim gives Captain Lou his votes. Heenan rightfully is pissed and attacks Albano. Bundy and Studd then attack Jim and leave him laying. Author's note – I saw the full segment after I watched this and Heenan does screw the faces first, which certainly changes the clip's perspective.
Jimmy Snuka loses to Don Muraco in a cage match. With his rage not sated, Snuka drags Muraco back in the ring and delivers a splash from the top of the cage down onto the prone Muraco.
Final thoughts: In the era of the WWE having a network full of old clips, and youtube filling in most of the other gaps, this presentation does not hold up well at all. It's fine for a quick and mindless dose of nostalgia, but fails to hold up as a necessary viewing.