This IS NXT
From the NXT Arena at Full Sail University. Your commentators are Tom Phillips and Corey Graves.
This week: Finn Balor returns after losing the NXT Championship.
Speak of the Demon, here's Balor looking quite unhappy that he doesn't have the NXT title. He acknowledges that his matches against Joe could have gone either way, but he won both Takeover matches, he begins to address losing the title to Samoa Joe, but is interrupted by The Drifter who has that Vickie Guerrero "gets so many boos you can barely hear his crappy songs" heat. He sings about how the Demon has been exposed and says "you ain't nothin' without that title" before he eats a Pele kick in response and bails. Balor chucks his guitar out of the ring after him and Samson, quite impressively actually, catches it. The face that smashes that thing is going to get the biggest pop imaginable.
We look back at Eric Young's debut last week before Cathy Kelley asks him about it. He does the usual spiel of the newcomers that NXT is where the best are and he wants to be the the best.
That Other New Interview Girl Who Isn't Cathy Kelley tries to get a word with Balor, but Finn is more focused on kicking The Drifter's ass first.
Corey Hollis & John Skyler vs. American Alpha (non-title)
Alpha, of course, get a heroes welcome back at Full Sail. This match is basically Alpha asking themselves "how far and how hard can we throw these guys around?" because poor Corey Hollis gets some airtime thanks to the tag champs. Hollis dares to throw a strike which earns him more pain but the heels double team Gable for the briefest of advantages until it's Hot Tag Jason Jordan's turn to throw fools. The straps are dropped and this brings The Revival to the ramp for a staredown. Since this is NXT and not the main roster, this does not lead to Hollis getting a fluke rollup pin, since Jordan puts the straps up and drops them again before crushing Hollis with the shoulder and Grand Amplitude finishes. The champs are quite ready to throw down right now, but the Revival say that things will happen on their time. I'm quite ready for a rematch between these teams. Quite possibly of the 2 out of 3 falls variety.
Cathy Kelley asks Shinsuke Nakamura what his opponent means when he says it's time to "rage" and Shinsuke shakes in rage. It's Shinsuke Nakamura so he made it really cool, believe me.
Alex Riley vs. Shinsuke Nakamura
The intros are hilarious as you can just feel the crowd's apathy as Alex Riley comes to the ring immediately turn to complete joy once the first note of Nakamura's music hits. Nakamura toys with him a bit but misses a knee which allows Riley to get some offense, but he gets disrespectful and that earns him a righteous shitkicking and the Kinshasa ends Riley's WWE career. We'll always have this:
and this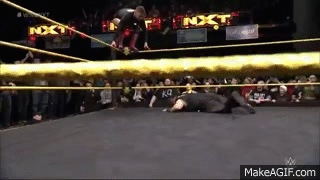 Austin Aries is in GM Regal's office and wants to prove that he is something great, but Blake and Murphy interrupt wanting another chance themselves. Aries can't believe they have the gall to interrupt their meeting and not bring Alexa Bliss. Bliss walks in and Aries thinks things are at least a little more bearable now. An arguement breaks out so Regal decrees that, to make everyone happy, next week Blake and Murphy will face Aries and a partner of his choosing. Aries has a phone call to make.
Alexa Bliss vs. Rachel Ellering
Rachel is the daughter of Paul Ellering, manager of the Road Warriors. There's not much to the match as Alexa works the arm for most of the match until Rachel makes the comeback but Alexa SLAPS ON THE GOOZLE and slams her to the mat before the Sparkle Splash gets the pin. I swear, all I want is ONE chokeslam from that and I'll be happy forever.
Bayley is asked when she is going to ask for her rematch with Asuka, but Nia Jax interrupts leading to a painfully scripted and phony sounding exchange where the London match is referenced and Bayley knows that she's choked out Nia once and she can do it again.
Next week: Blake and Murphy face Austin Aries and the NXT debut of ????????? while Bayley faces Nia Jax in a Takeover: London rematch.
The Drifter vs. Finn Balor
Balor's shoulder is heavily taped here. Balor gets the early advantage and sends Samson scurrying to the floor after a dropkick as we take a break.
Samson works the bad shoulder to get the advantage for a bit, but Finn answers with a forearm before he chops him from corner to corner and sends him to the outside with a dropkick. He hits the soccer kick on the apron and the Slingblade sets up the 1916 to finish. A pretty nondescript match to get Balor back on the horse after losing the title. Samson is doing a good job at getting his ass kicked by the more established stars.
Balor cuts to the chase and demands his rematch against Joe. He is obsessed with NXT and being NXT champion and now possessed by a Demon that wants what belongs to him. That's probably one of the best promos Finn has cut in months. This brings out Joe and suddenly GM Regal materializes in the ring (seriously, where the hell did he come from?) to make the rematch on June 8 at Takeover. Joe is livid so Finn responds by diving out at him as Regal runs for his life. Finn lays the title on Joe's chest telling him to enjoy it while it lasts as we fade.
Doing the same match for the main event of three consecutive Takeovers isn't the most ideal thing to do, but this match does have a different feel to it as now Balor is the aggressor and is definitely showing a meaner side of himself right now. Balor needed a bit of a refresh with his character and I think this is a great way to do it. I assume they will add some sort of stipulation here.
OVERALL: Another really fun episode as the road to the next Takeover has begun. It looks like the men's title matches are going to be Dallas rematches, but those matches were fucking awesome so I'm completely down with more of that.
I'm @PKIsTwitting on Twitter. Say hi!