Pauline Picard
In April of 1922, two-year-old Pauline Picard disappeared from her family's farm in Brittany, France. A search effort was made and after several days word came that a girl matching Pauline's description was found wandering around a town 200 miles away. Pauline's parents traveled to see if the little one was in fact their child and after a brief examination declared her their missing daughter. The reunion wasn't without some peculiarities however as "Pauline" didn't recognize her parents and failed to understand when her parents spoke in their native language. Dismissing this, the Picard's took the little girl back home where several neighbors confirmed it was indeed Pauline.
Roughly four weeks later, a farmer was walking near the Picard's farm and came across a mutilated body of a toddler next to some folded clothes. The authorities and the Picards were alerted and once they got a look at the clothes, realized that they matched the same clothes Pauline was wearing when she vanished. Making things even more morbid and mysterious was the fact that the skull of an adult male was found laying next to the child's body. The area where the bodies were found had been searched weeks earlier, which made everyone assume that the bodies had been placed there recently. The parents accepted that the body was that of their daughter and when asked by the local newspaper what would become of the child they had taken in from afar, the father could only muster "I don't know".
The only suspect in the case is a local farmer who visited the Picards before the bodies were found and asked if the girl was really Pauline. He then burst into maniacal laughter and said "God forgive me, I am guilty." He was supposedly sent off to the nut house soon after. No official resolution is known to the case.
North Carolina Jane Doe
On April 27th, 1968 a woman in a green and white polka dot dress was seen walking down a country road in Wake County, North Carolina by a mother and daughter driving by. When they came back through fifteen minutes later they saw no sign of the woman but did notice a fire burning in a field. It wasn't until the next day that the fire location was looked into and the discovery of the woman's remains were made.
The police had very little to go on but they did investigate a local man who admitted he saw the woman on the road. He claims that when he went back to take a look at her again that she was gone. With no clues other than her dental records and basic body measurements the cops have little hope of ever closing this case.
Robert Dirscherl

On March 13th, 1977, Robert Dirscherl was preparing for church with his family. He was reading a passage from the bible, practicing what he was to read later on during the mass. At one point he went outside and chatted with his neighbor. He then came back in, walked past his wife and headed for the bedroom. A minute later his wife heard a gunshot. She rushed in the room to find her husband dead from a gaping chest wound from a shotgun. The police quickly deemed it a suicide, but the angle of the shot didn't match a feasible angle for shooting yourself with. The fact that he'd use a shotgun also seemed suspicious since there was a handgun in the room as well.
The case was considered closed and nothing new came about until sixteen years later when Robert's son received a letter postmarked on the anniversary of his father's death. The letter stated "I have AIDS, I am dying. I must make my peace with the Lord. I killed your daddy 15 years ago. He found me in his bedroom. I had no choice. Please pray for me."  The letter was left unsigned and had some additional details wrong but the Dirscherl's were convinced that it was genuine. The family actually knew a neighbor who had been arrested for burglary and had since died from AIDS. The police re-opened the case for two years but never settled anything concretely.
Leroy Carter
Police responded to a complaint about a homeless person sleeping in San Francisco's Golden Gate Park on February 8th, 1981. When they tried to rouse him, it was discovered that his head was in fact missing. In it's place was a chicken wing and two kernels of corn. A box holding more mutilated chicken parts was located near the body. The cops ran a fingerprint check and determined the victim was small-time criminal Leroy Carter.
Due to the bizarre nature of the crime scene the police assigned occult crime specialist Sandi Gallant to work the case. The chicken parts reminded her of the Caribbean-African religion Santeria and she told her superiors that if custom is followed, the victim's head would be dropped off at the murder site after 42 days. Forty-two days is the length it takes for the murderer to utilize the powers that could be derived from the head. The higher-ups didn't think much of this possible lead until Carter's head showed up exactly on the day Gallant had predicted. The police had no one patrolling the area that day and thus whoever dropped the head off got away totally free. The case was never solved.
The Orange Sock Murders

On January 6th of 1982 29-year-old Bobbie Jo Oberholtzer was drinking at a pub with some friends in Breckenridge, Colorado. She phoned her husband Jeff to let him know she'd find a ride home. Bobbi left the pub before 8 p.m. and was seen attempting to hitchhike from a nearby mini mart soon after. Since the community was small and considered safe hitchhiking was done often in the town. The next morning Jeff discovered his wife never came home and he went searching for her.  Around 3 p.m. that afternoon Jeff discovered her body in a snow embankment near the top of Hoosier Pass about ten miles outside of town. She had been shot to death. An orange sock was found near her, although she wasn't wearing that color.
21-year-old Annette Kay Schnee, another area resident, also went missing that evening. She was scheduled to start work around 8 p.m. but never arrived. Six months later her body was found about twenty miles outside of town in a remote area.She had been sexually assaulted and shot to death.  Police were stunned to discover that she was wearing the matching orange sock.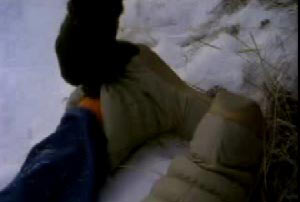 The police then theorized that an unknown perpetrator had picked up both women over the course of the evening and murdered them. Annette's sock was apparently left in the suspect's vehicle, only to later fall out when he murdered Bobbi.
Bobbi's husband Jeff was initially a suspect since his business card was found in Schnee's backpack but this seems to be just an odd coincidence since Jeff had actually picked Annette up while she was hitchhiking months earlier and had given her his card then. Jeff was eventually cleared of the murders. To date no arrests have been made.
Asha Degree
Asha Degree was 9-years-old when she disappeared from her bedroom on Valentine's Day of the year 2000. Her brother shared a bedroom with her and he didn't hear or see anything strange. The police received reports of a girl matching Degree's profile walking down a highway at 4:00 A.M. Her parents told investigators that she had been reading a fantasy book in school about children who run away to go on adventures. They feared she decided to act out an endeavor of her own.
Within three days, Degree's marker, pencil and hair bow were found in the door of a tool shed about a mile from her home. Eighteen months later her school bag was found wrapped in plastic bags twenty-six miles away. The police suspect she was met with foul play but no body was ever found. The case remains open.
I'll be back with another installment soon!