Where we left off: http://culturecrossfire.com/wrestling/wrasslin-back-day-february-1985-part-one/
WWC
A unique result went down in Bangor, Maine as WWC Universal champion Carlos Colon fell to Dory Funk Jr. This would prove to be the first and only time the Puerto Rican based title changed hands on a card not held on the island.
International
NWA champ Ric Flair traveled to Singapore early in the month to face Steve Rickard at an event held inside a stadium. Kevin Sullivan took part in the undercard, facing Mike George.
Hawaii
Polynesian Pro Wrestling brought in NWA champ Ric Flair to take on Kerry Von Erich. The men battled to an hour long draw. The undercard saw Antonio Inoki down Hacksaw Higgins, Lars Anderson and Siva Afi bested Mark Lewin and Kevin Sullivan, Ricky and Rocky Johnson pounded Tiger Toguchi and Bad News Allen, Tatsumi Fujinami whipped the Super Strong Machine, and other action.
Continental
NWA champion Ric Flair came to the area to accept the challenge of Bob Armstrong and Austin Idol.
The WWF invaded Birmingham with a main event of Intercontinental champion Greg Valentine fending off Tito Santana in a lumberjack match. Superfly Snuka bested Bob Orton Jr. in another key bout. Local favorite Mr. Wrestling II downed Rene Goulet on the undercard. Continental's Birmingham event saw Porkchop Cash upend heavyweight champion Jimmy Golden to win the title. Arn Anderson fell to Robert Fuller in a "loser leaves town" match in the other big contest of the evening. Anderson is bound for Jim Crockett Promotions.
Florida
NWA champ Ric Flair was the top bill of several events, defending against Terry Gordy and Wahoo McDaniel.
Barry Horowitz (going under the name Jack Hart) was getting a reverse push due to the fact that he had recently lost over 30 matches without earning a single win. This would pay off in a few months.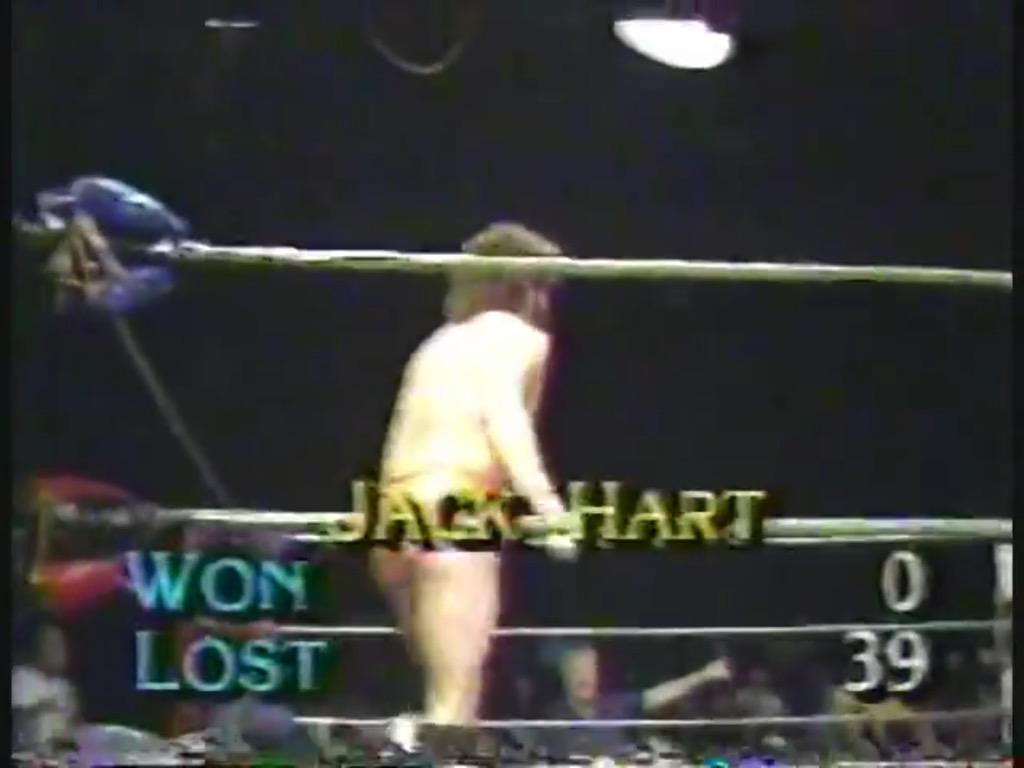 Percy Pringle orchestrated an attack on the Freebirds by his henchmen Rick Rude, the Pretty Young Things and the Missing Link to add more fuel to their feud.
Jesse Barr and Brian Blair continued their battles by not only while squaring off one on one with one another, but also in a series of attacks done while the men were participating in action with other wrestlers.
Dusty Rhodes made an appearance for the Florida office, besting the Missing Link.
The WWF came to Miami with WWF champ Hulk Hogan defending his gold against Mr. Wonderful. The other main match saw former Florida stars Barry Windham and Mike Rotondo best Dick Murdoch and Moondog Spot (replacing Adrian Adonis, who was "fired" for refusing to do a job for Mike Rotondo, as I mentioned in part one of this article.) The card drew 5,193 fans, selling out the Knight Center. The same day in Miami, Florida Championship Wrestling went to the Miami Beach Auditorium with NWA champ Ric Flair headlining against Jesse Barr. A Miami card two weeks earlier had been headlined by the Freebirds in a six-man facing off with the Assassins and The Saint.
Memphis
Jimmy Hart, the long time top heel manager of the area (and foil for Jerry Lawler), abruptly accepted an offer from Vince McMahon to come to the WWF. He was placed with Intercontinental champ Greg Valentine to help give Hart instant credibility. Rumors swirled that Hart jumped in part because he felt he could use the WWF's MTV connections to revive his music career.
Hart's last live appearance on Memphis TV saw him plugging a match where a bag of flour would be placed on a pole to be used by whoever could reach it first. Hart came out in the studio with a bag of flour and dumped it on announcer Lance Russell's head. Russell was furious and he suspended Hart for thirty days on the spot. Hart protested and Russell promised him that matchmaker Eddie Marlin would back the suspension. Marlin was absent due to poor weather making travel hazardous.
A week later Jerry Lawler returned from a tour of All-Japan that he and Jimmy Valiant had been on. Hart appeared in a taped promo and revealed he offered Eddie Marlin a contract where his man, Southern champ Eddie Gilbert, would put his title on the line against anyone. Marlin picked Jerry Lawler. Hart accepted this choice and then added a stipulation where either he or Lawler would have to leave Memphis for a year- depending on which side won the match. Since Lawler had vowed to retire if he did not become a World champion by the end of the year, losing would effectively knock Lawler off of the contender's list and thus he would be forced into retirement. A Gilbert win would also mean Hart's suspension would be lifted immediately.
Hart would still be banned from ringside for the match, but he had surprise replacement, a Jimmy Hart lookalike named "Tommy H". Of course, "King" Lawler won the match and Hart was able to head to the WWF with kayfabe left intact. Lawler and Gilbert had several rematches throughout the rest of the month.
Gordon Solie made several appearances in Memphis in January as part of Jerry Jarrett's cross promotion with Ole Anderson and Jimmy Crockett, but that arrangement ended quickly. The Memphis fans who watched Solie live at the studio were not impressed, pelting him with catcalls to "go back to Georgia" .
The Fabulous Ones continued to be major players in the area, winning the Southern tag titles from the Interns. Stan Lane missed a show in Memphis later in the month, which gave Steve Keirn the chance to team with Jerry Lawler. Later on that same evening, Keirn won a tag team battle royal despite going into the match as a solo participant. I have to believe that Lawler booked that after seeing how well it got over at the Meadowlands' "Star Wars" card Lawler took part in when Slaughter pulled off the same stunt.
Lawler brought in a unique partner to challenge the Interns. Legendary heel Abdullah the Butcher made what appears to be his first appearance in Memphis since the late 70's . I was unable to find the actual storyline that led to Lawler agreeing to team with a noted heel other than that Lawler was searching for a crazy partner. Abby had only weeks earlier joined Jimmy Hart's squad in Georgia, which was seen on national TV. That angle had no bearing on this story.
"Macho Man" Randy Savage contined his feud with "Exotic" Adrian Street, facing him in both tag team and singles action.
The Boogie Woogie Man chased "Iron" Mike Sharpe, who was the Mid-American champion. Valiant successfully snagged the gold before the month was out.
The word backstage was that Jerry Jarrett and Jim Crockett had agreed to terms on a deal that would see Jerry Lawler beat NWA champ Ric Flair for the gold in August. That rumor wasn't too far off, as the King and the "Nature Boy" did end up having a heavily pushed match in the Fall. More on that when we get there.
The WWF came into Louisville and BOMBED, drawing a mere 550 fans to see the JYD and Andre clash with Big John Studd and Ken Patera. Tito Santana also challenged IC champ Greg Valentine on the card.
WCCW
Billy Jack Haynes, only a few short months after burning bridges with the WWF, quit WCCW abruptly. Haynes debuted in January and was quickly given the TV title to give him the rub, but he ended up being stripped of the title after a series of no shows. Haynes was apparently upset that his push was not strong enough. There was speculation in the dirt sheets that Haynes saw all the publicity the Apter magazines had given him over the past year and now his ego was out of control.
Rip Oliver beat Buck Zumhofe in a match for the vacant title. On top of that, the promotion announced that Oliver had beaten Haynes up and sent him home with career threatening injuries. Haynes returned to Portland.
The Von Erichs continued their never never never ending feud with Chris Adams and Gino Hernandez.
Terry Gordy made some shots here in between his run in Florida.
Dallas fans saw a lot of action in their city over the month: On the first of the month, the fans saw Kerry Von Erich face Hernandez, meanwhile Kevin Von Erich fought Adams. On the 8th, it was Kerry fighting Adams. On the 15th, it was Kevin clashing with Adams, plus a battle royal that the One Man Gang stood tall to the end in. On the 22nd. it was Kevin and Kerry partnering against Adams and Hernandez plus Kerry fighting Rip Oliver and finally on the 25th, it was Kerry grappling with Adams in an "I quit" match. The Rock and Roll Express were special attractions that evening, teaming with the Fantastics against Kelly Kiniski, Rip Oliver & Midnight Express, plus Michael Hayes came in from Florida for a match against Hernandez.
The WWF made one shot in Dallas, drawing 1,900 fans on Valentine's Day to witness Hulk Hogan defend his gold against Mr. Wonderful. Roddy Piper teamed with Bob Orton Jr, to challenge Superfly Snuka and Tito Santana in the co-feature.
Mid-South
The hottest feud in Mid-South continued as Ted Dibiase challenged Jim Duggan to a contest to see who the "best dressed" man in Mid-South was. This all stemmed from an angle on New Year's Eve that saw Duggan named "Mid-South wrestler of the year". As part of the ceremony he was given designer cufflinks as a gift. Dibiase protested Duggan's award, citing that he himself was internationally ranked, compared to Duggan who did not travel. He also questioned what a slob like Duggan would do with high-end fashion wear.
After more words and physicality were exchanged, a contest was devised where both men would don their best duds and allow the fans to judge who was the best dressed. Of course, the fans sided with Duggan which infuriated Dibiase. Ted demanded a rematch with an electronic device monitoring the fan's reaction. He lost that contest too. A match was signed to settle this whole affair with the rules being that it would be a no DQ, coal miner's glove on a pole, loser leaves town, steel cage match with both men wearing tuxedos. I'll cover the results of that in the March edition of this series.
Dibiase was also busying himself by facing Brad Armstrong, who was still sore at Dibiase for cheating to beat him for the North American title in January.
The attempt to make Butch Reed into the black Superman promotional ace continued as Reed carried on his feud with the monstrous Kamala across the territory.
The Rock and Roll Express thrilled the audiences with matches against the dastardly Hector and Chavo Guerrero.
John Nord debuted as "The Barbarian", making him the third Barbarian to show up in a major promotion over the previous 3 months. Nord had been working in lower card matches in the AWA to gain experience prior to this.
Shawn Michaels was given more competitive matches to slowly groom him for better things.
On February 15th, Houston fans were treated to a taped fist match between Duggan and Dibiase. The card also featured a cage match between the Rock and Roll Express and the Guerrero Brothers, Kerry Von Erich downed Gino Hernandez, Butch Reed bested Dr. Death, Iceman Parsons upended "Sheik" Hercules and the AWA tag team champion Road Warriors mauled Terry Taylor and Brad Armstrong. That's one Hell of a card!
The WWF came in a week later with Hogan downing Paul Orndorff, Tito Santana and "Superfly" Snuka butting heads with Roddy Piper and Orndorff, plus Barry Windham tangled with Dick Murdoch. That card drew 1,400 fans.
Oklahoma City also felt the WWF invasion as Andre and the JYD faced the challenge of Big John Studd and Ken Patera. Tito Santana tangled with IC champion Greg Valentine in the other match of note.
Mid-South held two cards in Oklahoma City, the first one on February 10th was headlined by a 4-way elimination match with the Midnight Express, the Guerreros, the Fantastics and the Rock and Roll Express all competing. Hacksaw Duggan downed Dibiase in another top-flight brawl, plus Kamala beat Butch Reed as their wars continued unabated.
The second card, held on February 24th, was headlined by the Rock and Roll Express accepting the challenge of the Midnight Express, with Ricky and Robert getting 5 minutes with Jim Cornette if they were able to earn the duke. Plus, Terry Taylor downed Dr. Death to the thrill of the fans.
JCP
NWA champion Ric Flair continued to fend off U.S. champion Wahoo McDaniel in most of his title defenses in the area. McDaniel meanwhile spent the month earning victories over Ricky Steamboat. Steamboat left JCP at the end of the month and is WWF bound.
Dusty Rhodes gave chase to TV champion Tully Blanchard – facing him in several hard fought encounters. He and Manny Fernandez had to fend off the challenge of Ivan and Nikita Koloff, who were after their world tag team titles.
When not dealing with Rhodes, Blanchard was tasked with protecting his gold from Manny Fernandez, Magnum T.A., and Buzz Tyler who all vied for the TV title.
Don Kernodle's wars with the Russians went unabated as he partnered with Manny Fernandez, Rocky Kernodle, Ricky Steamboat, Johnny Weaver, Magnum T.A., and Dusty Rhodes in various forms of four and six-man tag team matches to tangle with the Koloffs and Krusher Kruschev.
Terry Funk's role as J.J. Dillon's bounty hunter ended after only a few appearances as Funk scored a role on the pilot of a TV show called "Wildside", a western where Funk played a veterinarian by day, gun fighter by night. Meg Ryan was amongst his co-stars.
Dillon replaced Funk with Ox Baker, who took over Funk's role in trying to injure Dick Slater. Dory Funk Jr. came in late in the month to chase after the cash reward as well.
JCP, with no national TV show on cable and no longer receiving exposure on "Pro Wrestling USA", attempted to once again go into Vince McMahon's territory and were rebuked by the fans. On February 20th JCP came to the Pittsburgh Civic Arena and drew a mere 750 people. Dusty Rhodes and Manny Fernandez battling the Koloffs for the world tag titles headlined the card. Ricky Steamboat challenged Wahoo McDaniel for the U.S. title in the other match of note. Bob Backlund was brought in to face Black Bart to give the WWF fans a familiar face to root for. The undercard was dreadful, with Magnum T.A., the Barbarian, Dick Slater and JJ Dillon beating jabronis. I realize the WWF had notoriously bad lower card matches, but JCP needed something better to draw in the fans with.
Three days later the WWF drew 17,500 to the same arena to see Andre the Giant smash Ken Patera, plus Bruno Sammartino returned to one of his hottest cities as he teamed with his son David to face Bobby Heenan and Paul Orndorff. Gorilla Monsoon got involved in the match as he ran in from the announce desk to save Bruno from Orndorff's attack with a chair. In the other key match, JYD bested Roddy Piper by disqualification after Piper choked JYD with the chain the Dog carried to the ring.
March 1985 results, reviews, news and notes will be coming soon!