Thanks to Kris Zellner, Jim Zordani, Graham Cawthon, Matt Farmer, Tamalie, Dave Meltzer, Karl Stern, Brian Last, wrestlingdata.com, crazymax.org, prowrestlinghistory.com and the "Between the Sheets" podcast for the results and historical information I have used for this series. The Wrestling Classics and Kayfabe Memories message boards have also been invaluable in answering my questions on certain issues and angles.
Where I last left off….
Wrestling History: December 1984
WWF
With the talk behind the scenes being that Vince McMahon lost 5-7 million dollars in 1984 while trying to expand, the wrestlers felt the pinch as their payoffs were noticeably lower than only a few months ago. Some speculated that the WWF started the money losing rumors themselves in order to justify the pay cuts.
The Tonga Kid, who came from a small southern territory and jumped right into the main events thanks to his connection to the Jimmy Snuka/Roddy Piper feud, quit the WWF. He no showed a number of main events over his payoffs and ultimately walked away from his gig. Snuka took to partnering with Barry Windham, Tony Atlas and others to replace the Kid.
Adrian Adonis attempted to leave. He and Dick Murdoch dropped their WWF tag straps to Barry Windham and Mike Rotunda on January 21st.  Adonis then began talking to Antonio Inoki about becoming a New Japan regular in exchange for a six-figure salary.
The Brisco Brothers were originally going to be made the World tag champions, but they did not wish to work full time given the hard schedule and their age. More on that next month…
Andre the Giant continued to avenge the forced haircut that Ken Patera and Big John Studd gave him. The Giant teamed with Blackjack Mulligan, JYD, Tony Atlas and Tito Santana in various forms to get his hands on the duo in four and six-man tag team matches. He and Snuka even formed a duo, combining two feuds as they faced Piper, Studd and Patera with Atlas as their partner.
Tito Santana fought Greg Valentine across the country as their endless war over the Intercontinental title continued. JYD did get a few cracks at the Hammer as well.
World Champion Hulk Hogan toured Japan. While on tour he met King Kong Bundy, which got the ball rolling for Bundy to arrive in the WWF in a few weeks. Hogan and Bundy actually teamed up to face Inoki and Tatsumi Fujinami, only to end up brawling after the match.
Back in the United States, Hogan defended his title against the Iron Sheik, Paul Orndorff and Nikolai Volkoff.
Rocky Johnson was reported to have left the promotion. He does return in a few weeks, so this may have been an injury situation or perhaps another case of being unhappy with his pay.
Vince McMahon and Ken Patera appeared on "Good Morning America". I do not have the context as to why though. If anyone remembers this, please let me know.
Jesse Ventura was interviewed for a non-wrestling magazine. He revealed that his blood clot issue was severe enough that the medication to thin his blood could cause him to bleed to death if he was busted open during a match. The WWF debuted Ventura as a color commentator on TV to keep him relevant.
Jim Crockett snagged the WWF's TV time slot in Philadelphia.
"Tuesday Night Titans" became "TNT" after being moved to Fridays by the USA network.
Mad Dog Vachon returned after being gone for several months. He was given the role of hosting a talk show for the WWF's Montreal market shows. Vachon was actively working outside of the WWF, as he won the "Pro Wrestling America" title from Steve Regal at an "outlaw" show.
Pedro Morales was announced at Madison Square Garden as returning to the WWF. He had been last seen working in the Caribbean and Puerto Rican promotions.
The WWF Junior Heavyweight title scene was a little messy at this point. Les Thornton had been wearing his "NWA Junior Heavyweight" title on WWF TV on WTBS, but then the Cobra won the WWF Junior Heavyweight gold in late December. It will pan out to be not that big of a deal since the WWF version will stay in Japan and Thornton's version will be abolished.
Buddy Rose headed to trial on his tax evasion issues from a few years earlier.
Nearly 60-year old legend Edouard Carpentier worked a WWF TV taping in Canada.
16,778 fans came to the Meadowlands to see a 10-team battle royal, which was won by Barry Windham and Mike Rotunda. Also on the card was a Windham and Rotunda match against Adrian Adonis and Dick Murdoch, and JYD fighting Mr. Wonderful. Afa, Sika, Mr. Fuji and Tonga Kid all missed their scheduled bouts.
14,000 spectators came to the Philadelphia Spectrum to witness Jimmy Snuka and Tony Atlas (subbing for the Tonga Kid) brawling with Bob Orton Jr. and Roddy Piper. The Brisco Brothers tangled with Murdoch and Adonis in the only other notable bout. Andre the Giant and JYD against Patera and Studd had been the originally announced main event, but the card changed in the weeks before the event.
16,000 marks poured into MSG to see Andre the Giant maul Ken Patera. The card also included Snuka and JYD (subbing for the Tonga Kid) against Piper and Orton and Santana grappling with Greg Valentine. Hulk Hogan was announced as facing Roddy Piper at the Garden;s February show.
St. Louis/Central States
The local Central States group came to St. Louis with a loaded card on January 4th. The main event was NWA World champion Ric Flair defending against the wild man Bruiser Brody. Bob Backlund tangled with Harley Race in a battle of former world champions, Wahoo McDaniel overcame Terry Funk, and Kerry Von Erich upended Buzz Sawyer in the other top matches. The crowd was 8,260 for this event.
They returned January 25th with another solid card which saw Kerry Von Erich challenge Flair in the main event. Bruiser Brody collided with Kamala, Harley Race outclassed Crusher Blackwell, and Terry Funk bested McDaniel in a "Texas Death" match. This card drew over 10,000 fans.
I'm intrigued by the dynamics of these cards, as the AWA is also showing their TV in the area since Verne Gagne was a co-owner of the St. Louis group, and he wanted his talent to be used on these big shows. Brody and Race are babyfaces in St. Louis, but heels on the AWA TV, plus Crusher Blackwell is the AWA's top face. Brody and Race teamed up elsewhere in the area to face Kamala and Mr. Pogo, solidifying Race's face status.
The WWF ran St. Louis on January 24th, drawing 10,500 to see Hulk Hogan defend against Mr. Wonderful, Tito Santana challenging Greg Valentine, plus Snuka and JYD (subbing for Tonga Kid) facing Piper and Orton.
Championship Wrestling from Georgia    
Abdullah the Butcher was suspended for attacking Tommy Rich on CWG TV during a recent angle where Rich and the Butcher were to be partners against Jimmy Hart's men. (That was covered in the December 1984 addition of this series.)
Thunderbolt Patterson and Ole Anderson feuded with the Long Riders, Bill and Scott Irwin. This led to the Riders dropping the National tag straps to Bolt and Anderson. Patterson was also drawing the ire of Kareem Muhammed and Hart's men on TV.
GCW's Omni show on New Year's Day saw National champion Ron Garvin best Ox Baker (subbing for Wahoo McDaniel), Rich and Abby the Butcher beat the Irwins, Anderson and Patterson pounded the Terminators, plus a tag team battle royal was won by the Long Riders.
The WWF vs. GCW territorial war continued in several towns. Tiny Altoona, Pennsylvania saw both groups run the Jaffa Mosque. CWG brought in Ole Anderson and Patterson against the Terminators, and Ronnie Garvin faced Bob Roop as the CWG headline attractions. The WWF countered with a card featuring Andre against Ken Patera, and Blackjack Mulligan brawling with the Iron Sheik as their top bouts.
Columbus, Ohio was another battleground as GCW presented a battle royal main event, plus Garvin faced Ox Baker, Bob Roop grappled with Tommy Rich and Anderson and Patterson brawled with the Long Riders.The WWF's lineup consisted of Santana squaring off with Valentine and Andre teaming with Mulligan against Patera and Studd. Georgia wrestling favorite Mr. Wrestling II was also on the card.
The WWF returned three weeks later with Andre and Mulligan again facing Patera and Studd, this time under "Texas Tornado" rules. The Hammer and Santana also had a rematch under "lumberjack" rules. JYD brawled with Mr. Wonderful in another big match. Mr. Wrestling II again appeared, falling to Brutus Beefcake.
AWA
Dave Meltzer recently spoke on the Wrestling Observer radio about Bruiser Brody's AWA run. He explained Brody had an agreement with Verne Gagne that he would only work the weekend shows for the AWA (We can assume those were the big towns.) Verne plugged him all over the place anyway, knowing full well that he was not going to be in attendance. So the no shows that Brody has been credited with in recent editions of this series can be blamed on Gagne being a sleazy promoter.
Brody quit the AWA after he and Gagne had another blow up over several issues. Brody was asked to lose to Jerry Blackwell, with new arrival Sgt. Slaughter interfering AND Brody having his feet under the ropes. Brody refused. Gagne sprung the finish on Brody right before the men were to head to the ring, and Brody scoffed at the idea.
The Fabulous Ones continued to face the Road Warriors in many towns, but they grew tired of the Warriors stiffing them constantly and quit the AWA as well. Gagne was fed up with the Warriors causing him so many headaches and was trying to find a way to oust them as well. Putting them in the ring with shooters like Brad Rheingans to stretch them out was supposedly under consideration.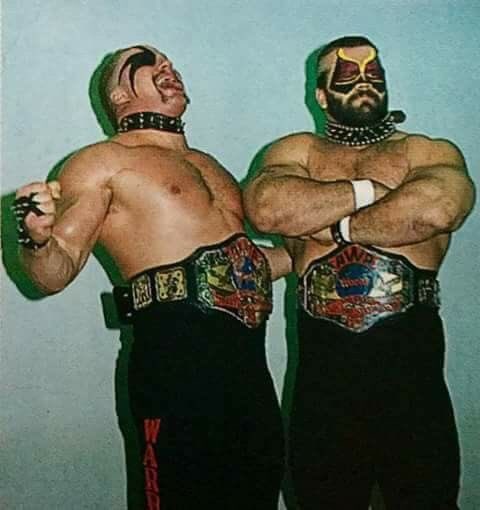 The two big takeaways for the AWA this month: The Fabulous Ones and Brody did not appear at a bunch of places they were plugged for and AWA champion Rick Martel spent much of the month losing to Jim Garvin by DQ to build to another round of rematches.
Bob Backlund worked AWA TV to help build to future appearances.
The AWA drew 9,000 fans to Salt Lake City to see Martel defend against Garvin, plus Larry Hennig and Curt Hennig bested Brody and Sheik Adnan. In addition, the Road Warriors and Paul Ellering fell to the Fabulous Ones and the Baron. A week later the WWF drew 3,500 in Salt Lake City to see Hogan conquer the Iron Sheik, the Briscos fell to Murdoch and Adonis and the Hammer escaped a title defense against Santana by getting counted out.
Winnipeg drew 5,600 for a main event of Crusher Blackwell, Greg Gagne and Jim Brunzell downing the Road Warriors and Paul Ellering. This TV taping also saw Jim Garvin best John Nord by DQ, the Road Warriors beating a jobber and Brad Rheingans (now I'm curious if this was done as a warning to Hawk and Animal) and Sgt. Slaughter kickstarted his AWA return by jumping into a feud with the Masked Superstar and Mr. Saito. A young Rick Steiner worked as enhancement talent. The promos taped after the matches heavily pushed the Pro Wrestling USA supercard that was coming to the Meadowlands the following month.
5,700 Milwaukee fans saw Da Crusher and the Fabs best the Warriors and Paul Ellering, plus Brody and Blackwell clashed in a "lights out" match.
Chicago remained a battleground city as the WWF and AWA vied for the fan's money. The AWA presented Crusher Blackwell teaming with Gagne and Brunzell to face Sheik Adnan, Brody and the Masked Superstar. Plus, AWA champ Rick Martel fell to Jim Garvin via DQ and the Road Warriors bested the Fabulous Ones. Nearly 10,000 fans came to see the WWF show with Andre and the JYD falling short to Patera and Studd, plus Santana and Valentine grappled over the IC title and Snuka pounded Bob Orton Jr.
The Twin Cities were another battleground area, with the AWA drawing 11,000 fans to St. Paul to see Crusher Blackwell best Bruiser Brody via count out in a match with Sheik Adnan handcuffed to Sgt. Slaughter and the disqualification rule waived. AWA champ Martel lost via DQ to Garvin, Da Crusher and the Fabs upset Paul Ellering and the Road Warriors, Greg Gagne and Jim Brunzell bested Adnan and the Masked Superstar, plus Nick Bockwinkel and Mr. Saito came out ahead of Larry and Curt Hennig via DQ. The WWF countered in Minneapolis with a main event of Andre and Blackjack Mulligan facing off with Patera and Studd in a "Texas Tornado" rules match with Mad Dog Vachon serving as the special referee. The Hammer and Santana continued their nearly nightly battles with Valentine coming out ahead via DQ, plus Tony Atlas fell to Mr. Wonderful. The card drew 3,000 people.
Las Vegas also drew 3,000 fans to see Crusher Blackwell beat the Masked Superstar (subbing for Brody), plus the Hennig Family (subbing for the Fabulous Ones) brawled with the Road Warriors, and AWA champ Martel lost via DQ to Jim Garvin.
Denver fans came to see Brody battle Blackwell in a "lights out" match, only to find the Masked Superstar in Brody's place. Rick Martel got the duke over Jimmy Garvin via DQ and the Road Warriors bested the Hennig Clan (subbing for the Fabulous Ones.)
San Francisco drew 5,000 people to see Brody battle Blackwell but once again the Masked Superstar was inserted in Brody's place. The Hennig Brood replaced the Fabs in a tag match with the Baron as their partner against the Road Warriors and Ellering, plus AWA champ Martel was DQ'd against Garvin and Slaughter pinned Bockwinkel.
It should be noted that the infamous Curt Hennig angle with the Road Warriors is still several months away, so these matches are "cold".
Pro Wrestling USA
The AWA and JCP were both planning on running in the WWF's territory in an attempt to fight back the WWF invasion. The two groups also planned on running joint shows, but they were not getting along politically. NWA champ Ric Flair was booked for an AWA heavy "Pro Wrestling USA" show, but was then pulled by Jim Crockett in order to use him on a JCP show. This caused a strife between the promoters.
The planned Meadowlands show for February was altered as the Fabulous Ones quit the AWA, which took their planned match against the Road Warriors off the table.
The Road Warriors got more backstage heat after a Pro Wrestling USA TV taping as they tangled with veteran Ken Lucas in a squash match. Lucas took exception to the Warriors not selling for him, so he started to not sell for them. He then kicked out of the clothesline finish at the 3-count. This led to a locker room confrontation where the Warriors broke Lucas' nose. (Full disclosure: The match took place in December, but the news wasn't in the Wrestling Observer until January, so I placed it here accidentally in my notes.)
Baltimore served as a battleground as Pro Wrestling USA and the WWF tangled for the affection of the fans. PWUSA drew 5,600 for a tag team battle royal won by Bob Backlund and Sgt. Slaughter. In other key action Bob Backlund bested the Masked Superstar by DQ, Tommy Rich and Slaughter overcame the Irwin Brothers, the Road Warriors were disqualified in an AWA tag title defense against Ole Anderson and Thunderbolt Patterson, Ron Garvin beat Bob Roop, plus Jim Brunzell, Curt Hennig and others took part in action. The WWF matches saw the Tonga Kid and Superfly Snuka battle Roddy Piper and Mr. Wonderful in the only match of note.
Queens, New York saw Sarge and Brunzell fall to the Road Warriors, plus Sheik Adnan was counted out against the Baron, the Masked Superstar was disqualified in his match with Backlund and Curt Hennig tangled to a draw with Larry Zbyszko. 2,000 fans attended the event.
Totowa, New Jersey fans saw the AWA tag champion Road Warriors do battle with the Fabulous Ones, other action saw Slaughter brawl with the Masked Superstar, Jim Brunzell tangled with Adnan, plus Ron Bass, Zbyszko and Backlund were in action.
International
WWF Champ Hulk Hogan got heat with Antonio Inoki for leaving his tour with New Japan early due to a knee injury.
Atsushi Onita, future hardcore legend, retired after suffering a major knee injury. He will rise again.
Dusty Rhodes chased NWA champion Ric Flair to Puerto Rico to seek an NWA title match. Rhodes and Flair were both DQ'd after they attacked the ref.
I'll be back soon with the second half  of January's news and notes from JCP, Florida, Mid-South, Continental, Memphis and World Class next week…