iCarly: 10 Best Episodes
I'll be the first to admit that I am a sucker for most of Dan Schneider's work, especially iCarly. For any kid growing up in the 1990's as part of Gen Y, he was a key writer (and Good Burger manager!) behind such shows as: All That, The Amanda Show (spinning off from All That with Amanda Bynes), and Kenan & Kel. He really started to make his handprint on Nickelodeon in the 2000's with What I Like About You starring Amanda Bynes then Drake & Josh starring real life best friends Drake Bell and Josh Peck.
After a 28 episode run of Zoey 101 with Britney Spear's younger sister, Jamie Lynn, came one of his more popular series in iCarly. This series, located in Seattle, is centered around Carly Shay (Miranda Cosgrove) living with her brother Spencer (Jerry Trainor) while their father is off on a submarine on the other side of the country. Sam Puckett (Jennette McCurdy) is Carly's best friend and Freddie (Nathan Kress) lives in the apartment opposite Carly.
What really made the show stand out, aside from solid acting from the lead actors, was the characterization of even bit players in the show that harkened back to the sketch comedy of All That along with the subtle envelope pushing writing of Kenan & Kel. Several of the actors came to Dan Schneider from previous shows with Miranda Cosgrove and Jerry Trainor both previously being on Drake & Josh as Megan and Crazy Steve respectively.
So here are my Top 10 Episodes of iCarly! *presses cheer button on remote control*
In 5… 4… 3… 2… *points to reader*
10: Season 1, Episode 7 – iScreamonHalloween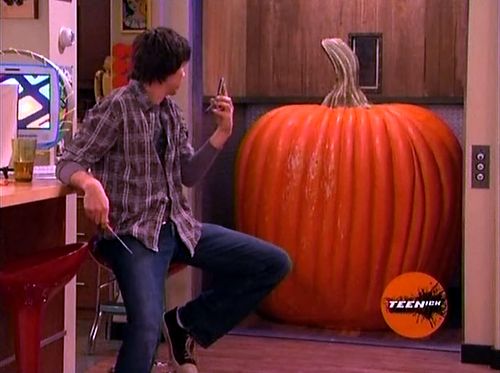 Why Here: I'm a total sucker for any Halloween or Christmas themed episode. This is a decent plot where Carly, Sam, and Freddie go to investigate an allegedly haunted room in the apartment and stay there overnight. They start hearing noises, the doorknob breaks in a funny moment, they take refuge in a closet with a creepy mask, and eventually become scared out of their minds. The resolution is typical of a show like this, especially early in its run. It mostly works due to the nature of most Halloween themed plots and gets away with a pretty risque spot when Sam 'touches' Carly on the butt in the darkened closet, complete with Carly's startled eyebrow raise and quick apology from Sam.
Spencer's subplot is a lot of fun with him forgetting candy for the apartment trick-or-treaters. They eventually decide to get revenge and ambush Spencer, rolling him down the street in the giant pumpkin he had been carving.
09: Season 1, Episode 23 – iCarly Saves TV
Why Here: It's a fun little episode poking fun at the media corporation after Dingo Network steals the iCarly name in order to start producing their own version of the webshow on television. The head honcho in charge pulls all sorts of stunts including adding in Zeebo (a take that at Barney), replacing Sam with a diva child actress, and having his own crew film leaving Freddie to be a tagalong helping deal with the dirty jobs on set.
We see an early introduction of actor Leon Thomas III who'd go on to fame as Andre Harris on Dan's next show, Victorious. This episode also features one of my favorite exchanges in the series itself between Carly, Freddie, and the producer
Carly: I can't do iCarly without Sam, she's my co-host!
Producer: Uh, sorry, but our executives found her pushy and aggressive.
Freddie: She is pushy and aggressive.
Carly: That's her thing! And not to be rude, but you are kinda stupid!
08: Season 1, Episode 16 – iHatch Chicks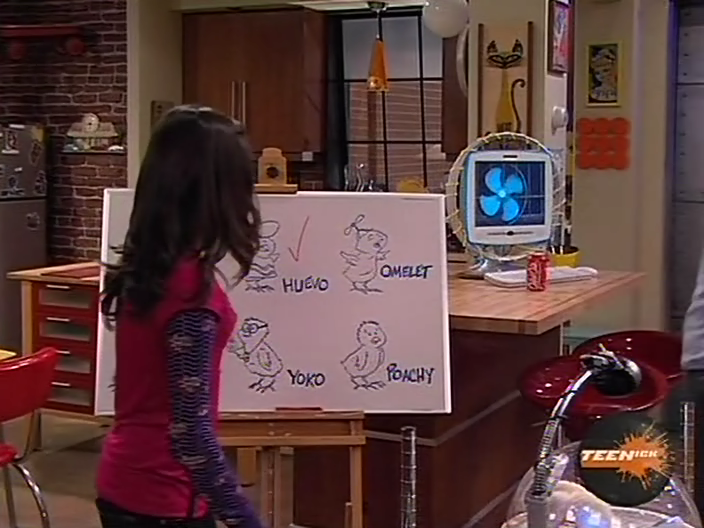 Why Here: This episode is just fun with Carly and Sam's science project incubating baby chick eggs until they hatch, leading to the chicks escaping the incubator and a mad scramble by nearly everybody to find them.
There are a lot of humorous moments including Carly and Sam roleplaying the Wife/Husband with the Husband doing the physical rescuing while the Wife stands aside worried and shouting up 'helpful' tips. Spencer gets himself stuck in a shaft upon seeing a baby chick and starts singing songs to alleviate his own boredom.
07: Season 2, Episode 3 – iOwe You
Why Here: Sam asks for money from Carly and Freddie, only to learn from both that Sam never pays them back. To rectify this, Sam decides to work at a Chili restaurant to make the money while revealing to Carly that she hates the job (because they won't let her eat the chili) to the point that Carly and Freddie scheme to 'get' Sam the money owed. In typical Sam fashion, it backfires on them after she buys a gigantic trampoline.
The subplot is better as Spencer tries to impress a mom by helping her daughter sell fudge-balls (a take on Girl Scout cookies) only to be sabotaged by two scouts at Spencer's market location.
Sam's character largely makes the plot go and it's fun to see Sam actually being proactive and working to make it up to Carly and Freddie to the point that she breaks down in tears on Carly's lap at how much the work sucks yet continues to work there to keep her word. More impressive given that Sam's a notorious slacker when it comes to doing nearly anything.
06: Season 2, Episodes 24 & 25 – iFight Shelby Marx

Why Here: This is a fun episode where Carly agrees to fight Shelby Marx (played by Victoria Justice) as an exhibition charity. The fake fight turns real after Sam's overaggressive trash talking leads to Carly falling on Shelby's grandmother during a press conference. Nevel, the enemy of Carly and iCarly in particular, adds further fuel to the fire by editing clips to distort what happened at the press conference as being per-meditated. Carly 'wins' the fight by hugging Shelby's leg and upon explaining what happened, the group gangs up on Nevel in the octagon.
The subplot is okay with Spencer suffering from weird side effects after taking an experimental allergy medication from a Doctor who also lives in the apartment. The strength of the episode really falls on the fight itself and does a good job interweaving Nevel and his dislike of Carly into a legitimate reason for an MMA fighter to go after somebody in the ring for real. Sam's trash talking is great to see and it's unique to see Carly being thrown into a physical situation as opposed to Sam. Victoria Justice does a great job making Shelby a believable character to the point that Shelby Marx remains of the most popular characters in the entire series.
05: Season 2, Episode 9 – iChristmas
Why Here: It's a Christmas episode and a I'm an admitted sucker for them. After Spencer angers Carly by burning her presents upon setting his electromagnetic tree on fire, Carly wishes for Spencer to be normal. Mitch, a guardian angel, makes the wish come true mostly because he is trying to get his wings (which is hilariously turned on its head at the end of the episode). As a result of Carly's wish, the phrase be careful what you wish for comes into full effect. Sam was never Carly's friend and is in Juvenile Detention, Spencer is engaged to Mrs. Benson, and Carly's boyfriend is her nemesis Nevel Papperman. Mitch eventually turns the world back to the way it was and Carly happily celebrates Christmas with Spencer, Sam, and Freddie and the ruined tree and presents.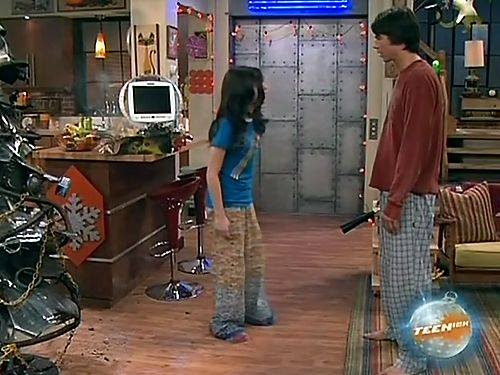 Mitch (played by Danny Woodburn) is a lot of fun with his avoidance and quips and it's intriguing to see the concept toyed around with going from an abnormal character and life to a somewhat stereotypical nuclear family and normal sitcom, which does not happen often enough considering most go the opposite route. Also fun to see what gets changed and kind of understand it from a weird point of view that oddly works in making said changes somehow more surreal and bizarre, a credit to the show's writing up to that point.
04: Season 2, Episode 20 – iReunite With Missy
Why Here: This just another classic friendship episode between Carly and Sam. Missy comes into town, an old friend of Carly's, and insinuates herself into Carly's life by trying to take over as best friend while purposely setting up Sam to be pushed to the side. Freddie gets another great moment showing how much he cares about Carly and Sam's friendship by 'giving' the six month sea trip he won to Missy just to get her out of their lives.
In particular, I love seeing Sam's jealousy of Missy usurping her role as Carly's best friend (to the point that Carly openly calls Sam on it) along with her being hurt enough that she has to go to Freddie to try and do something about the situation. Carly overhears Missy's admission to Sam that Missy was out to get Sam and Carly coolly throws it right back in Missy's face.
I'm a sucker for episodes that revolve around a deep best friends forever friendship and this hits all the right buttons including Missy giving Sam rancid chocolate and daring Sam to hit her physically, knowing Sam's prone to violence, while reveling in the fact that Sam can't because it'd drive Carly to side with Missy. Actress Haley Ramm does a great job as Missy, portraying one public face to Carly while harboring her real attitude towards Sam.
03: Season 1, Episode 5 – iWanna Stay With Spencer
Why Here: A really heavy plot for an early episode, especially in this series, as Carly and Spencer's grandfather visits (after Carly nearly gets decapitated by a flying hammer from a Spencer creation on iCarly) to surmise that Spencer is unfit as a legal guardian and threatens to take Carly to Yakama under his own supervision. Carly, Sam, and Freddie try all sorts of tactics to make Spencer appear grown up, only for all of them to fail miserably. It isn't until it's revealed that Spencer knows all sorts of little things such as giving his grandfather Carly's asthma inhaler that he gets to keep Carly under his care.
I really love the interplay between Spencer and his Grandfather over Carly. Spencer usually comes off as a klutzy fun free-spirited big brothers but we get a rare instance of just how important Carly is to him and how deeply he cares for Carly's health (despite his penchant for inexplicably setting fires). I also greatly enjoy seeing Carly try to set up a dinner, only for Spencer to screw up the look, and then undermining Carly's attempts to make Spencer punish her for changing her look by dressing outrageously.
02: Season 1, Episode 17 – iDon't Want to Fight
Why Here: This is a very early rift between Carly and Sam that really helps cement both of their characters. Carly creates a t-shirt for Sam for an anniversary to celebrate their friendship. Sam, meanwhile, later sells said "one of a kind" t-shirt to aptly named Rip-Off Rodney for tickets to see Carly's favorite band. Carly takes issue with Sam's selling off the t-shirt then later grows more annoyed at Sam when it's revealed Sam took somebody else to the concert instead of Carly. Freddie plays intermediary via vote on the webshow and helps the two of them make up.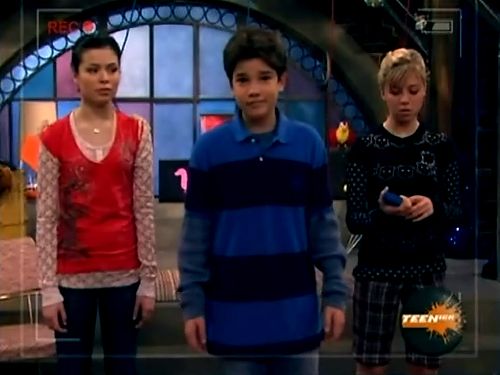 I really like the contrast of attitudes as Carly proclaims she worked hard for 2 weeks making the shirt whereas Sam counters by saying that she thought the two of them could attend the concert together as something only they would enjoy without anybody else. One of my favorite parts of the episode is seeing Freddie be so assertive to the point he uses a pully (tied to each girl's ponytail) as a way to let them argue live on the webshow to prove their point to the other via voting. There are some humorous bits such as Freddie ignoring his own rules when Carly violates them precisely because he has a crush on Carly which leads to Carly and Sam yanking each other's pully.
The subplot with Spencer is okay related to his buying a fish to try and feed after Swimmy dies. The ending is pretty amusing as Spencer builds a very elaborate fish feeder, gets excited when it works, only to be depressed when Carly reminds him that he'd have to set it all up daily.
01: Season 3, Episodes 8 & 9 – iQuit iCarly
Why Here: I'm a sucker for Carly and Sam drama and this is arguably the high point of drama on the entire series. Carly & Sam drift apart after siding with fellow internet web comedians Fleck & Dave separately and fostering their issues onto Carly & Sam's own relationship. When both couples decide they want to film a skit in the same location, Sam then Carly jump onto a window washing platform floors and floors above the sidewalk. The scene itself is really intense, especially for this kind of sketch comedy show, and both Carly and Sam survive near death falls thanks to the heroic acts of the other.
It's neat to see both trying to put on a heroic façade afterwards despite the sheer terror both felt until Spencer gently pushes Carly into Sam's arms, letting them comfort each other and silently apologize. The show didn't often go this dark and serious and as a result, the episode is a real highlight combining the best parts of a plot that transitions from strained friendship into life or death scenarios as a result of the plot's start.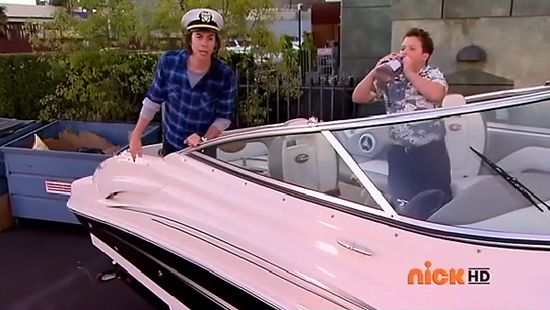 The subplot with Spencer and Gibby is also a lot of fun as Spencer wins a boat but has nowhere to park it at the marina. He ends up parking it randomly in front of a building down the street. The lines work well and Spencer/Gibby being under attack and eventually run off their own boat by a baseball team called the Pirates is good levity to the other storyline occurring.
So there you have it folks. My Top 10 iCarly Episodes have wrapped up so voice your opinions in the comments below.
Credit to creddiefans.blogspot.com for Feature Image and Nickelodeon for iCarly