June is almost here which means it's time for TNA to see yet another improbable birthday.  To celebrate let's take a look back at their 11 year history through their best moments and matches (and some not so great moments).  Some videos wouldn't allow embedding but clicking the link will take you to the YouTube page. Unlike the way they chose to tell stories for much of their history…we begin at the beginning.
WCW and ECW had both died in the early months of 2001 and were officially buried over the course of that summer. Having no chance of being welcomed back into the WWE after leaving on bad terms, Jeff Jarrett spent some time overseas wrestling for promoter Andrew McManus and his World Wrestling All-Stars promotion. Jeremy Borash served as the booker for the promotion which ran some awful pay per views featuring names like Road Dogg, Buff Bagwell, Disco inferno, Norman Smiley, Crowbar, Brian Christopher, Konnan, Jerry Lynn, Low Ki, Christopher Daniels and AJ Styles among others. At some point Jarrett had an idea:
Hey, I can put on these bad shows myself and lose my own money!
And TNA was born.
OK so it probably didn't happen like that…all I'm saying is that it might have happened exactly like that. Jarrett and his father partnered up with the at this point 14 years past relevant NWA and went all in on their new venture. The shows were presented in as can't miss a way as possible. On pay per view on Wednesday nights.
TNA YEAR ONE:  June 19 2002-June 18 2003
The dream became a reality on June 19, 2002 in Huntsville, Alabama when TNA put on their first event, a 4 hour show with the first half airing live and the second half on tape delay the following week. That first show really needed to be a home run so there could be a positive buzz surrounding the promotion. They struck out looking.
Ken Shamrock was crowned the first champion of the TNA era.  Seen here looking for a way out
The next two shows would be moved to the Nashville Municipal Auditorium before they finally settled into the Tennessee State Fairgrounds (which Truth would dub the TNA Asylum) for the rest of their weekly pay per view run.
Where the little boys play
A funny thing happened.  Despite putting up a poor showing in their debut…there actually was a bit of a positive buzz on the internet about the promotion.  Buzz for a match that hadn't aired yet.  In the second half of that taping AJ Styles became the first ever X division champion in a 4 way double elimination match.  Word out of the taping was that the match was a must see.  It lived up to it and I'll go ahead and name it the Year One Match of the Year:
6/19/02:  AJ Styles vs. Jerry Lynn vs. Low Ki vs. Psicosis
The response to the X division 4 way gave TNA the positive talk they were desperate for so they decided to double down and make Styles and Lynn their first Tag Champs as well (week 3). On again off again TNA mainstay Christopher Daniels (and Elix Skipper) would debut in week 4. Within a few weeks they'd be joined by the debuts of Amazing Red and Kid Kash. With X division guys dominating the card TNA was offering something different. WWE didn't care about cruiserweights and WCW was long dead. AJ Styles would spend the first couple months alternating defenses of the X title and Tag titles while also feuding with his partner Lynn. Yeah…Russo was booking.
Low Ki would insert himself into the X title picture with Styles and Lynn and it would lead to the title being flipped around between them in 2 of the best matches of TNA's early era:
8/7/02: AJ Styles vs. Jerry Lynn vs. Low Ki

8/21/02: AJ Styles vs. Jerry Lynn vs. Low Ki (ladder match)

The Truth with no longer be denied
The NWA title picture was leaving a lot to be desired as Ken Shamrock would have some decent but not exactly thrilling matches with Malice (The Wall in WCW), Sabu and Takao Omori…the last of which I'm still not sure why. Jeff Jarrett and Scott Hall had a feud which was roughly as sad as you think it was and Brian Christopher turned heel on his father who didn't work for the promotion. In a lot of ways most of the heavyweight division was made up of guys who had resigned themselves to the idea that they would never work in the big time again. And then there was K-Krush.
After a few weeks spent losing to a race car driver and (worse) Brian Christopher…K-Krush started talking.
And talking…

Eventually the newly named Ron "The Truth" Killings had talked his way into a shot at the NWA title…and on 8/7/02 he'd win it. You have to put yourself back in 2002 to get how different this was at the time. WWE was just finishing up months of Hogan/HHH/Taker/Rock in the title matches and even upstart TNA started their first show with Jarrett/Hall/Shamrock debating which of them would be the first champion. Guys that got hot just didn't get moved up that easily…as anyone who watched RVD in 2001 WWE will know. But TNA had nothing to lose…so they put something refreshing on top.
From the lower mid card to the top of the lower middle
Too Small To Fail
They taped 2 shows on August 21, ran a best of on September 4 and then took September 11 off in recognition of the one year anniversary of something or other. In the month between actually putting on shows there was a lot of speculation that the people that had "3 months" in the "how long do you give them" pool were about to win the pot. And in reality they were bleeding money like crazy. Being savvy to how this business works the Jarretts knew exactly what they needed. A money mark.
Hi, Y'all
By October Bob Carter of Panda Energy would buy the controlling interest in the company for his daughter Dixie, presumably to keep her away from the real business.
America's Most…Who?
By comparison to most of the early TNA roster…James Storm and Chris Harris were pretty much complete unknowns. They had been a part of WCW developmental near the end (can you imagine that?) and earned their way on to the first TNA show by way of a great tryout match that they had against each other. In the second half of the first taping the two were literally thrown together out of nowhere to be a tag team. When TNA came back after their month long break…Storm and Harris (going by the team name America's Most Wanted) won their first Tag Titles on 9/17/02.
AMW would become the face of tag team wrestling in the company from that point forward. They would defend the belts weekly against all comers before finally settling into a feud with Jim Mitchell's Disciples of the New Church (Slash and Brian Lee). It was this series of matches where they really started to gel as a team and become a good attraction for the company.
Braden Walker used to be thin and James Storm used to be not quite as awesome
Every week was the most amazing thing Don West had ever seen
While the Tag division was finding its footing…the X division was delivering fast paced action week after week. In fact the X division was so good at this point it was able to survive X-Pac briefly holding the title.
10/30/02: AJ Styles vs. Red
11/6/02:  AJ Styles vs. Jerry Lynn
12/11/02:  AJ Styles vs. Red II

With AJ Styles and company stealing the show every week…could anything stop the greatness of the X division?
Sonny Siaki:  The opposite of Batman
You just know he was posing with that belt before the first show even started
In fact the X division was so hot that even the NWA Champion The Truth took notice. He had a brief yet awesome little feud with the X division because he was pissed they were getting all of the attention when he was the top guy. He split a couple matches with then X champ Jerry Lynn and then had this fun little match with Low Ki:
10/2/02:  Truth vs. Low Ki:
The storyline ended too quickly and Truth would spend the rest of his title reign having matches not nearly as good with Scott Hall and the few months from death Curt Hennig. On November 22, Jeff Jarrett finally got his shot at the title.
11/22/02: Jeff Jarrett vs.Truth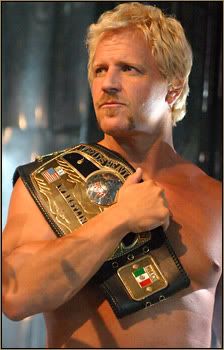 He probably deserves a medal for waiting 5 whole months to put the belt on himself
Imagine if you will…a world where the N.W.O. was led by Vince Russo and Disco Inferno
Jarrett won the title after Mr. Wrestling III hit Truth with a guitar. Mr. Wrestling III was revealed to be Vince Russo who was now going to be an on air character. When Jarrett refused to join forces with him, Russo formed Sports Entertainment Xtreme. The original group was Road Dogg and the Harris twins…so there was no way it wasn't going to be successful. They were supposed to be TNA's N.W.O. trying to take over the company and all that. It included such "talent" as Sonny Siaki, Disco Inferno, Brian Christopher, David Flair, Erik Watts and I swear I'm not making this up…an Elvis Impersonator who was brought in to feud with Jorge Estrada…the other Elvis Impersonator. His name was Disgraceland…and really I should have just used that for the name of this section.
On the last show of 2002, Christopher Daniels, Low Ki and Elix Skipper all returned to the promotion (none of them had been seen in months) joining forces with S.E.X. and Russo…but more importantly forming their own little group called Triple X. The idea was that Daniels and Low Ki couldn't be on every show due to outside bookings…but utilizing the Freebird rule would allow TNA to keep them in storylines. That night Red and the SATs answered their challenge and the infamous Don West "Go Red Go" chant happened.
12/18/02: Triple X vs. Red & the SAT
Triple X would beat AMW for the Tag Titles on 1/22/03 and the teams would feud for the next couple of years, having two of the most memorable matches in TNA history in the process. But we'll get there when we get there.
Triple X mostly dominated the Tag division for the rest of year one, losing the belts for a hiccup here and there but winning it 3 times between January and June. One of those hiccups was this awesome match against Jerry Lynn and Amazing Red:
4/16/03: Red & Jerry Lynn vs. Triple X
Daniels would win the belts back in a handicap match when Lynn got DQ'd.  Because that was something they did…titles changed hands on DQs.  I can't remember exactly when it started…but they did it for a long time. My theory is someone did that so Russo couldn't book every title match with a fuck finish.
Who's driving the used sedan?
TNA went into 2003 with a new plan to try and attract viewers…one that they pushed pretty damn hard and delivered on more than you'd expect. You never knew who was going to show up in TNA. Larry Zbysko worked a program with AJ Styles. The Rock N' Roll Express showed up (AS HEELS!) for a couple matches with AMW. Guys were debuting week after week. Sometimes for one match (Vader), sometimes for a cup of coffee (Mike Awesome), sometimes for a real run (D-Lo Brown). The list of guys popping up out of nowhere is extensive. Sandman, Kevin Sullivan, Hacksaw Jim Duggan, Saturn, New Jack, Justin Credible, Tony Schiavone, MOONDOG SPOT?!?
As an example of the randomness of it all…here's Triple X and Vince Russo in an 8 man tag against Jeff Jarrett, Dusty Rhodes and the freaking Road Warriors. The match ends with a run in by Nikita Kollof. It was just that kind of thing.
1/15/03: Dusty/Road Warriors/JJ vs. XXX/Russo – Kolloff
X Division:  TNG
Sonny Siaki's reign of terror as X division champion was mercifully ended by Kid Kash in early 2003. Kash would have a nice run with matches against Paul London, Jerry Lynn, Johnny Storm and Amazing Red who would eventually take the title from him. The X division was going through a bit of a second wave of guys with Daniels and Low Ki in the tag ranks and AJ Styles moved up with the big boys. They were going to be hard to replace but on April 9, TNA would find their next big X division star in Chris Sabin.  Sabin would win his first X division title just as year one was coming to an end.
One man's Destiny is another man's complete misunderstanding of how wrestling booking works
The January 22 show was an interesting one. Triple X captured the Tag Titles for S.E.X., Sonny Siaki had retained his X title for the group as well (against the ring girl and a security guard. This guy was the worst). Jeff Jarrett found himself in a 4 way against 3 members of S.E.X. but he Super Jeff'd his way to victory leading to all the babyfaces joining him to celebrate something finally going their way. Then the most unexpected of all the unexpected people TNA would trot out ran in.
It was the most unexpected because Raven had just been fired two days earlier by WWE and everyone knows about 90 day no compete clauses.  There was talk at the time that they let Raven out of it in return for him not bad mouthing the company.  It's possible that he just didn't accept the buyout and thus was free to do as he pleased.  It's also possible that the guy with the sign is right:
No matter the reason Raven's surprise appearance was a pretty big deal and the inevitable match with Jeff Jarrett for the NWA title gave them their first real money match. To their credit they didn't just rush it out there immediately like they have done with literally everything else in their 11 years. It wasn't until April 30th, after he'd gotten a series of wins over AJ Styles, D-Lo Brown, Sandman and some random people that Raven got his title shot.
No caption can be as funny as the booking of the match
People were turned away from the building for the most anticipated match in TNA's short history. Raven claimed that becoming NWA champion was his destiny…and despite being the heel facing the babyface champion in his home state…that's what the people had come to see.
If you hate the John Cena overcomes all superman match…well John Cena is only using finger-paints and Jeff Jarrett was painting the Mona Lisa. At one point in the match Jarrett gets handcuffed and New Jack, Sandman, Justin Credible and Saturn all join Raven in kicking the shit out of him (EV 1.0?).
He still wins.
4/30/03: Raven vs. Jeff Jarrett
One thing that TNA did do pretty well in this Jarrett era though was build up to the title matches.  JJ finally getting his shot at Truth, AJ Styles getting his first shot at JJ, Raven's big match, even the bad idea that was Disco Inferno getting his shot was built up well enough.  The problem was that Jarrett always won them.  People started hating this even though Jarrett was supposed to be the good guy.  To the point where even when Disco got his shot…people wanted him to win because he was their only hope.
No.  There is another.
AJ Styles spent the first half of TNA's first year securing his place as the face of the X division.  As he entered 2003 however, he found himself nowhere near it.  He had his first shot at Jarrett's NWA title on February 19, but lost.  Following that he feuded with S.E.X. (including drawing the short straw on trying to get Glenn Gilberti (Disco Inferno) over for his title match…which he actually managed to do because AJ is fucking awesome) before forming a fun little tag team with D-Lo Brown.  As TNA's freshman year drew to a close…he found himself back in the title picture and would receive another shot at the NWA title, this time in a 3 way with Raven and Jarrett on 6/11/03.  This time…he won.
Sure he turned heel and joined Russo…but the fans just wanted Triple J's title reign to end
In the first year of the company's existence AJ Styles managed to win the triple crown of X, Tag and World titles.  No one else would do that until Kurt Angle in 2007.  In total besides Styles only Angle, Samoa Joe, Abyss and Austin Aries have done it…and all of them have only done it once.  AJ Styles has done it 4 times.  And added in the TV/Global/Legends title another 2 times on top of it.  What's even more impressive is that for a company who prided itself for so long on how good their X division was…Styles would be the only actual cruiserweight to make the jump to TNA champion for the next 10 years (until Austin Aries joined him).
What else were they going to do on a Wednesday night?
The next week was TNA's first anniversary show. It featured the TNA debut and American in ring return of Sting. He teamed with Jarrett to beat Styles and X-Pac in the main event. This wouldn't be the start of Sting's real run with the company…this was just 4 dates as a favor to Jerry Jarrett who helped him break into the business. He worked with or against Jarrett every time.
And that's a lot of what the story of TNA Year One is. It's Jarrett's vanity project. It's where AJ Styles became a star. It's where unknowns like AMW and Chris Sabin made a name for themselves. It would continue to be all of those things for a long time to come too. The Jarrett-AJ-AMW triple header is the one they would run back to time and again for years. When they finally got on TV with Fox Sports…they all got their belts back. When they got the deal with Spike…they all got their belts back. But…we're getting ahead of ourselves.
I bullet-pointed the major happenings of the year but there were obviously countless other things going on…most of it not good. Cheex broke the ring in the dark match before the first show. Goldilocks was the awful backstage interviewer. Ed Ferrara was on commentary with Mike Tenay and Don West for a short time at the beginning. They had a midget beating off in a trash can. They combined hardcore matches with math…for two separate ideas. Roddy Piper showed up to blame Vince Russo for killing Owen Hart. CM Punk worked there as a half step above jobber at the same time he was making a name for himself in Ring of Honor.
TNA in year one may have rarely been great…but it was almost never boring.