Where we last left off: April 1985
Special thanks to Kris Zellner, Jim Zordani, Graham Cawthon, Matt Farmer, Tamalie, Dave Meltzer, Karl Stern, wrestlingdata.com, crazymax.org, prowrestlinghistory.com and the "Between the Sheets" podcast for the results and historical information I have used for this series. The Wrestling Classics and Kayfabe Memories message boards have also been invaluable in answering my questions on certain issues and angles.
WWF
With Wrestlemania now in the rearview, it was time for Vince McMahon to execute his next phase in world domination. That step was debuting on network TV with "Saturday's Night Main Event" on NBC. It was the first time a wrestling event aired on a free national stage in 30 years. Mr. T and Cyndi Lauper returned to give the show mainstream star power, plus Hulk Hogan competed against Bob Orton in the headline bout. The main takeaway from the show was Paul Orndorff being cemented in place as a babyface headliner, with Hogan giving him his endorsement. The show scored a healthy 8.8 rating.
Behind the scenes, NBC exec Dick Ebersol butted heads with WWF booker George Scott over how the show would go. Ebersol was a fan of "Tuesday Night Titans" and wanted more entertainment aspects involved, while Scott originally booked a traditional wrestling event. It took 3 days of rewrites to put together the final product.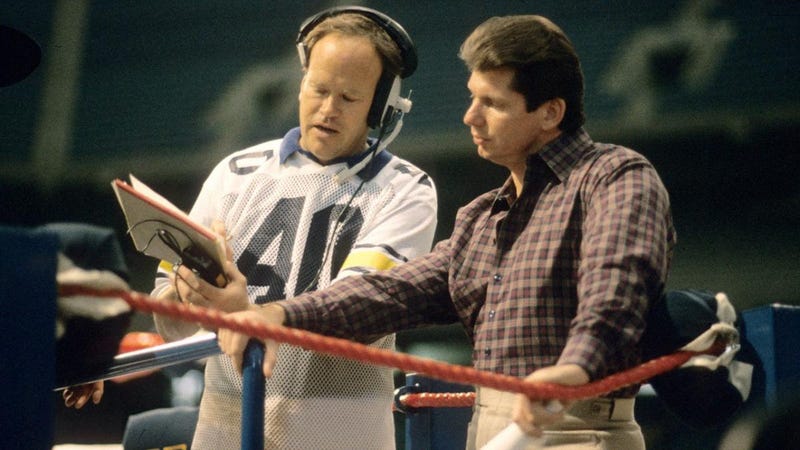 Roddy Piper and "Playboy" Buddy Rose both committed a number of "no shows" during the middle of the month as they returned to the Portland area to do promotion for their May 21st match that was to headline the Owens' family 60th year of promoting supercard. McMahon was obviously furious at the men working an unauthorized show, especially since Piper was breaking out as a mainstream star of sorts under McMahon's promotional umbrella.
Piper claimed on a local Portland talk show that he and Hogan had just taped 3 guest appearances on "All My Children", but his IMDB page does not reflect this to be true. Another soap opera, "A Search for Tomorrow" had recently taped a segment of Hogan facing Don Muraco at Madison Square Garden, so perhaps Piper was just telling tales?
Antonio Inoki was paying the WWF $500,000 a year to book their talent, but Inoki was not pleased with who McMahon had recently offered up for New Japan to use. Inoki was using Dick Murdoch and Adrian Adonis as his "International WWF tag team champions", but neither of them were with the WWF at this time. Vince had offered New Japan the Iron Sheik and Nikolai Volkoff, but Inoki wasn't interested in them. Inoki wanted Hogan or Andre the Giant to come in and put him over, or else he wanted out of the deal. Inoki was ready and willing to work with either Memphis or the Mid-South for talent, and had his eye on Jim Duggan and Dr. Death as his key prospects. Inoki was allowed to bring in Andre, Jimmy Snuka and King Kong Bundy for the May tour.
WWF champion Hulk Hogan spent much of the month defending his title against "Big" John Studd and Don Muraco. Hogan also partnered with Paul Orndorff and Jimmy Snuka to take on Roddy Piper and his goons around the country.
Intercontinental champion Greg "the Hammer" Valentine defended his belt against Tito Santana and the JYD throughout the month. Valentine was also working semi-regularly with Brutus Beefcake as a tandem, and they had already dubbed themselves the "Dream Team".
The WWF World tag team champions, the Iron Shiek and Nikolai Volkoff were being chased by Mike Rotunda and Barry Windham, with the British Bulldogs beginning to sniff a few title matches as well.
Ken Patera and "Big" John Studd were seeking the $25,000 bounty placed on the head of Paul Orndorff by Bobby Heenan.
The Missing Link debuted on May 20th. Link got his gig after he appeared in a photo in the Sports Illustrated that Hogan was on the cover for.  McMahon decided he didn't want anyone else to be able to use the S.I. rub except his own company.
Brian Blair returned to the WWF, taking a headliner away from the Florida territory.
Billy Red Lyons, at age 53, returned to the ring in a losing effort to Jim Neidhart at a spot show in Erie, Pennslyvania. Why there and not in Toronto or somewhere he may have drawn a little bit of interest?
7,800 paying fans headed to the Baltimore Civic Center to see the Hulkster and "Superfly" Snuka go to war with Roddy Piper and Bob Orton. The undercard had Ricky Steamboat, King Kong Bundy and Ken Patera against lesser competition.
The Boston Garden sold 13,000 tickets for a headliner of Hogan and Snuka battling Don Muraco and Orton. The fans actually had a minor riot at the end of the show as all the men brawled in and out of the crowd. The JYD and Valentine butted heads in the only other real match of note.
Madison Square Garden showed some signs of burnout due to the recent amount of shows the WWF had been running, including the pricey Wrestlemania supercard. Nonetheless, 15,000 fans still came to MSG to see the Hulkster defend his world title against Muraco. Bruno Sammartino paid off his angle at Wrestlemania by partnering with his son David to face Johnny V and Brutus Beefcake. Another Wrestlemania revenge bout saw Barry Windham and Mike Rotunda grapple with the Iron Sheik and Nikolai Volkoff.  Plus, Rocky Johnson made his final MSG appearance ever after several years of being a crowd favorite. Ken Patera also made his last MSG booking for several years as he was heading to jail soon over his April 1984 arrest for brawling with police in a small Wisconsin town.
Philly drew 7,300 fans for Patera challenging the Hulkster. Mr. Wonderful brawled with Bob Orton in another key bout, and Sheik and Volkoff fended off the U.S Express' attempt to wrest away their title.
With Jim Crockett on national cable TV, they were ready and willing to risk an expansion into Vince's backyard. That being said, JCP's Pittsburgh show on May 2nd was very weak. The main event was Ole and Arn Anderson fighting Manny Fernandez and Thunderbolt Patterson in a payoff of one of the hotter angles from TBS. Ron Garvin knocked fists to flesh against TV champ Tully Blanchard in the other marquee match. The undercard saw a Krusher Kruschev squash match, Denny Brown tangling with John Tatum and Pez Whatley besting a jabroni. Not exactly a line up that would make the locals flock away from the WWF product.  The WWF brought in Bruno and David Sammartino to face Johnny V and Beefcake, plus Greg Valentine grappling with Tito Santana and managed to draw 5,000 fans to their Pittsburgh show.
JCP then returned to Pittsburgh at the end of the month, in order to run a Three Rivers Stadium in what seems like financial suicide. I have no attendance to go by, but I can't imagine it warranted running a 60,000 seat stadium. Ric Flair defended his NWA gold against Magnum T.A. in the main event. The match went 56 minutes and ended with Magnum being DQ'd. Dusty Rhodes went to a draw with Blanchard, Manny Fernandez and Dick Slater bested the Koloffs by DQ, The Boogie Woogie Man downed "Superstar" Billy Graham, plus the Andersons downed Thunderbolt Patterson and Pez Whatley. This pretty much feels like bookerman Rhodes took the last 6-8 weeks of TV angles and tried to pop a massive house. The screwy finishes were needed to keep feuds going, but they feel out of place in a show that surely seemed like a major blow off type of show.
JCP twisted the knife a little more by running spot shows in Trenton, New Jersey and the WWF's former TV taping home base, Allentown, Pennsylvania at the Agricultural Hall.
St Louis
With nothing really working for Verne Gagne, Bob Geigel and the others running Central States, they attempted to book a World Class heavy top of the card to see if that could pop a house for them. NWA champ Ric Flair bested Kevin Von Erich, Rip Oliver downed Brian Adidas and the Fantastics drew with the Midnight Express. The rest of the card was mostly the local band of green guys and jabronis.
The WWF drew 3,600 fans to St. Louis to see Muraco take the measure of the Hulkster, in addition, Valentine and Santana continued their best of 2000 match series. The following night the Central States group ran another St. Louis event, this time headlined by Chris Adams and Kevin Von Erich in another chapter of their months long blood feud. Jim Duggan and Dick the Bruiser formed an intriguing alliance to fight Crusher Blackwell and Mr. Pogo. Plus Nick Bockwinkel downed Kevin "Thor" Kelly. I'm again intrigued by the dynamics of the St. Louis booking, as multiple wrestling groups had their TV shows on in the area. Crusher Blackwell was on AWA TV as one of their top faces, but here again appears in St. Louis as a heel. The localized promos must have been something to see.
Flair worked an Iowa spot show against Rufus R. Jones, he also defended the belt against the green as grass Marty Jannetty at a small Kansas show. Flair also went to  Kansas City to team with Mr. Pogo against Bob Brown and Harley Race. The different levels of talent within each team is almost mind blowing. The WWF ran Kansas City as well, drawing 9,000 fans for Hogan butting heads with Brutus Beefcake.
I'll be back soon with the rest of the rumors, news and notes from around the wrasslin' world in May 1985! Thanks for reading!