Where we left off:  May 1985 Part 2
Florida
The most interesting item from this area is one I can't pin a real date on. Somewhere around this point WWF star Barry Windham showed up on Florida TV to work with his brother Kendall in an empty arena to prepare him for the mat wars. Blackjack Mulligan spent weeks building to this on TV by playing up how Kendall was still in high school, and Mulligan didn't want to see his son mauled like his brother Barry was in his rookie year. Kendall would formally debut in June. I'm sure Vince was thrilled to have one of his talents appearing for a promotion he was trying to put out of business.
Wahoo McDaniel was attacked during a match with the Missing Link by Hercules and Abdullah the Butcher, with Link joining in. Mulligan ultimately made the save for him. McDaniel wouldn't have long to avenge himself as Link jumped to the WWF, returning to Florida with the WWF to take on the local promotion within a week of leaving.
Brian Blair lost his Southern title to Hercules and left for the WWF afterwards. It's kind of surprising that McMahon went for the smaller, technical worker ahead of picking up the roided out monster.
Kamala came in as NWA champion Ric Flair's bounty hunter, tasked with taking out Wahoo McDaniel. He worked a couple of squash matches and never appeared again. Given his past I think it's safe to say he flaked out over a payday and quit.
Flair came to the area to defend his title against Kerry Von Erich and Mike Graham.
Jack Hart (Barry Horowitz) kept losing. Wait for it…Wait for it…
CWF ran multiple shows in Miami, with Wahoo McDaniel facing Kevin Sullivan one week, Kerry Von Erich headlining against Flair the next (drawing 3,500 fans), then closing the month off with McDaniel fighting Voodoo Mulumba. The WWF's Miami card drew just a hair over 1,000 people to see Intercontinental champ Greg Valentine tangling with Tito Santana.
WWC
The World Wrestling Council brought in NWA legend Dory Funk Jr. to feud with Universal champ Carlos Colon. Their match on May 18th became so uncontrolled that the "championship committee" deemed the title was to be held up, pending a rematch.
Here and There
Mick Foley began working on Dominc Denucci's ring crew. It would be another year before he'd debut as a worker.
WCCW
World Class drew 25,000 fans to Texas stadium for a huge main event tag team match of the Fabulous Freebirds teaming with Kerry, Kevin and Mike Von Erich to face off with Ric Flair, the One Man Gang, Chris Adams, Gino Hernandez, Dr. Death and Kamala. Flair would be removed from the bout due to "injuries" incurred in his title defense earlier in the night against Kevin Von Erich. Even with Rip Oliver replacing Flair, it was still a star laden bout. As I stated in my review, the match predated the Survivor Series and War Games, while providing an archaic, action packed finale to the "David Von Erich Memorial Parade of Champions". After losing the match, Chris Adams smashed a chain into the car the Von Erichs had "won" as part of the main event purse. This helped set up even more matches between the Dynamic Duo and the Von Erich family.
Other action from that big event saw Kerry Von Erich beating the One Man Gang, as a result Gary Hart had his head shaved by Fritz Von Erich. The Fantastics bested the Midnight Express. Jim Cornette was tied to "Little John" at ringside. Terry Gordy brawled with Kamala and Mike Von Erich avenged himself by beating Rip Oliver, who had broken Mike's hand earlier that year.
The main event had extra intrigue as the heels had no love for one another, leading to several matches between the teammates in the weeks that followed.
Hercules had been scheduled to work the stadium show, but he quit only days before the event. He had been arguing with the promotion over payoffs and finally had enough. Some sources indicate he was having issues with his wife and wanted to move closer to home.
In all too real news, Mike Von Erich was charged with two misdemeanor assault counts after getting into a physical altercation with a doctor in the emergency room at First Texas Medical Center. There is almost no information online with any details. A judge later acquitted Von Erich of any wrongdoing.
With the WWF and now JCP attempting national expansions, rumors were spreading that Fritz wanted to run Fenway Park in Boston in an effort to spread his promotional wings.
The WWF show in Dallas once again BOMBED as they drew 180 fans for a Jimmy Snuka vs. Roddy Piper main event.
Mid-South
Even though JCP bought the coveted 6:05 Saturday night TV slot in April, Mid-South continued to air shows on WTBS for several weeks, although the episodes were becoming preempted with great frequency. One final edition aired in May, with Bill Watts putting over JCP on air. Behind the scenes, Watts was preparing to make a major push for the ESPN TV slot that had earmarked for a wrestling show.
NWA champion Ric Flair came into the area to accept challenges from Kerry Von Erich, Terry Taylor, Wendell Cooley and Terry Daniels. Flair ended up brawling on TV with both Taylor and Jim Duggan in separate instances.
The Nightmare (Randy Colley) won the North American title from Taylor, then renamed himself "The Champion".
Watts attempted to once again create a black Superman-like babyface for his fanbase when he picked the raw prospect Eddie Crawford and gave him a big push by inserting him in Jim Duggan's place as a substitute in the semi-finals of a tournament for the TV title. Snowman ended up beating Dr. Death and Jake Roberts in the same night to win the tournament.
Ted Dibiase and Dr. Death bested the Rock and Roll Express for the Mid-South tag titles on May 3rd. They went on to accept the challenge of Jake the Snake and Nord the Barbarian, as well as the Fabulous Freebirds.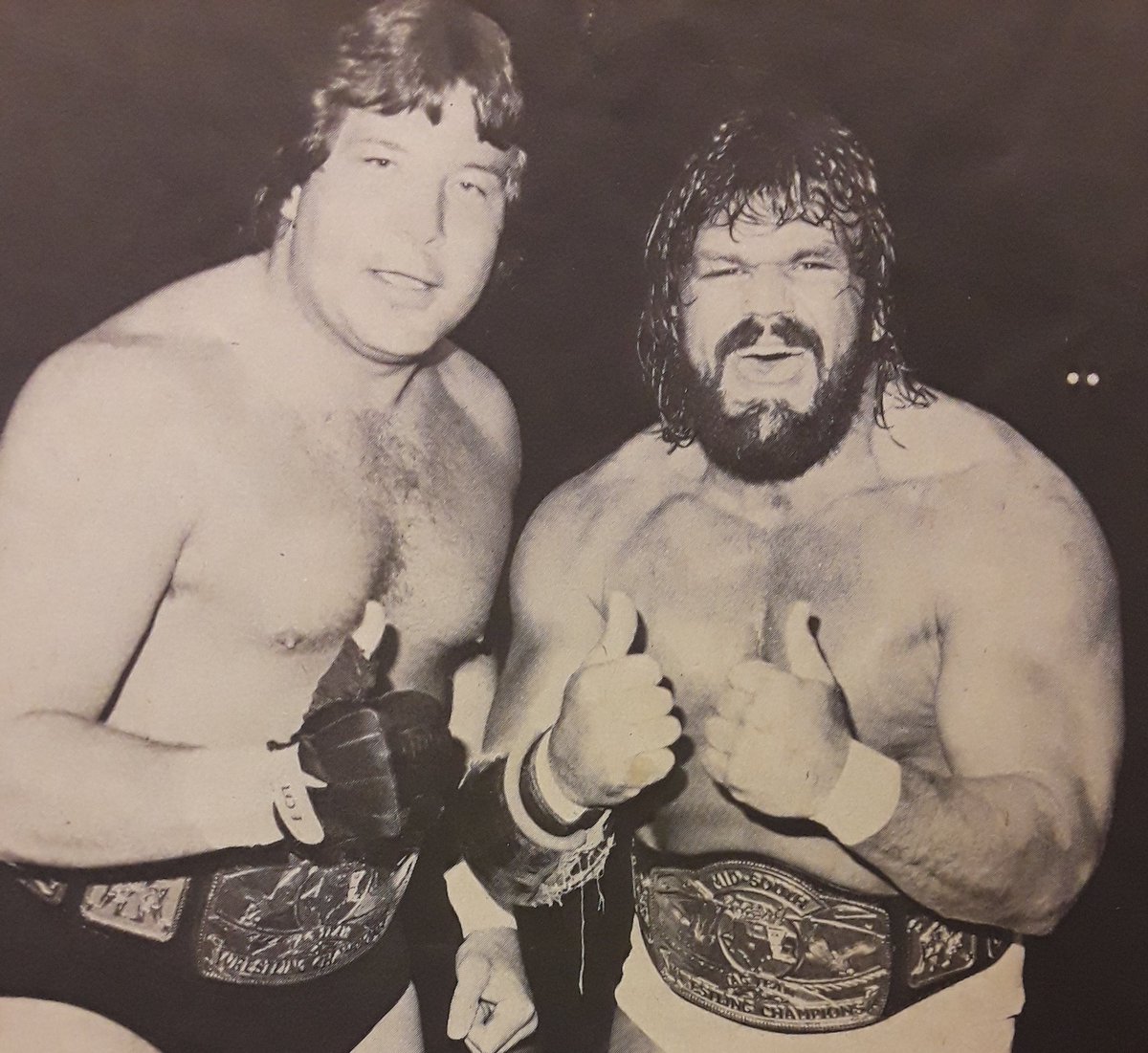 Portland 
I admittedly rarely touch on this promotion because they generally have a poor roster and few angles or personalities are of interest. However, Don Owens presented a super card in honor of his family's 60th year of promoting and it's well worth looking at.
12,000 fans came to the Memorial Coliseum to see NWA Champ Ric Flair face off with local hero Billy Jack Haynes. The match would end in a "45" minute draw (actually around 39). WWF megastar Roddy Piper bucked the system and returned to Portland to face his fellow WWF star Buddy Rose in a rematch of one of Portland's most famous feuds. The AWA tag team champion Road Warriors fought Curt and Larry Hennig, AWA World champion Rick Martel outwrestled Mike Miller and Sgt. Slaughter downed Kendo Nagasaki.
JCP
Jim Crockett was becoming increasingly emboldened with his promoting power now that he had TBS behind his promotion. Not only did this relate to trying to book venues outside of his east coast homebase, but it also involved talent. Ric Flair, as NWA world champion, was expected to work dates across the world for any NWA member in good standing. Crockett was becoming less keen on sharing his crown jewel. An example of this came when Flair was scheduled to make a tour of Japan. When he landed he was met with orders to go back home. Promoters were told he was going back to be with his ailing mother, however, Flair ended up working some JCP shows before ultimately heading back to Japan to finish the tour.
To ensure Flair didn't jump to the WWF, he was given a contract by JCP. With contractual money now legally wrapped up with the "Nature Boy", I suppose it's easier to understand why Crockett didn't want to share his toys anymore.
Crockett was eyeing up Chicago as his next city to "invade", setting up a 3 way war with the AWA and WWF.
Rumors were swirling that Tully Blanchard was planning on jumping to Florida since his friend Wahoo McDaniel was booking. Given the state of the depleted Florida roster, Blanchard would probably be looking at losing out on a bunch of money in order to be part of a rebuilding effort.
Ric Flair and Magnum T.A. continued to trade words on TV. Magnum accepted Flair's challenge to fight, only to watch Flair back off and walk away. Nikita Koloff is also on Flair's trail after the "Kremlin" hand picked him to be the World champ.
Dusty Rhodes battered Tully Blanchard at every opportunity. Rhodes was still full of righteous indignation over being screwed out of the TV title by Blanchard.
Ole Anderson went on TV and claimed he and Gene Anderson had beaten Andre the Giant, Bull Watts and Bruno Sammartino in the past, and Thunderbolt Patterson would soon share their fate. Patterson and Manny Fernandez remained Arn and Ole's top nemimis', however Buzz Sawyer was also looking to get a piece of their hides.
Paul Jones' Army injured Jimmy Valiant's throat, rendering him unable to speak. He was still able to make his point abundantly clear a few weeks later by writing "WAR" on a chalkboard while being interviewed at ringside. Valiant fought with "Superstar" Billy Graham across the area. Valiant partnered with Ric Flair in one of the more surprising tag team combinations one would expect from this era as they beat Konga the Barbarian and Graham at a show in Fayetteville.
Greensboro drew just shy of 4,000 fans to witness Dusty and Valiant fight Graham and the Barbarian, along with Flair defending his gold against Magnum T.A.
Cleveland saw the WWF draw 9,500 fans to see Hulk Hogan butt heads with "Big John Studd. King Kong Bundy, Ricky Steamboat, and Paul Orndorff took part in undercard action. JCP answered two weeks later by running with the Andersons facing Fernandez and Patterson in their headliner. Bob Roop tangling with Ron Garvin was their top underneath clash.
Both the WWF and JCP ran the Omni within one week of each other. JCP presented Dusty Rhodes and Dick Slater fighting Ivan and Nikita Koloff over the NWA tag team titles. The Anderson defended their National tag team titles against Thunderbolt Patterson and Manny Fernandez, Jimmy Valiant went to a draw with Abby the Butcher and Tully Blanchard bested Ron Garvin. The WWF gave the fans Hogan defending against Studd, as well as Jimmy Snuka knocking heads with Bob Orton Jr. Unfortunately, there are no attendance figures to draw information from.
Next time we'll head into June of 1985! Thanks for reading!